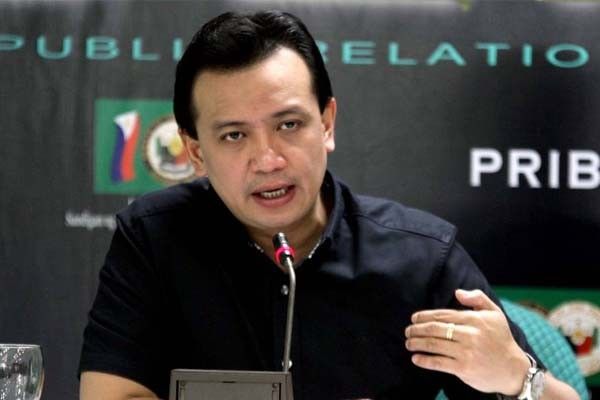 File photo shows Sen. Antonio Trillanes IV speaking at a Kapihan sa Senado media forum.
PRIB/Cesar Tomambo
Trillanes just imagining threats to his life, Palace says
(Philstar.com) - January 17, 2019 - 6:32pm
MANILA, Philippines — Sen. Antonio Trillanes IV said that he asked the Commission on Elections to exempt him from the gun ban because of threats to his life, but Malacañang dismissed this fear as "illusion."
Trillanes, at the Kapihan sa Senado forum on Thursday, admitted that he is one of the senators seeking an exemption from the election gun ban. He said the Philippines is "not safe," and there are threats on his life, allegedly from President Rodrigo Duterte himself.
The senator, one of the staunchest critics of Duterte, said that the chief executive has repeatedly said that he would "destroy" him.
Trillanes also said that Duterte is a "vindictive person."
But presidential spokesperson Salvador Panelo said that Trillanes' allegations against the president are only his "imagination."
"He's already being ignored. He's an illusionist. I'm no longer surprised," the presidential spokesperson added, again using the word for magician that he had previously used to describe communist party founder Jose Ma. Sison.
Panelo made the statement the same day that it was found that former Davao City Vice Mayor Paolo Duterte had asked a Davao City court to cancel the senator's bail.
The poll commission started imposing the gun ban for the midterm elections on January 13. It will extend until June 12.
While the ban is in place, gun owners with licenses are not allowed to carry their firearms outside their residence. They may, however, seek exemptions from the Comelec
Comelec Resolution 10466, signed Nov. 28, 2018, covers the ban on carrying of gun from candidates for public offices and incumbent officers.
It also reads: "...when circumstances warrant, including but not limited to threats to life and security of a candidate, he may be assigned by the Commission, upon due application, regular members of the Philippine National Police, the Armed Forces of the Philippines or other law enforcement agency who shall provide him security for the duration of the election period." — Kristine Joy Patag