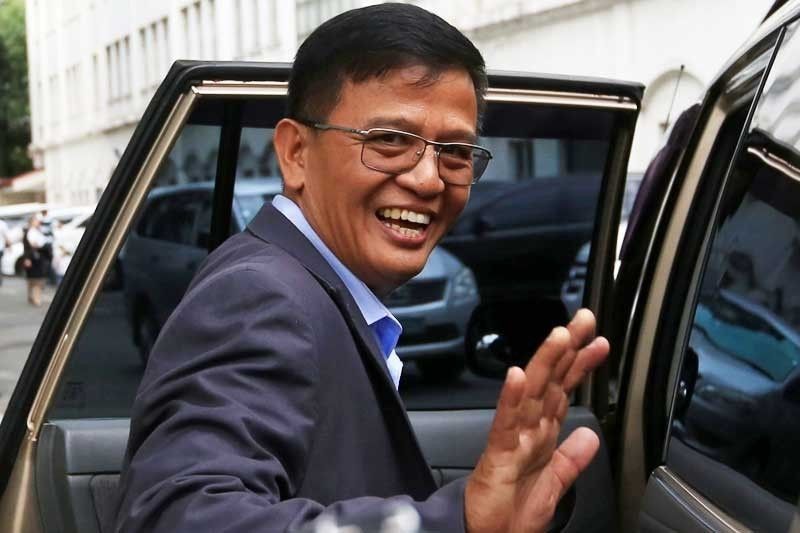 President Duterte officially named Faeldon as director general of the corrections bureau on Nov. 19.
Edd Gumban
Faeldon won't interfere with probe into son's suspected drug links
MANILA, Philippines — Bureau of Corrections chief Nicanor Faeldon said on Friday that he would distance himself from the investigation into his son and namesake's alleged involvement in drugs.
News broke out on Thursday morning that Nicanor Faeldon Jr., the BuCor chief's son, was arrested in a suspected drug den in Naga City.
December 14, 2018
The reports said that Nicanor Jr. was arrested with three others. The authorities also seized seven sachets of suspected shabu.
In a statement, Faeldon said that he only knew of his son's arrest in the news as neither his son nor the police contacted him.
"I will not lift a finger to influence their ongoing investigation and arrest [Standard Operating Procedure]. Let the axe fall where it may," Faeldon said.
He also urged the Naga City police to immediately inform their superiors or the media should there be an attempt to influence them.
"In any event, if the police investigation will show that my son, Nicanor Jr., is indeed, a drug-pusher and therefore a menace to society, then there will be no need to prosecute or jail him. I will personally obliterate him from the face of the earth," Faeldon added.
In a separate phone interview with ANC, the BuCor chief and former military man said that he would step down immediately should it be proven that his son was involved in drugs.
"I will hunt him down. Ako na ang paparusa diyan. I will kill that idiot kung involved siya. That's my assurance to the public. I do not tolerate such," he added.
Also in the TV interview, Faeldon said that his son asked permission to study about six to seven months ago in a university in Naga.
He said that from what he saw in the news, the police's main suspect was the father of his son's girlfriend, and Nicanor Jr. was arrested since he was also staying in the house of his girlfriend.
"That's why when it was searched this morning, of course my son was there," he told ANC in a mix of Filipino and English.
Faeldon took his oath before Justice Secretary Menardo Guevarra as the new BuCor chief last November 21.
Before moving to the BuCor, Faeldon took the helm of the Bureau of Customs in 2016. He stepped down amid the P6.4-billion shabu shipment that slipped past the agency.
Faeldon filed his resignation thrice, before Duterte accepted it in August. The president then hinted that the government "would need" Faeldon.
Four months later, the former military man was placed at the Department of National Defense as deputy administrator of the Office of Civil Defense. He took his oath in January 2018.
Ten months later, Faeldon was appointed as BuCor chief, taking over the post vacated by Ronald "Bato" dela Rosa who is vying for a seat at the Senate.