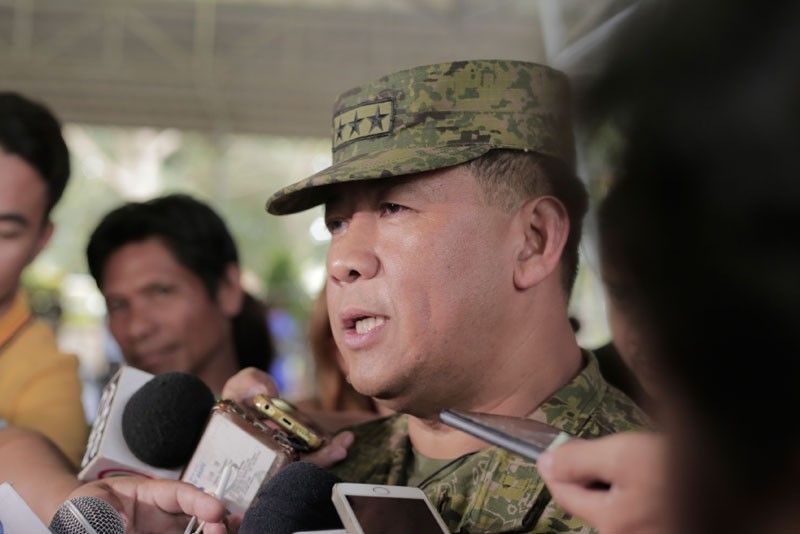 In this November 2017 file photo, Armed Forces of the Philippines chief Lt. Gen. Benjamin Madrigal Jr. speaks to reporters. Speaking before a joint congressional session on Wednesday, Madrigal admitted that the military does not have data to substantiate President Rodrigo Duterte's claim that Mindanao obtained substantial economic gains from the declaration of martial law.
PIA
AFP unable to verify supposed economic gains from Mindanao martial law
MANILA, Philippines — President Rodrigo Duterte claimed that the declaration of martial law resulted to economic gains in the region but the Armed Forces of the Philippines does not have data to support this claim.
In a December 6 letter addressed to the House of Representatives and the Senate, the president said the government achieved "significant progress in putting the rebellion under control, ushering in substantial economic gains in Mindanao."
Asked about the inflation rate and poverty incidence in Mindanao from Jan. 1, 2018 until the present, AFP chief Lt. Gen. Benjamin Madrigal admitted that the military does not have data on the region's growth during the second extension of martial law.
"I was informed the data of the (National Economic and Development Authority) will be released by April next year. What we have is data of 2017," Madrigal told the joint congressional panel on martial law extension Wednesday.
Rep. Edcel Lagman (Albay) told Madrigal that he was asking questions on Mindanao growth due to repeated claims that martial law contributed to the region's development growth.
"But how can this be validated when there is no empirical data on which this claim can be anchored?" Lagman told the Congress.
In his letter to the Congress, Duterte said his recommendation to extend the proclamation in Mindanao was based from a joint security assessment report from former AFP chief Gen. Carlito Galvez Jr. and Philippine National Police chief Director General Oscar Albayalde.
The president cited the neutralization of 685 members of local terror groups and 1,073 members of communist groups, dismantling of guerilla fronts, surrender of loose firearms, among others.
"All of these gains in security and peace and order have resulted in remarkable economic gains in Mindanao," Duterte said.
"In fact, private sectors, local and regional peace and order councils, and local government units in Mindanao are now also clamoring a further extension of the subject proclamation and suspension," he added.
Duterte, however, failed to substantiate the supposed economic gains while Mindanao was under martial rule this year.