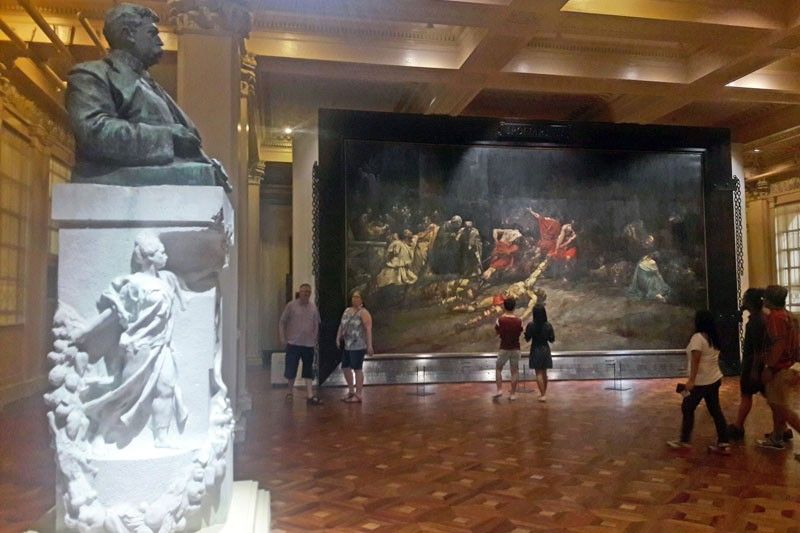 This March 2018 file photo shows Juan Luna's Spoliarium, perhaps the most popular – and the most photographed – piece in the National Museum's collection. President Rodrigo Duterte has appointed Evangelina Lourdes "Luli" Arroyo-Bernas chair of the National Museum's Board of Trustees.
Eugene Bacasmas , file
Luli Arroyo-Bernas is new chair of National Museum board
MANILA, Philippines — Evangelina Lourdes "Luli" Arroyo-Bernas, House Speaker Gloria Macapagal-Arroyo's daughter, is the next chairperson of the Board of Trustees of the National Museum.
President Rodrigo Duterte signed her appointment paper on December 6. It was released to the media by the Office of the Executive Secretary on December 10.
Bernas currently heads the Congressional Spouses Foundation Inc., representing her father Jose Miguel Arroyo.
According to the appointment papers, Bernas will replace Ramon Del Rosario..
The National Museum of the Philippines is the umbrella organization that oversees a number of the country's national museums. It is also the regulatory and enforcement agency of the government in doing restoration and preservation work of cultural properties and sites throughout the Philippines.
Other appointments
The president has also appointed Bases Conversion and Develoment Authority director Yusop Jimlani as presidential adviser on local extremist groups concerns.
A retired Army colonel, Jimlani was the only Muslim officer who served as an aide-de-camp during the presidency of Corazon Aquino. He also led Davao City's demolition unit while Duterte was mayor of the city.
The president has also named Ramon Ike Señeres as member of the board of directors of the Philippine Charity Sweepstakes Office.
Señeres is the brother of the late 2016 presidential candidate and former ambassador Roy Señeres — with The STAR/Alexis Romero