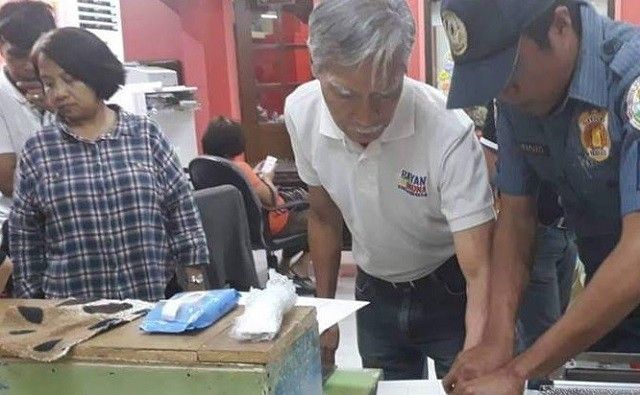 Police formally charge Bayan Muna president Satur Ocampo and ACT Teachers party-list Rep. France Castro for allegedly violating kidnapping and human trafficking laws
Chief Insp. Jason Baria, PRO-11
Palace backs arrest of Castro, Ocampo for 'being used by armed fronts'
MANILA, Philippines — Presidential spokesperson Salvador Panelo said in a press conference on Tuesday that the Palace supports the police in the arrest of Rep. France Castro (ACT Teachers party-list ), former Rep. Satur Ocampo (Bayan Muna party-list), and more than a dozen others of alleged kidnapping.
"They should work within the law, because if they are being used by armed fronts, then we have a problem," Panelo told Palace reporters on Tuesday afternoon. "They're violating the law, they can be charged," he said.
Although Ocampo and Castro are with groups affiliated with national democrat activist umbrella group Bagong Alyansang Makabayan, membership in activist groups does not mean membership in or support of the Communist Party of the Philippines. Neither does it membership in or support of the New People's Army.
Castro and Ocampo are accused of kidnapping and trafficking of Lumad students from Talaingod, Davao Del Norte. But Castro and Ocampo said they were rescuing the students from a conflict area.
READ: Satur Ocampo, party-list lawmaker arrested for trafficking
Makabayan to sue AFP chief Galvez
The Makabayan bloc at the House of Representatives on Monday said they are considering filing charges against Gen. Carlito Galvez, Armed Forces of the Philippines chief, for linking Castro and Ocampo to the Communist Party of the Philippines.
"We see that Satur Ocampo is a propagandist of the CPP-NPA (Communist Party of the Philippines-New People's Army)," Galvez told reporters at Camp Aguinaldo on Monday.
"The Salugpungan, and Alcadev, they're being used... the people must know that Salugpungan and Alcadev are a breeding ground for NPA," Galvez said in Filipino.
"There are five our surrendered here in the north came from Alcadev and areas where IPs (indigenous peoples) are. This is proof that Castro and Ocampo are active members of hte NPA," he added.
Makabayan said in a press conference on Monday that they plan to file the case against Galvez at the Office of the Ombudsman.
"We will file a case before the [Ombudsman for Military and Other Law Enforcement Offices ]. This statement, this is very dangerous and baseless. It cannot be ignored," he told reporters.
"This will put my life in danger. I am not a member of the NPA, Galvez, I am making this clear to you. If something will happen to me, I will hold you accountable," Castro said.
'That is kidnapping'
President Rodrigo Duterte said Monday night that the arrest of Castro, Ocampo and the rest of the "Talaingod 18" was justified.
"That is actually kidnapping. The victims are complaining. You heard they were lectured upon by the Lumads. And it's like controlling the lives of the natives. That's the problem with communists. They use the Lumads. Most of the fatalities are Lumads," the president said in a chance interview in Malacañang.
READ: Duterte backs police in arrest of 'Talaingod 18'
House Speaker Gloria Macapagal Arroyo, meanwhile, said Monday that the party-list lawmaker is "entitled to a certain level of dignified and respectful treatement in stiuations as this" as a member of the House.
"This is my position regarding any member of the House, regardless of political or ideological alignment," Arroyo added. She also urged a "speedy resolution on teh matter within the framework of our judicial system."
The Makabayan bloc was once a member of the Duterte-allied supermajority until they left in September 2017.

READ: Makabayan Bloc leaves House supermajority, ends Duterte alliance
"As representatives of the poor and marginalized sectors in Congress and as nationalist and progressive legislators, it would be a violation of our duties and principles to remain with a Majority that enables and defends the fascist, pro-imperialist and anti-people policies of the Duterte regime," the Makabayan lawmakers said in a statement.
Duterte said once during the 2016 elections that he was a leftist, "but not extreme left." Several Cabinet positions were filled by progressives before they ended their alliance with the administration.