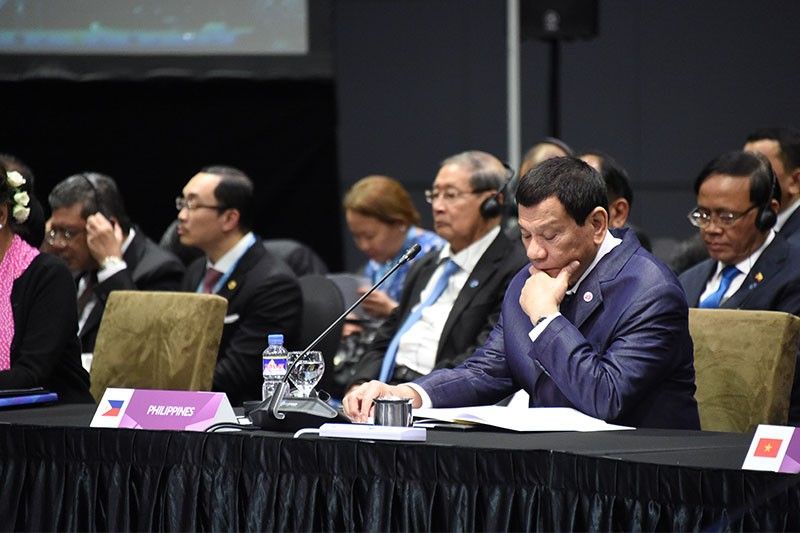 In this November 14 photo, President Rodrigo Duterte attends the ASEAN-Japan Special Summit in Singapore.
ASEAN 2018 Organizing Committee
'Duterte statements on China-held features could disadvantage Philippines'
(Philstar.com) - November 15, 2018 - 4:35pm
MANILA, Philippines — President Rodrigo Duterte's recent pronouncements on China's actions in the disputed South China Sea might once again place the Philippines at a disadvantage, a law expert said Thursday.
In an ambush interview with reporters in Singapore, the president acknowledged Beijing's occupation of Manila-claimed features in the South China Sea, part of which is the West Philippine Sea.
In recent months, China has installed new missile systems and jamming equipment on Fiery Corss, Mischief and Subi Reefs in the Spratly Islands.
"I said China is already in possession. It's now in their hands so why do you have to create frictions... military activity that will prompt a response to China," Duterte told reporters Thursday.
The president made this comment upon expressing his opposition to military exercises in the South China Sea and the United States' constant naval presence in the area.
Locsin: Not an inch or iota of sovereignty
Foreign Affairs Secretary Teodoro Locsin Jr., on the other hand, clarified that the Philippine government is not giving up any inch of its territory.
"Absolutely not. I have repeatedly said not an inch nor an iota of sovereignty," Locsin said in a press conference at the sidelines of the ASEAN Summit in Singapore.
Asked about Duterte's remarks on China's occupation of West Philippine Sea features, Locsin said, "I was not present at that ambush [interview]. I don't really know what happened there."
Jay Batongbacal, director of the University of the Philippines Institute for Maritime Affairs and Law of the Sea, warned that the president's latest remarks might be used against the Philippines.
"He is acknowledging China's possession, so to that extent he is recognizing China's current occupation of disputed features," Batongbacal told Philstar.com.
"And he opposes anything that will create friction with China on the issue. Yes, it is a unilateral declaration that can be used against [the Philippines]," Batongbacal added.
RELATED: Palace: Never too late to assert arbitral award in South China Sea
Doctrine of unilateral declaration
If China accepts this pronouncement from Duterte, this would waive the Philippines' rights stemming from the July 2016 Permanent Court of Arbitration ruling on the South China Sea arbitration.
Acting Chief Justice Antonio Carpio earlier warned that such statements from Duterte, as representative of the state, could bind the country in declarations in a dispute.
This doctrine is known as the doctrine of unilateral declaration, according to Carpio.
"If the president says 'I am setting aside the ruling', the doctrine is that that binds the country if it is accepted by China. That declaration is a declaration against the interest of the state and it will bind that state because the president is the representative under international law," Carpio said in July.
Under the United Nations' guiding principles applicable to unilateral declarations of states, "a unilateral declaration that has created legal obligations for the State making the declaration cannot be revoked arbitrarily."
A unilateral declaration binds the State internationally only if it is made by an authority vested with the power to do so. By virtue of their functions, heads of State, heads of Government and ministers for foreign affairs are competent to formulate such declarations. Other persons representing the State in specified areas may be authorized to bind it, through their declarations, in areas falling within their competence.
Beijing continues to reject the arbitral ruling that invalidated its expansive claims in the South China Sea. The United Nations-backed tribunal also concluded that China violated its commitment under the Convention on the Law of the Sea but Beijing insists on having indisputable sovereignty over the area. — Patricia Lourdes Viray
As It Happens
LATEST UPDATE: September 15, 2019 - 4:22pm
September 15, 2019 - 4:22pm
Vice President Leni Robredo chides presidential spokesperson Salvador Panelo, telling him that he should be better informed of what exactly President Duterte has stated before presenting his own "interpretation," so they can stop contradicting each other in public.
Her statement comes after Panelo called her out for "misplaced and flamboyant remarks" in response to the president's remark about ignoring the arbitral ruling for a joint oil and gas exploration deal with China.
"Litong lito talaga ako, kasi ang sinasabi ni pangulo, iba sa sinasabi niya. Nagsabi si pangulo na i-set aside iyong arbitral ruling; ang sabi niya, hindi iyon iyong gustong sabihin," Robredo says on her weekly radio show, BISErbisyong LENI on RMN-DZXL 558.
Robredo says the administration should put a stop to this "practice" as contradictions between the president's statements and Panelo's "clarifications" only make things even more confusing for the people.
August 20, 2019 - 8:59pm
The White House accuses China of "bullying tactics" in the increasingly tense waters of the South China Sea and says it will resist Beijing on the dispute.
"China's recent escalation of efforts to intimidate others out of developing resources in the South China Sea is disturbing," President Donald Trump's national security advisor John Bolton tweets.
"The United States stands firmly with those who oppose coercive behavior and bullying tactics which threaten regional peace and security."
China's recent escalation of efforts to intimidate others out of developing resources in the South China Sea is disturbing. The United States stands firmly with those who oppose coercive behavior and bullying tactics which threaten regional peace and security.

— John Bolton (@AmbJohnBolton) August 20, 2019
— AFP
July 31, 2019 - 8:22am
Defense Secretary Delfin Lorenzana should do more than acknowledge China's harassment and bullying of Filipinos in the West Philippine Sea, activist fsherfolk group Pambansang Lakas ng Kilusang Mamamalakaya ng Pilipinas (Pamalakaya) says.
"Finally, a high-ranking official from the Duterte administration has recognized that there is an actual harassment of Filipino fishers in our own territorial waters. But we dare Mr. Lorenzana to walk the talk, if he is aware and is already fed up by the Chinese bullying and the subservience of his commander-in-chief Rodrigo Duterte to the foreign aggressor, then he must decisively act to stand with the Filipino fisherfolk and the people in upholding our sovereign and territorial rights," the group says in a statement.
Lorenzana on Tuesday said in response to Chinese Ambassador Zhao Jianhua speech at the anniversary of China's People's Liberation Army that China is a peace-loving nation that he considers China's takeover of Scarborough Shoal, also called Panatag and Bajo de Masinloc, as bullying.
July 11, 2019 - 9:18am
An overwhelming majority of Filipinos believe it is important to that the Philippines regain control of islands in the West Philippine Sea that are occupied by China, the latest Social Weather Stations survey suggests.
SWS says 93% of respondents in its Second Quarter 2019 Social Weather Survey said it is important "that the control of the islands that China currently occupies in the West Philippine Sea be given back to the Philippines," with 74% answering it is "very important" and 19% saying it is "somewhat important".
In contrast, 1% each said it is "somewhat not important" and "not at all important". Another 4% were undecided, SWS says.

"The latest figure of 93% saying it is very important/somewhat important that the Philippines regain control of the China-occupied islands in the West Philippine Sea is 4 points above the 89% (72% very important, 17% somewhat important) in December 2018. It was 87% (72% very important, 15% somewhat important) in September 2018, and also 87% (69% very important, 18% somewhat important) in June 2018," SWS also says.
In the same survey, 89% said it is "not right for the government to leave China alone with its infrastructures and military presence in the claimed territories," SWS says. It adds the proportion has increased steadily in four surveys conducted since June 2018.
July 5, 2019 - 12:37pm
While the Philippines is still verifying the incident, fellow maritime claimant Vietnam joins the United States in raising concern over China's missile test in the South China Sea, which Vietnam calls the "East Sea."
"Vietnam suggests that all activities in the East Sea (South China Sea) should respect sovereignty and legitimate and legal interests of countries and observe international law, especially the 1982 United Nations Convention on the Law of the Sea, contributing to regional peace, security, stability and cooperation," Vietnam's Ministry of Foreign Affairs spokesperson Le Thi Thu Hang says in a statement.