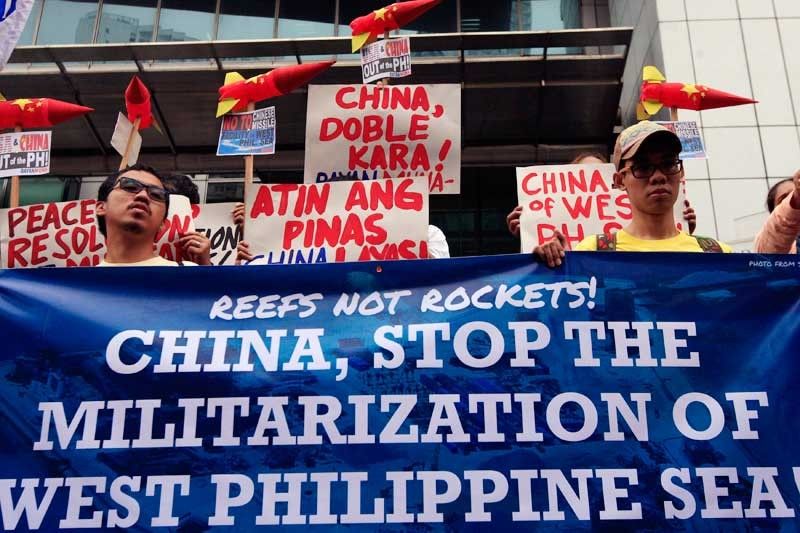 Cayetano also strongly disputed criticisms that the Duterte administration was not doing enough to protest the deployment of anti-ship cruise missiles and surface-to-air missile systems on Fiery Cross (Kagitingan), Subi (Zamora) and Mischief (Panganiban) reefs in the last few weeks.
Edd Gumban
Palace: Never too late to assert arbitral award in South China Sea
'Up to president to decide when to do it'
MANILA, Philippines — It would never be too late to assert the Philippines' claims in the West Philippine Sea because an international arbitral court had ruled in favor of Manila on the maritime row, Malacañang said Monday.
The Philippines calls the portion of the South China Sea within its exclusive economic zone the West Philippine Sea.
Presidential spokesman Salvador Panelo said it will be up to President Rodrigo Duterte to determine the right time to discuss the dispute before Chinese leaders.
"We'll have to leave it with the president's judgment on when and where the perfect time would be made. He has six years within which to do it... We're still only coming in the half of his term," Panelo said in a press briefing.
Duterte, who has been accused of being too soft on China on the South China Sea row in exchange for Chinese aid, has vowed to bring up the issue before his Chinese counterpart before his term ends in 2022.
RELATED: The verdict: Philippines wins arbitration case vs China
Panelo: There will be a time for all that
Pressed if he thought it would have been too late by the time Duterte decides to assert the Philippines' claims given China's recent activities, Panelo replied: "I do not think so because the arbitrational award will be there forever."
"It can never be too late when you protest on a particular thing, especially when the award is yours," he added.

Panelo said China has its reasons for not recognizing the 2016 arbitral court ruling, which voided Beijing's expansive maritime claims.
"It has its own reasons, and we have our own. And there will be a time for all of that," the presidential spokesman said.
Reported Chinese weather stations on disputed islands
Panelo was asked about the longstanding maritime row after South China Morning Post reported that China has opened weather stations on disputed islands in the South China Sea.
Citing state media reports, South China Morning Post said the stations are located on Fiery Cross (Kagitingan), Subi (Zamora) and Mischief (Panganiban) Reefs, areas off Palawan province where China has built artificial islands and military facilities.
The Chinese foreign ministry claimed the stations would be used to "enable China to better provide public services to nations across the South China Sea."
Panelo said the government is still confirming the report.
"Certainly, the DFA (Department of Foreign Affairs) will do its work and make the necessary diplomatic protest," he said.
"Again, these are news reports; we have not validated that. But if they are validated, I'm sure the new Secretary of Foreign Affairs will do his job."

China has also built artificial islands on Burgos (Gaven), Kennan (Hughes), Mabini (Johnson) and Calderon (Cuarteron) Reefs, areas that are also being claimed by the Philippines.
RELATED: Palace downplays weather stations in Spratlys despite Beijing's confirmation