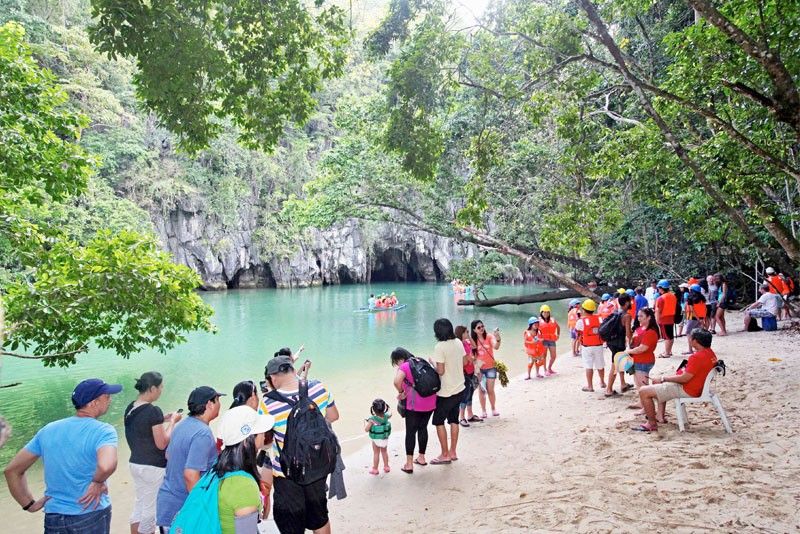 File photo shows tourists waiting for their turn to take a tour of the Puerto Princesa Subterranean River in Barangay Sabang, Puerto Princesa in Palawan. Tourist arrivals in the city peaked when the underground river was voted as one of the New Wonders of the World in 2012. It has also been declared a Unesco World Heritage Site.
Ernie Penaredondo
Duterte tells Palawan: Avoid another Boracay
DAVAO CITY, Philippines — Boracay was "overloaded" with tourists and Palawan must not go the same way, according to President Duterte.
The President told local government officials in Palawan to be cautious in accepting massive numbers of tourists and avoid closure, which happened in Boracay last April.
"Don't overload. Watch out. Boracay is a classic case of overloading. It can carry only so much people," Duterte said during the 1st Subaraw Biodiversity Festival in Puerto Princesa City on Saturday night.
He also urged the provincial government and citizens of Palawan to work with the national government in preserving and protecting the environment.
Duterte warned that a travel destination filled with garbage from tourists "will collapse."
"You have to control the number. Let people wait," Duterte said, referring to the tourists who visit Palawan's beaches and world-famous Subterranean River.
He warned that building hotels near the beach can damage the environment, unless proper water treatment facilities are installed.
"Do not allow hotels near the easement. Let them construct structures farther. The sea is for the people. It's a property of the national government. Nobody can claim ownership of that," Duterte said.
At the same time, he cited the efforts of communities in Palawan to develop alternative travel destinations and lessen the impact of tourism on the more popular sites.
"Another remarkable achievement is the development of the community-based sustainable tourism parks, such as Mangrove Paddle, Hundred Caves, Isla Filomena Dive and Snorkeling Site and Sabang Falls," Duterte said.
He urged Palawan residents to "protect your crown jewel."
The Subaraw Biodiversity Festival was previously known as the Puerto Princesa Underground River Festival since its inclusion in the New Seven Wonders of Nature in 2011.
"May this festival be an occasion to strengthen your solidarity and commitment to uphold the reputation of Palawan as the 'Best Island in the World,'" Duterte said.
Apart from environmental preservation, Duterte also expressed concern about the frequent power outage in the province.
He told local and electric cooperative officials to fix the problem or the national government will handle it, noting that he was ready to replace the electricity operator in Palawan.
"I'll give you about towards the end of the year, a new setup that would provide energy... enough energy to run a place and so that it can develop and it can operate and it can move," Duterte said.
"You better come up with something or I will do something for you," he said.
Duterte said the power outages in the province are "unacceptable."
"I need money because of your situation here. Your power situation at this late of the day of development in the country, you have outages that last for six to eight hours. That is not acceptable to me," he said.
Duterte said he was ready to expropriate the franchise of power producers in the province and to invite "big" players to enter if the deadline is not met.
"I will really look for money. China is itching to get hold of developments here. I will expropriate your franchise. I will buy it at an evaluation that is fair, just compensation, to end this almost an impasse," he said.
"I will either do some radical changes. I will expropriate your franchise at government price. Then I will invite the big ones. So better do something about it. Produce the capital. Cooperatives are having a hard time running it. It's very hard to raise money," Duterte said.
Duterte said stakeholders of the power industry should make adjustments if they want to "transcend to the next development demands."
He joked that he did not see the beautiful women of the province during his previous visit because it was dark.
"That's why the scenery in Palawan is changing if there is energy... Women are becoming beautiful if the lights are on. They apply powder," Duterte said.
"The last time I came here, it was dark and I did not see any beautiful women. But there are a lot of them here. There are mestizas here," he added. – With Alexis Romero