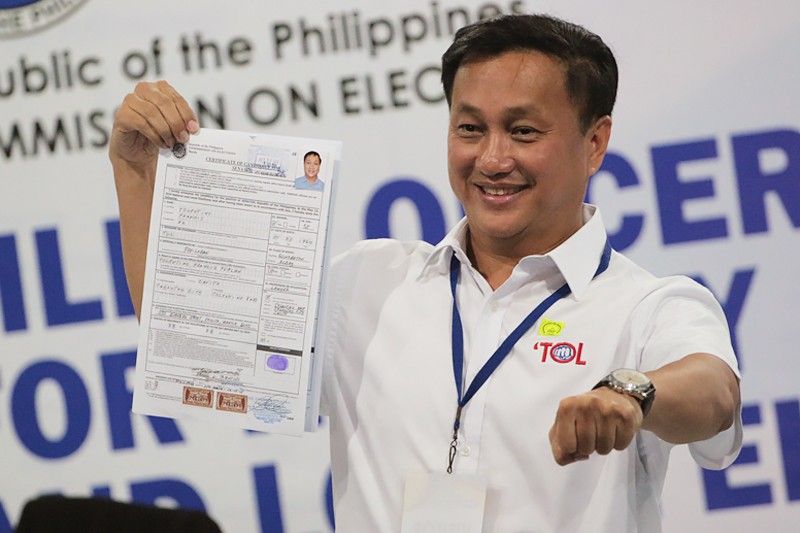 "I said 'come here.' Why are you angry with him? He just paid the talent fee," Duterte said of Tolentino, who said in 2015 that he hadn't hired the Playgirls.
Philstar.com/Efigenio Toledo IV
Duterte defends Tolentino in 2015 Playgirls controversy
MANILA, Philippines — President Rodrigo Duterte has defended senatorial candidate and former presidential political adviser Francis Tolentino, who drew in 2015 for hiring female dancers who performed raunchy moves during a public event, saying all the man did was pay for the performance.
Tolentino sparked controversy three years ago after members of the group Playgirls performed a lewd dance number during the 58th birthday celebration of Rep. Benjamin Agarao Jr (Laguna).
The dancers were reportedly sent by Tolentino, who was then being eyed as a senatorial candidate of the then ruling Liberal Party. Tolentino had apologized for failing to stop the dance number and had asked the LP to remove him from its list of possible senatorial bets.
He ran for senator as an independent in 2016 but lost.
'He was just showing goodwill'
Speaking during a biodiversity festival in Palawan Saturday night, Duterte said the incident involving Tolentino was "awful" but claimed that the former political adviser was innocent.
"What really happened was an awful one. Eh, you know, he was just trying to show goodwill," the president said in a mix of English and Filipino.
"He was innocent. He said he would sponsor a dance number. He paid the female dance group. When they danced, you know what happened," he added.
But it was not the first time for Tolentino to hire the girl group.
The Playgirls had previously performed for the campaign of Tolentino's brother, Abraham, who was elected Cavite congressman in 2013.
READ: Not the first time for LP, Playgirls
Duterte: That's how women dance now
Duterte claimed that women who appear on television dance like the Playgirls.
"Eh 'yan ang sayaw ngayon ng mga --- maski sa TV. 'Di nagk****-k**** 'yung mga singer niya pati ano (Those who appear on TV dance like that. They dance as if they are having intercourse. Even the singers do that)," the president said.
Duterte, who has also drawn flak for remarks that were widely seen as sexist, said he asked Tolentino to become his ally after the senatorial bet was ditched by the LP.
"I said 'come here.' Why are you angry with him? He just paid the talent fee," the president said.
At the time of the controversy, Tolentino said he was just a guest at the birthday party and had not brought any singers or dancers there.
"Maybe some of them are offended and made it an issue against him and eventually he was found floating in the island of politics — rather in the seas of politics, seeking to connect with an island," he added.
During his previous speeches, Duterte described Tolentino as a "good man."