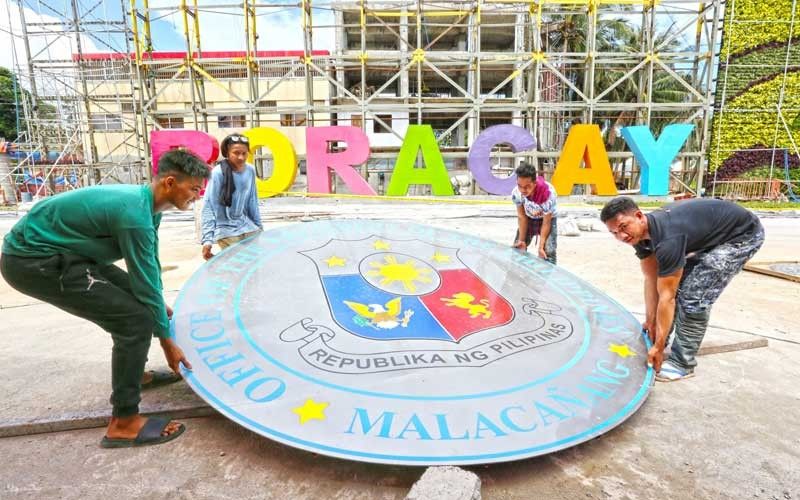 Workers carry the presidential seal which will join other government seals at the newly renovated Cagban Jetty Port in Boracay. The port, which serves as Boracay's main entry and exit point, will be operational during the re-opening of the resort island on Oct. 26.
Walter Bollozos
DENR: No total ban on Boracay parties
MANILA, Philippines — Tourists may still enjoy parties and other beach activities in Boracay, provided these are done indoors or in areas away from the shore, an official of the Department of Environment and Natural Resources (DENR) said yesterday.
Undersecretary Sherwin Rigor said several prohibitions proposed as policies for the reopening of the world-famous resort island will be imposed only in beachfront areas.
"The prohibitions on certain activities and structures were meant to protect the shore and maintain the pristine quality of the sand, which is Boracay's top selling feature," he said.
Among those prohibited are the construction of stage or platform for entertainment purposes and setting up of tables, chairs, massage beds, beach umbrellas, souvenir shops and food stalls.
Electrical fixtures, such as lights and wirings, will also be removed from the beachfront vegetation area.
"These structures will be banned at all times within the 25+5 (meter) easement area, which is a 'no-build zone,' and within the beach vegetation area," Rigor said.
These prohibitions would apply to White Beach Stations 1, 2 and 3, as well as Puka, Ilig-Iligan and Bulabog beaches, he added.
Meanwhile, DENR Undersecretary Benny Antiporda disputed an item in an infographic called "New Boracay Do's and Don'ts" circulating online, which states that grilling of meats would be prohibited.
"This is not true. The task force does not prohibit such," Antiporda said, referring to the Boracay Inter-Agency Task Force headed by DENR Secretary Roy Cimatu.
"We can grill meat, but not along the beachfront," he added.
The task force is also looking into setting up designated zones where ambulant vendors can sell their goods instead of approaching and possibly disturbing tourists.
Another measure proposed is the banning of parties at the beachfront and within the easement area without valid permits for the holding of special events.
To avoid noise pollution, Rigor said commercial establishments like bars and restaurants will also be encouraged to adopt noise or music insulation systems.
Rigor added that part of the rehabilitation of the beach ecosystem was to require establishments to obtain permits to plant balled coconut palms and other endemic species along the beach fronting their respective properties.
Antiporda, on the other hand, clarified that water sports, para-sailing and other related activities are only temporarily suspended while the government, led by the DENR's Biodiversity Management Bureau, and partner organizations are conducting an assessment of the marine ecosystems in Boracay.
Antiporda said results of the assessment should be out before the island resort fully opens on Oct. 26.
While Boracay would reopen by Friday next week, the Department of Public Works and Highways (DPWH) said it would complete the rehabilitation of the 4.1-kilometer main road Boracay Circumferential Road by December, DPWH Secretary Mark Villar said.
Villar said their men are working 24/7 to finish the first phase of the circumferential road and flood control project by Oct. 26 when Boracay reopens. – With Evelyn Macairan
Related video: