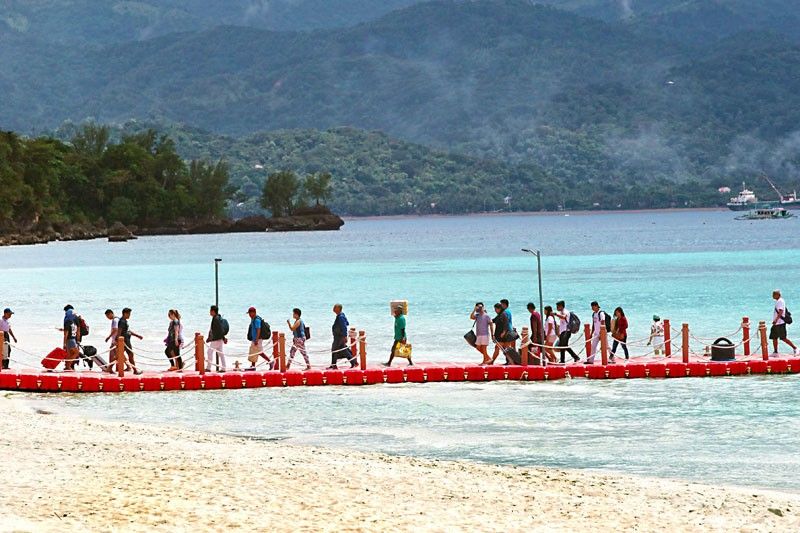 Tourists arrive at a port in Boracay yesterday during the dry run for the reopening of the island resort on Oct. 26.
Walter Bollozos
Zero-tolerance vs litterbugs in Boracay
MANILA, Philippines — The Department of Environment and Natural Resources (DENR) will adopt a zero-tolerance policy against litterbugs in Boracay after trash was found on the beaches during the first day of the dry run of the island's reopening, an official said yesterday.
Photos of discarded trash along Boracay's famous White Beach went viral on social media hours after the island was reopened to local tourists for a test run ahead of its scheduled reopening on Oct. 26.
DENR Undersecretary for solid waste management and local government unit Benny Antiporda said they would strictly enforce the guidelines against littering on the island.
Antiporda said they held a dialogue with the Compliant Association of Boracay (CAB) whose members include owners of hotels, resorts, retail shops and restaurants.
He said the DENR and other government agencies in charge of Boracay's rehabilitation support the CAB's proposal to designate its pollution officers as marshals to go after litterbugs.
He asked CAB members to use social media to remind Boracay visitors to dispose of their trash properly.
The DENR also recommended citizen's arrest against litterbugs, Antiporda said.
The CAB earlier asked Environment Secretary Roy Cimatu to deputize its members as Boracay marshals to police public areas on the island.
As marshals, the CAB said their pollution officers would be on the lookout for litterbugs.
The DENR said littering is a criminal offense and violators may face a fine or be made to render community service from eight to 16 hours.
Under Republic Act 9003 or the Ecological Solid Waste Management Act of 2000, establishments are required to designate a pollution control officer who would ensure compliance with the law, among others.
Related video: