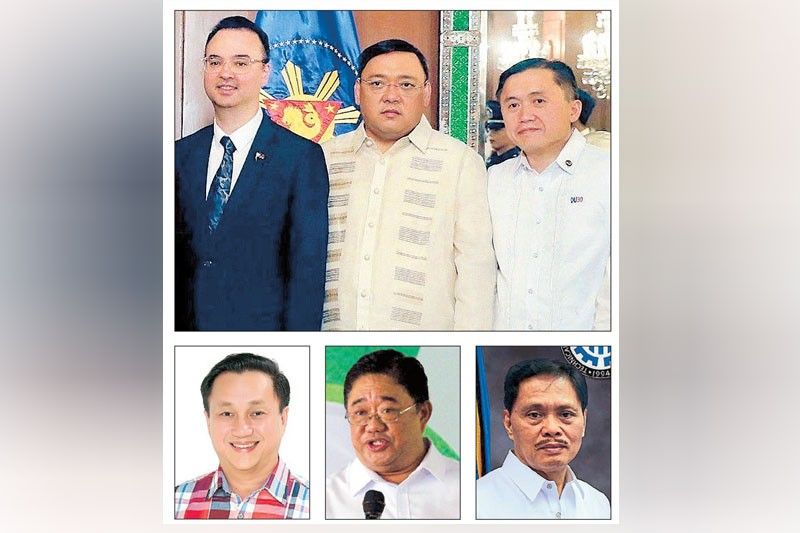 President Duterte announced that among his officials who are resigning to run in next year's elections are (clockwise, from top left) Foreign Affairs Secretary Alan Peter Cayetano, presidential spokesman Harry Roque Jr., special assistant to the President Christopher 'Bong' Go, TESDA chief Guiling Mamondiong, Agrarian Reform Secretary John Castriciones and political adviser Francis Tolentino.
Go, Roque, Cayetano running
MANILA, Philippines — President Duterte yesterday identified six of his officials who are expected to run in next year's midterm elections.
Duterte said among the officials resigning to seek electoral posts are his special assistant Christopher Go, Foreign Affairs Secretary Alan Peter Cayetano, presidential spokesman Harry Roque Jr., political affairs adviser Francis Tolentino, Agrarian Reform Secretary John Castriciones and Technical Education and Skills Development Authority director Guiling Mamondiong.
"I'm sure there will be guys running," Duterte told members of the Malacañang Press Corps when asked whether he was expecting a Cabinet revamp because of the 2019 polls.
Duterte said Cayetano is running for congressman in his district in Taguig, adding he had already picked Cayetano's possible successor.
"I have a name. He agreed but he did not authorize me to name him," the President said.
Duterte also expressed belief that Roque would run for senator. Roque has said he has not yet decided whether or not to seek an electoral post.
The President said Roque has been flip-flopping with regard to his political plans. He said he is considering Chief Presidential Legal Counsel Salvador Panelo to become press secretary, a post that would be revived once he issues an executive order reorganizing the Presidential Communications Operations Office. PCOO Secretary Martin Andanar previously said Roque was being eyed to become press secretary.
"It's not my fault. (Roque) said he is not running. Then he is running. I said I would choose someone else so there would be no paralysis in the functions," Duterte said.
"I do not know where to place him. I did not wait a minute longer," Duterte added.
Duterte said Panelo would become press secretary once he revives the office and he finds a new chief legal counsel. He said Andanar would remain as consultant after the PCOO is replaced by the Office of the Press Secretary.
"(Andanar) will remain a consultant... They have to reconfigure PTV 4. They need to change a lot there, perhaps to make it more responsive as sounding board of the Republic of the Philippines," the President said.
Duterte heaped praises on Tolentino, saying he has been efficient as a point person during disasters.
"(Tolentino) is a very good administrator... He was always my point man. He was always my contact (to the) outside world," the President said.
Duterte said Go has been a "faithful assistant" who can be a "friend" of the public in the Senate.
Sources said Castriciones is planning to run for senator while Mamondiong is considering running for a local post.
Duterte also revealed that he wants a Filipino-Chinese businessman to lead the National Food Authority. Retiring Army chief Lt. Gen. Roland Bautista was initially eyed to become NFA administrator but Duterte later decided to name him social welfare secretary.