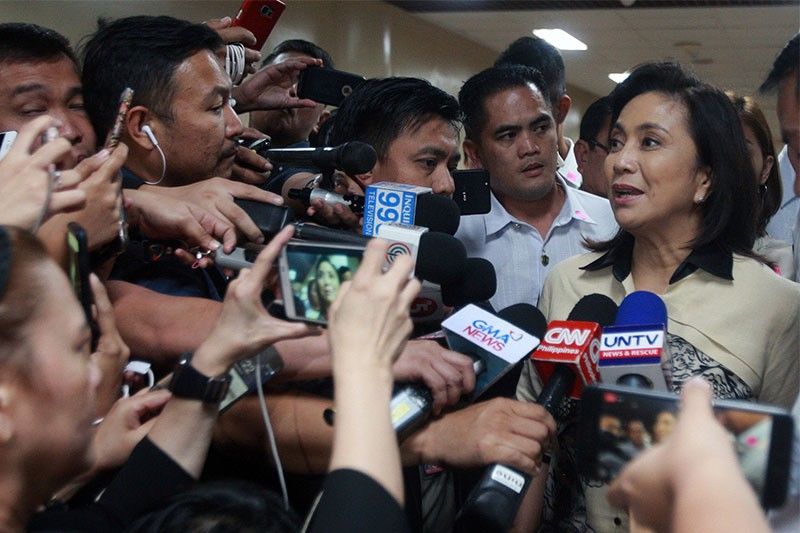 "The election protest filed by former Senator Bongbong Marcos as ground for ousting VP Leni is clearly frivolous if not outright ridiculous," lawyer Romulo Macalintal said. The draft federal constitution at the House of Representatives removes Vice President Leni Robredo from the line of succession in the transition government.
STAR/Joven Cagande
Robredo camp hits draft charter's 'ridiculous' basis for omitting VP from line of succession
MANILA, Philippines — The camp of Vice President Leni Robredo questioned the proposed draft federal charter, which removes the vice president from the line of succession in the transition government.
The draft charter that House Speaker Gloria Macapagal Arroyo and 21 other lawmakers authored puts Senate President Tito Sotto as next in line should President Rodrigo Duterte be unable to lead the transition government.
Section 4, Article XVII of the House draft federal constitution states, "In case a vacancy by reason of removal, resignation, permanent incapacity or death of the incumbent President, the incumbent Senate President shall act as President until a President shall have been chosen and qualified."
Romulo Macalintal, Robredo's legal counsel, said the proposal was a mere "political calisthenics" based on the reason of Rep. Vicente Veloso (Leyte).
Veloso, chair of the House Committee on Constitutional Amendments, said this proposal was made to prevent "instability" that comes with the election protest against Robredo.
Former Sen. Ferdinand "Bongbong" Marcos Jr. filed the poll protest against Robredo after he lost by 263,473 votes in the 2016 national elections.
"The election protest filed by former Senator Bongbong Marcos as [a] ground for ousting VP Leni is clearly frivolous if not outright ridiculous," Macalintal said.
"Since when did a pending election protest be the basis of succession to the highest position of the land?" he added.
Macalintal stressed that Veloso's reasoning has no visible means of any legal or factual support.
Questions on Duterte's health
Robredo's lawyer raised questions on why Duterte's allies appear to be implying that the president would not be able to perform his duties while Malacañang has been insisting that he is healthy.
"If he is sick, succession should not be the topic of discussion but prayers for his health," Macalintal said.
The vice president's lawyer said the Senate and the House would not even have enough time to make a final draft of the proposed shift to federalism.
"The Senate and the House could not even resolve how they would vote, whether jointly or separately. There is still the need to submit the proposed charter for people's ratification and the process would involve substantial time and public funds which will never be achieved till the next presidential polls in 2022," the lawyer said.
Macalintal expressed confidence that the proposal to remove Robredo in the transition government would never happen.
A report of the House panel dated October 2 showed that Arroyo's draft charter has been recommended without amendment to the plenary.
The draft also lifts the term limits for members of Congress and made no mention of anti-dynasty provisions.
As It Happens
LATEST UPDATE: July 23, 2019 - 10:56am
The consultative committee, tasked with drafting a new constitution, eyes the removal of the impeachment power of Congress over justices of the Constitutional Court, one of the proposed three Supreme Courts under the draft charter.
READ: Concom eyes 3 supreme courts
Concom proposes that the impeachment of justices in Constitutional Court be decided instead by the 15-member Supreme Court.
The proposed Constitutional Court will have a presiding justice appointed by the Supreme Court and six associate justices with two appointees each from three branches of government.
LIST: Controversial features of proposed federal charter by House sub-committee
— with Edu Punay
July 23, 2019 - 10:56am
Senate Minority Leader Franklin Drilon notes the omission of charter change and federalism from President Rodrigo Duterte's 4th SONA, saying the president's silence on the campaign promise "speaks volumes."
"For me, the non-inclusion of federalism indicates that the [charter change] was laid to rest yesterday. The SONA became cha-cha's 'final resting place,'" Drilon says.
Attempts to amend the 1987 Constitution during past administrations have failed and attempts towards the end of a sitting president's term have suffered from a perception that these are attempts to do away with term limits and to stay in power.
"Hence, those who have plans to revive it this 18thCongress should better think twice. It will be an exercise in futility," he also says.
July 9, 2019 - 3:20pm
The 2022 elections are not too far away too affect how attempts to amend the 1987 Constitution, Senate Minority Leader Franklin Drilon says, adding the presidential polls will be "the biggest factor" in a renewed bid for charter change.
"It is difficult to predict at this time how the senators will vote considering the new composition of the Senate. But what is becoming clear is the presidency in 2022 will play a huge role in how our colleagues will treat this renewed call for Charter change and decide on their vote," Drilon says.
Attempts to amend the constitution during past administrations have failed, partly because of fears that the sitting president would use the amendments to skirt term limits in the 1987 charter.
A 1997 attempt to shift to a parliamentary system through a signature campaign was stopped at the Supreme Court, which decided that the people's initative could ony be used for constitutional amendments and not revisions. Another attempt in 1999 failed to gather popular support and Joseph Ejercito Estrada, president at the time, was ousted in 2001.
Several attempts were made during the presidency of Gloria Macapagal-Arroyo but were met with protests by the political opposition who opposed Arroyo of wanting to stay in power for longer than the nine years that she sat as president.
An attempt to amend the economic provisions of the constitution during the Aquino presidency only reached approval on second reading.
Drilon points out that surveys in 2018 showed most Filipinos were either unaware of attempts to amend the constitution or did not support amending it.
"I don't think that people had a change of heart in the past months for them to favor Cha-cha. It is clear that Filipinos do not see charter change and federalism as the solution to the problems of hunger, poverty, unemployment and lawlessness," Drilon says.
June 30, 2019 - 2:16pm
The Palace has not given up on the campaign to shift to a federal form of government despite President Rodrigo Duterte saying he is fine with changing the 1987 Constitution even if that does not lead to a federal form of government as he porimised in the 2016 campaign.
"Palagay ko, di mawawala yan. May tatlong taon pa naman tayo (I think that won't be forgotten. Me have three more years to work on it)," presidential spokesperson Salvador Panelo says.
June 30 marks the halfway mark for the Duterte presidency. Under the 1987 Constitution, presidents can only serve one six-year term. — with a report from The STAR/Alexis Romero
March 21, 2019 - 3:42pm
The military's Western Mindanao Command said it respects Moro National Liberation Front founding chairman Nur Misuari's supposed threat to go to war if the Philippines does not shift to a federal government as an expression of frustration.
"Everyone has the right to express. If the president can tolerate it why can't we? Right?" says Col. Gerry Besana, Westmincom spokesman, in response to Misuari's supposed statement. Westmincom operates in the Bangsamoro Autonomous Region in Muslim Mindanao, which includes Misuari's home province of Sulu.
RELATED: Duterte told Misuari they would 'die together' if federalism talks fail, Palace says
He says, though, that it will be a different matter if Misuari actually makes good on his supposed threat.
"We know he is capable of doing it. But if he will do it again it will be another case. We have to understand we are in Martial Law in Mindanao. If any act of violence will be committed there will be corresponding action or contingency that is prepared by the military," Besana says.
December 11, 2018 - 4:50pm
The House of Representatives, voting 224-22-3, approves on third and final reading Resolution of Both Houses 15, a measure meant to amend the 1987 Constitution and set in motion the shift to a federal form of government.
JUST IN | The House of Representatives approves on third and final reading its draft federal charter with a voting of 224-22-3. (via News5 / @RoicesNaguit) pic.twitter.com/7qBnrJlDFy

— ONE News PH (@onenewsph) December 11, 2018
The House approved RBH 15 on second reading last week.
Rep. Kaka Bag-ao (Dinagat Islands), who voted 'no' on the resolution, said the proposal removes term limits for politicians, does not have a provision against political dynasties, and opens up industries to foreign ownership.
Rep. Jose Christopher Belmonte (Quezon City, 6th Dist.) likewise voted against the resolution.
Members of the House are currently explaining their votes.