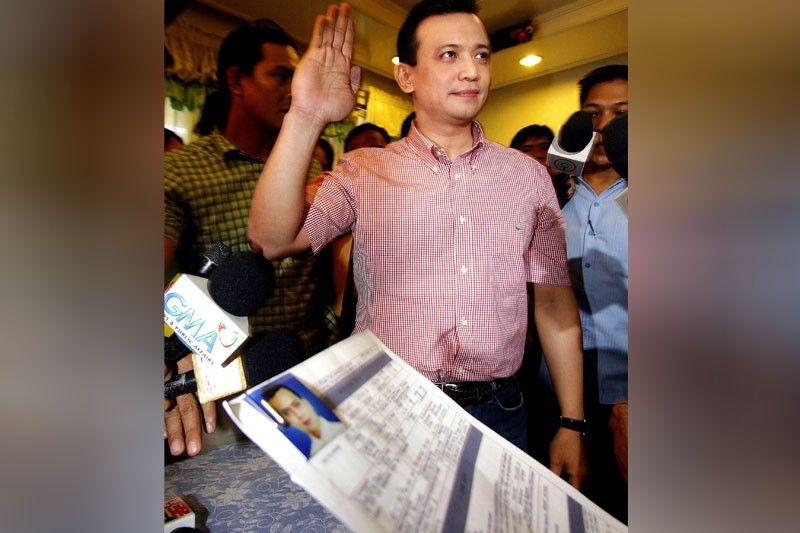 Photo which appeared on the Jan. 6, 2011 front page of The Philippine STAR shows Sen. Antonio Trillanes IV taking an oath as he submits his application for amnesty at Camp Aguinaldo.
Boy Santos
DND: No records of deliberations on any amnesty application
MANILA, Philippines — The Department of National Defense has no records of the minutes, deliberations or transcript of court stenography regarding applications for amnesty under the Aquino administration's Proclamation 75, its head of legal affairs said Friday.
DND lawyer Norman Daanoy said this in open court at Makati Regional Trial Court Branch 148's hearing on the Department of Justice motion for a warrant against Sen. Antonio Trillanes IV.
Daanoy was a witness for the prosecution, which says the coup d'etat case against Trillanes should continue because his amnesty has been revoked by a proclamation by President Rodrigo Duterte.
Daanoy: No records at all
Acting Prosecutor General Richard Fadullon presented Daanoy to testify that there are no records of minutes of deliberations regarding Trillanes' amnesty application. Duterte's proclamation is premised on the senator's supposed failure to file an application for amnesty.
The DND official said that he issued a letter stating that, based on DND records, there is no transcript of stenographic notes on Sen. Trillanes' application for amnesty.
But during cross-examination by Trillanes lawyer Reynaldo Robles, Daanoy said that "there are no records or any document pertaining to deliberation...minutes of amnesty application pursuant to Proclamation 75."
"All records missing?" Robles pressed.
"Yes. No records," Daanoy replied.
Proclamation 75 covers more than 250 applications for amnesty, including that of Trillanes.
AFP chief: Lapses in handling papers possible
Earlier this week, Gen. Carlito Galvez, Armed Forces of the Philppines chief of staff, told senators at a budget hearing that Trillanes' papers may have been lost.
He said that the AFP had reached out to the Ad Hoc Committee that processed the applications on the matter "to shed light [on] this missing document."
He said that there may have been "some lapses" and that documents were not properly transmitted from J1, or the Office of the Deputy Chief of Staff for Personnel.
"The old papers [were not] brought down pabalik sa GHQ (back to General Headquarters)," he said then.
"Kaya po si [Lt. Col. Thea Joan] Andrade walang nakitang papel, apparently, ang suspicion po namin sir, ang repository ay hindi naibaba sa GHQ," he added.
(That may be why Andrade did not find the paper, apparently, our suspicion is the repository was not brought to GHQ)
Proclamation 572 cited Andrade's certification that "there is no available copy of his application for amnesty in the records."