Australia, France eye joint operations in South China Sea
September 24, 2018 | 4:31pm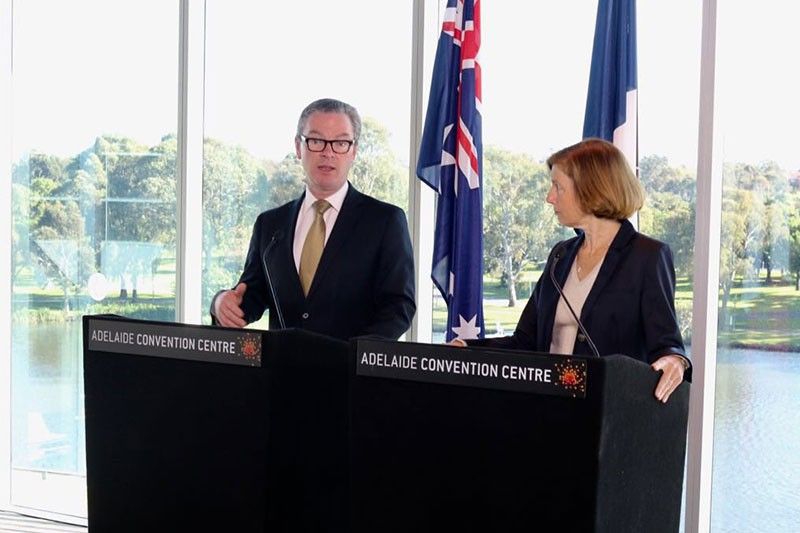 MANILA, Philippines — Both Australia and France are looking forward to a multi-flag operation in the disputed South China Sea in a bid to uphold freedom of navigation in the region.
Australian Minister for Defense Christopher Pyne and French Minister of the Armed Forces Florence Parly recently opened a joint Australia-France defense industry symposium in Adelaide, Australia.
In a joint press conference, Pyne noted that they reserve the right to operate in the South China Sea with other nations completely peacefully.
"And we are looking forward to doing so with France in coming years in terms of a group working together in one particular formation that is multi-flagged," Pyne said.
'South China Sea is international waters'
The Australian Defense minister added that any country should not see such operation as a threat to their sovereignty.
He did not specifically mention China, which previously challenged Australian warships passing through the South China Sea in April.
"In terms of the South China Sea, both Australia and France share a common view, which is that the South China Sea is international waters and that we are entitled to navigate as we see fit, and through the norm practice of any country, navigating through the South China Sea," Pyne said.
Pyne also noted that Canberra has recently increased its pace of navigation in the disputed waterway and that there are already more ships navigating in the area, which are in contact with eact other.
Parly, on the other hand, said Paris has become "very conscious that China is more and more receptive" in the South China Sea.
"So, France's position is very clear in this site, We want to — that China sticks to the international rules, but we remain very open to dialogue," Parly said.
In June, a Chinese warship also challenged a French military vessel conducting an operation in the Spratly Islands, according to a report from The Wall Street Journal.
Hudson Institute senior fellow Jonas Parello-Plesner narrated how Chinese frigates and corvettes closely tailed the French ship while they passed arounc Fiery Cross, Mischief and Subi Reefs.
Beijing has installed anti-cruise ship missiles, surface-to-air missile system and electronic jamming equipment on these islands, which are also being claimed by the Philippines.
At the Shangri-La Dialogue in Singapore last June, Parly said France would continue to conduct missions in the South China Sea, along with the United Kingdom and Germany.
"Meanwhile, we should be very clear that the fait accompli is not a fait accepted," Parly said in the security and defense summit. — Patricia Lourdes Viray