Martial law detainees hit Enrile's 'distortion' of history
September 21, 2018 | 3:43pm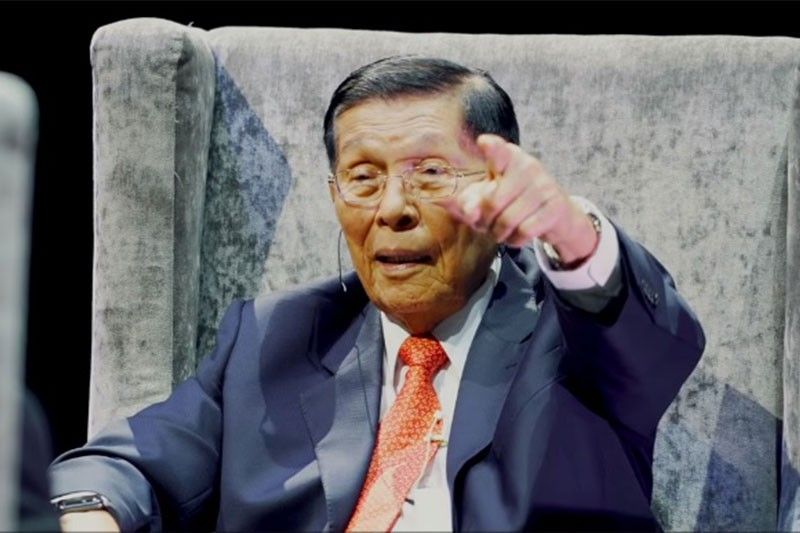 MANILA, Philippines — It is former Senate President Juan Ponce Enrile himself who is distorting history, former Social Welfare Secretary Judy Taguiwalo said Friday.
In a one-on-one recorded conversation with former Sen. Ferdinand "Bongbong" Marcos Jr., Enrile claimed that no one was arrested for their political beliefs during martial law under the regime of ousted dictator Ferdinand Marcos.
"Name me one person that was arrested simply because he criticized President Marcos. None," Enrile told Marcos Jr. in a video posted on Facebook.
Taguiwalo, who was arrested in Angeles City in 1984, pointed out that Enrile was "part of making the lies" during at the time.
"The distortion actually comes from him and he himself revealed it in 1986 during the EDSA Revolution when he said publicly the assassination on him in 1971 in Shaw Boulevard near Wack Wack Golf, which was one of the reasons used by President Marcos to impose martial law, was actually a setup," Taguiwalo told ANC's "Early Edition".
LOOK: Judy Taguiwalo with her daughter in prison during Martial Law#ConfirmJudy pic.twitter.com/LbzrTtG534

— Vencer Crisostomo (@venzie) May 3, 2017
'Enrile was part and parcel of martial law'
The former Social Welfare secretary stressed the importance of arguing against lies or the so-called historical revisionism, particularly on martial law.
She added that there are written accounts and testimonial accounts of those who suffered human rights violations under the Marcos regime.
"I think it is important if people believe Juan Ponce Enrile they deny the fact that he was part and parcel of the Marcos dictatorship for years," Taguiwalo said.
Former Commission on Human Rights (CHR) chair Etta Rosales, meanwhile, called the younger Marcos' video a "pathetic" attempt to revise history.
"It's lame and, although I would not underestimate it, but pathetic effort to try to neutralize or counter the rising and emerging protests of the Filipino people including the milllennials who they kept on mentioning," Rosales said in an interview with ANC's Headstart.
Rosales was also arrested during martial law. She recalled having to go underground to fight against Marcos' disctatorship.
'A lot of people arrested, tortured, disappeared'
The former CHR said she was arrested twice — the first one during the "smiling" martial law, when they were not hurt while in detention. The second arrest was different as protests against Marcos continued to grow, she said.
"A lot of people went underground, a lot of people were arrested, a lot of people were tortured, a lot of people disappeared and that was totally out of fear," Rosales said.
Like Taguiwalo, Rosales noted that the former Defense Minister of Marcos rectified his statements when he wrote his autobiography a few years ago.
"Whatever benefits him for the moment is something that he will say," Rosales said.
During the 1986 EDSA People Power Revolution, Enrile and then Armed Forces of the Philippines vice chief Gen. Fidel Ramos withdrew their support from Marcos and recognized Corazon Aquino as duly elected president.
Enrile would later on be involved in a military coup against Aquino.
In 1990, he was charged with "rebellion complexed with murder" for his alleged participation in a December 1989 coup attempt against the late president.
'Ends don't justify the means'
Former Senate President Aquilino Pimentel Jr., who was also jailed by the Marcos administration, acknowledged that there was some unrest when martial law was declared in 1972, "but it does not mean the entire Philippines should have been put under martial law."
He added that some point to the infrastructure projects under Marcos to excuse government abuses at the time. "Pero, mga kapatid, ilang kilometro ba ng kalsadang daan would compensate for one life? Let's be careful. You must remember that the end does not justify the means," he said.
He added that while Enrile is entitled to his opinion on the martial law years, the former Defense minister cannot change facts.
Ex-detainees join September 21 protest
"We were there in the darkest days. We struggled and survived," SELDA (Samahan ng Ex-Detainees Laban sa Detensyon at Aresto), an association of former political prisoners, said in an e-mailed statement announcing its members will be joining a protest at Luneta on Friday.
"At the sunset of our lives, we will not bow down to another rising tyranny and dictatorship. The Filipino people have already witnessed how we toppled a tyrant. There is no doubt that we can do it again!" the group said.
"We want to show our fellow people, especially the younger ones, that our warm bodies are testament that martial law is and never will be good. It will always be used to suppress and oppress the people, who, in the first place, have all the reasons to rise up and protest," Trinidad Herrera-Repuno, SELDA chairperson, said.