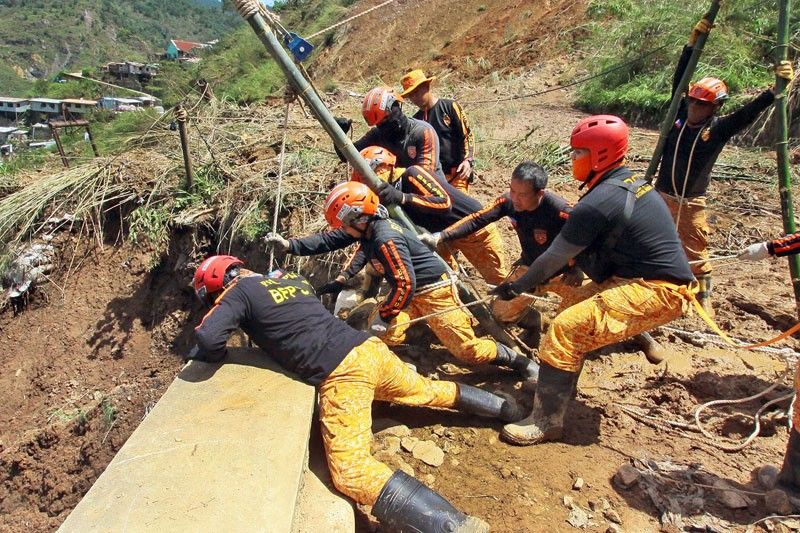 Members of the BFP search and rescue team use a makeshift hoist during retrieval operations in Barangay Ucab, Itogon, Benguet yesterday.
Andy Zapata Jr.
18 more bodies recovered from Benguet landslide
TUGUEGARAO CITY, Cagayan , Philippines — Eighteen bodies were dug up from tons of mud that buried a hillside mining community in Itogon in Benguet as hopes faded for finding survivors, with 57 more people still unaccounted for as of yesterday.
Benguet police director Senior Supt. Lyndon Mencio said the casualty figure from last Saturday's landslide set off by Typhoon Ompong is expected to rise as people had been arriving in droves at the site in Barangay Ucab since Sunday, checking on the whereabouts or fate of their missing loved ones, relatives or friends.
"Rescuers are doing the retrieval manually because it is impossible to bring in heavy equipment to the site due to the washed-out road and dangerous slopes," Mencio told The STAR.
Reaching the site requires hiking for almost two hours from the highway and negotiating steep and slippery trails usually sloping by as much as 40 degrees.
He said there were about 200 to 500 rescue personnel from the army, local government units and private groups.
Mencio said retrieval efforts were becoming more difficult each day as the huge mound of soil, beneath which dozens may still be buried, was beginning to dry and harden.
Police have also put up a tent in the area to process retrieved cadavers like obtaining fingerprints for identification, Mencio said.
Mencio added rescuers were still trying to locate the exact spot where the bunkhouse cum chapel once stood before it was covered by an avalanche of mud and debris at the height of Typhoon Ompong.
Grace Bandoy, a native of Itogon, described the area as a community of small-scale miners and their families, some of whom came from as far as the Visayas.
The buried building – formerly owned by Benguet Corp. – also doubled as a chapel for the community.
While rescuers may have given up hope of finding more survivors from the landslide, the National Disaster Risk Reduction and Management Council said it could only confirm eight-storm related deaths and 21 injuries as of yesterday.
But reports from various provincial disaster offices in Northern Luzon, Bicol and Manila put the number of deaths at 100. Of these deaths, 39 were from Barangay Ucab, Itogon alone; 25 in the rest of Itogon town; nine from Baguio City; two in La Trinidad, one from Tuba, one in Kalinga; six from Mountain Province; four from Nueva Vizcaya; one from Ilocos; six from Cagayan province; two from Nueva Ecija; one from Albay and three from National Capital Region.
Meanwhile, the Department of Social Welfare and Development in the Cordillera Administrative Region (CAR) has sent a team of social workers to Itogon to provide counseling and psychosocial services to families and relatives of the dead and missing miners.
"We are deeply saddened by the loss of lives and the devastation caused by the effects of Ompong in the Cordillera region," said Social Welfare Secretary Virginia Orogo.
"Our Field Office CAR will continue to assess the needs of the affected families, especially the grieving relatives, for the provision of additional assistance," she added. – With Jaime Laude, Janvic Mateo