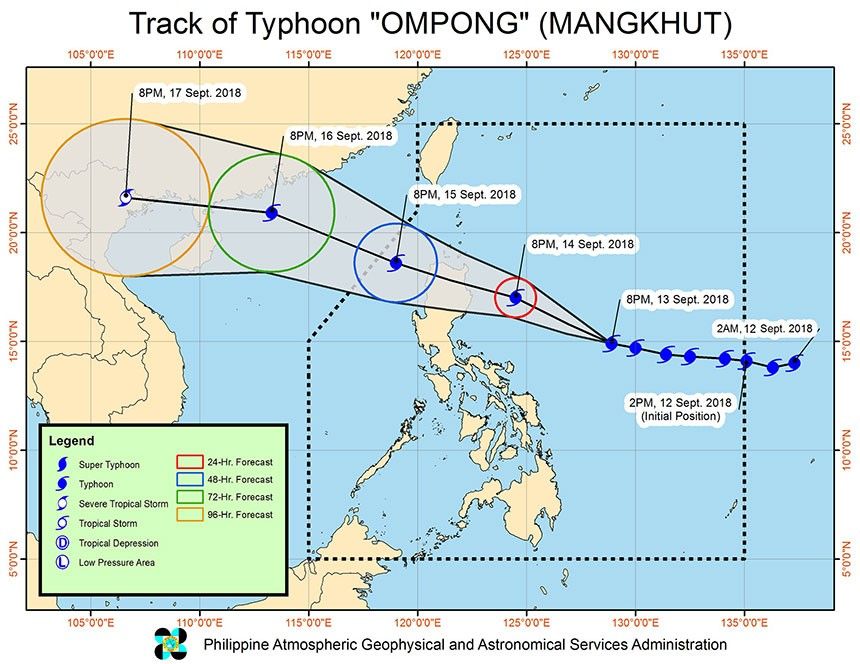 State meteorologists said the center of Typhoon Ompong is expected to hit Cagayan tomorrow while battering the country's eastern seaboard with intense rains, strong winds and devastating storm surges of up to six meters beginning today.
PAGASA
Evacuations due to Typhoon 'Ompong' in Luzon start; storm signals up
Helen Flores
(The Philippine Star) - September 14, 2018 - 12:00am
MANILA, Philippines — The most powerful typhoon to threaten the country this year roared toward Northern Luzon yesterday, prompting officials to order precautionary evacuations and closures of schools and offices, and farmers to quickly harvest their crops to reduce damage.
State meteorologists said the center of Typhoon Ompong is expected to hit Cagayan tomorrow while battering the country's eastern seaboard with intense rains, strong winds and devastating storm surges of up to six meters beginning today.
Ompong (international name Mangkhut) was classified as a super typhoon based on the latest forecast of the US Joint Typhoon Warning Center (JTWC).
The Philippine Atmospheric, Geophysical and Astronomical Services Administration (PAGASA), however, maintained Ompong is still a typhoon, although a bit stronger.
The JTWC uses one-minute average readings for a cyclone's wind speed, while PAGASA has lower figures because it uses 10-minute readings similar to the standard used by the Japan Meteorological Agency.
PAGASA classifies a cyclone with maximum sustained winds of 220 kph and above as a super typhoon.
The Hong Kong Observatory has also classified Ompong as a super typhoon.
PAGASA said Ompong is comparable to Super Typhoon Lawin, which hit the country in October 2016.
"It (Ompong) is almost similar to Super Typhoon Lawin which caused severe damage. This typhoon is also powerful," said Rene Paciente, assistant weather services chief of the PAGASA's weather division.
Like Lawin, Ompong is also predicted to make landfall in Cagayan, according to PAGASA. Unlike Lawin, Ompong carries more intense rainfall, Paciente said.
Compared to Super Typhoon Yolanda that virtually flattened Tacloban City in 2013, forecasters warned Ompong has a massive rain band of 900 kilometers which, combined with monsoon rains, could bring "heavy to intense" rains that could set off landslides and flash floods.
National Disaster and Risk Reduction and Management Council (NDRRMC) spokesman Edgar Posadas pointed out Yolanda only had a 600-kilometer rain diameter.
Several areas in Northern and Central Luzon as well as in the Visayas were placed under tropical cyclone signal no. 1 as of 5 p.m. yesterday ahead of the typhoon's expected landfall.
Ompong is forecast to hit northern Cagayan tomorrow morning.
PAGASA weather forecaster Nikos Peñaranda said heavy to intense rains and strong winds will prevail over Cagayan Valley and Cordillera Administrative Region today and over the entire Northern Luzon and parts of Central Luzon tomorrow.
Peñaranda also warned of destructive storm surges of up to five to six meters in Isabela, Cagayan and Ilocos.
A storm surge happens when storms produce strong winds that push the water onto shore, which can lead to flooding.
The predicted storm surge from Ompong is higher than that brought by Super Typhoon Yolanda in Eastern Visayas in November 2013 that killed thousands.
PAGASA administrator Vicente Malano warned Ompong might generate storm surges of at least six meters high along Cagayan and the eastern and northern coastal areas, including Aparri.
"We expect storm surges of up to five to six meters high, that is destructive," Malano stressed during a press conference yesterday.
Malano said they would provide the public "more precise" storm surge advisory every six hours once the typhoon is already close to Philippine landmass.
Malano also warned the rains brought by Ompong and the southwest monsoon could surpass the rains brought by Tropical Storm Ondoy in 2009.
"If there's a southwest monsoon plus the rains from the typhoon, we could experience the volume of rain brought by Ondoy or even surpass it," Malano warned.
PAGASA said Aparri, Cagayan is expected to receive the highest rainfall today at 139.9 millimeters, while more rains are forecast over Ilocos provinces and Cordillera Administrative Region tomorrow. Baguio City is expected to experience 550.9 mm of rains tomorrow.
Malano said Ompong is likely to weaken slightly once it interacts with landmass in Northern Luzon.
"(Ompong's) maximum sustained winds and gustiness could weaken by 10 percent but it is likely to remain in the typhoon category as it leaves the country," Malano said.
Paciente added they are not yet ruling out the possibility that Ompong will develop into a super typhoon before it hits land, although the chances "have slimmed."
"As of this moment, I think the chances (of Ompong intensifying into a super typhoon) have slimmed, this might be its peak (205 kph maximum sustained winds). But let's not become complacent because this remains a destructive typhoon," Paciente said.
As of 4 p.m. yesterday, the eye of Ompong was spotted at 1,145 kilometers east of Virac, Catanduanes.
Ompong packed maximum sustained winds of 205 kph near the center and gusts of up to 255 kph.
The typhoon slowed down from 30 kph on Tuesday to 20 kph yesterday as it continued to move westward.
Ompong was expected to slightly change its track from west to west northwest in the next hours as the high-pressure area north of it moves, according to PAGASA weather forecaster Gener Quitlong.
PAGASA raised tropical cyclone warning signal no. 1 over Metro manila, Batanes, Cagayan including Babuyan group of islands, Apayao, Abra, Kalinga, Mountain Province, Ifugao, Isabela, Benguet, Pangasinan, La Union, Ilocos Norte, Ilocos Sur, Quirino, Nueva Vizcaya, Aurora, Pampanga, Bataan, Zambales, Tarlac, Nueva Ecija, Bulacan, Rizal, Cavite, Batangas, Laguna, Quezon including Polillo Island, northern Occidental Mindoro including Lubang Island, northern Oriental Mindoro, Masbate, Marinduque, Camarines Norte, Camarines Sur, Catanduanes, Albay, Sorsogon, Burias and Ticao island, and Northern Samar.
Areas under signal no. 1 can expect winds of up to 60 kph within 36 hours.
"When we raise signal no. 1, it doesn't mean that they could already feel the effect of the typhoon. The warning gives (residents) a 36-hour lead-time. They have to evacuate by Friday," Quitlong stressed.
Maintaining its maximum sustained winds of 205 kkph and gustiness of up to 255 kph, Ompong slightly changed course, moving a little upward, west-northwest at a speed of 25 kph, which gave some relief to those living in southernmost part of Luzon.
However, the trough or extension of Ompong and the southwest monsoon werer already dumping rains over Palawan, Bicol region, the Visayas and Mindanao yesterday.
Heavy rains and strong winds are expected over Northern Luzon and parts of Central Luzon by today due to the cyclone's outer periphery.
The typhoon is also expected to enhance the southwest monsoon, which will bring rains over Palawan, Mindoro provinces and Western Visayas by Friday and Saturday.
Quitlong said moderate to heavy to at times torrential rains are expected over Southern Luzon, including Metro Manila, by Friday due to the combined effect of the southwest monsoon and the outer cloud band of Ompong.
Although Metro Manila is far from the center of the typhoon, it is also likely to experience rains and gusty winds beginning this afternoon, Paciente added.
He said Southern Luzon, including Metro Manila, would experience light to moderate to occasional heavy rains due to the southwest monsoon, which was being enhanced by Ompong.
Meanwhile, Magat dam in Isabela has opened one floodgate in anticipation of heavy rains from Ompong, PAGASA hydrologist Danilo Flores said.
He gave assurance that other major dams in Luzon are still far from their spilling levels.
Bracing for impact
Cagayan Gov. Manuel Mamba said the northern coastal and island villages in the typhoon's projected path will begin evacuating residents ahead of the expected onslaught.
He said classes have been suspended yesterday and offices, except those involved in rescue and relief work, would be advised to close beginning tomorrow.
In 2016, Typhoon Lawin lashed the southern section of Cagayan, destroying tens of thousands of houses. Ompong is blowing from the Pacific and forecast to directly slam the province's northeastern coastal and island municipalities.
"I'm stressing that this one (Ompong) is very different, this is more complicated because of possible storm surges," Mamba said.
Ompong is arriving at the start of the rice and corn harvest season in Cagayan, a major agricultural producer, and farmers were scrambling to save what they could of their crops, Mamba said.
Mamba had a talk with Special Assistant to the President Christopher Go over dzRH requesting the government to provide additional air assets like helicopters for immediate evacuation.
Go said he will relay the request to the Philippine Air Force for immediate action should the need arise.
Batanes Gov. Marilou Cayco also requested Go for additional stock of NFA rice for the province.
Cayco said the provincial government has prepared for any eventuality by prepositioning the food and non-food items sent by the NDRRMC.
Go replied he will bring to the attention of the NFA and the Department of Agriculture the need for rice and other food assistance to Batanes.
Catanduanes Gov. Joseph Cua also relayed to Go the needs of the island province.
Cua said that although their province has prepared for Ompong, they still want additional relief goods since Catanduanes is an island far from the mainland.
Raul Lambino, administrator and CEO of the Cagayan Economic Zone Authority (CEZA), said they formed a 50-man team for emergency and disaster response in the region.
Lambino said he has put on standby CEZA's earth-moving equipment such as backhoes and bulldozers and other vehicles like ambulances and dump trucks for possible evacuation and rescue operations.
The Office of Civil Defense (OCD) said other northern provinces had started evacuating residents from low-lying areas yesterday.
"The worst case are those areas which will be directly hit by strong winds that can topple houses, storm surges and heavy rains that can cause flooding, and there may be landslides in higher areas," OCD chief Ricardo Jalad said.?Pangasinan Gov. Amado Espino Jr. ordered local officials to prepare communities for pre-emptive evacuation.
Espino also advised fishermen not to venture out to high seas.
"Everyone is advised to be always on alert, in constant coordination with their local officials and be updated with the latest weather advisories and warnings," he said.
The Armed Forces of the Philippines (AFP) Northern Luzon Command has placed under alert its disaster response task groups in Northern and Central Luzon ahead of Ompong.
The Philippine National Police (PNP) in Northern and Central Luzon has been been placed on full alert status to help in disaster response and emergencies.
All government hospitals in Northern Luzon and other areas in the path of Ompong are now on alert for possible surge in injuries and flood-related diseases.
Health Undersecretary Eric Domingo said the Department of Health has raised code white alert, particularly in areas in the path of Ompong.
"It is necessary to raise code white so we can prepare adequately before the storm hits," Domingo said.
Philippine Airlines and Cebu Pacific have cancelled several flights today and tomorrow due to Ompong.
The Philippine Coast Guard has ordered the suspension of sea travel in the areas to be affected by the typhoon, including those in Central Visayas and Mindanao. – Eva Visperas, Ding Cervantes, Cecille Suerte Felipe, Mayen Jaymalin, Evelyn Macairan, Edith Regalado, Jack Castano, AP
Related video: