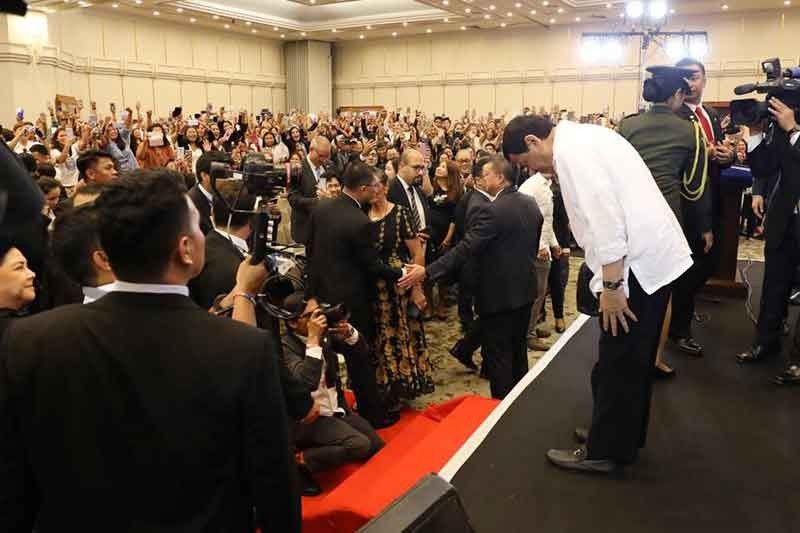 The tough-talking Duterte changed his tune during a meeting with the Filipino community here, adding that he had also "forgiven" Obama for criticizing the war on drugs.
Presidential Photo
Duterte apologizes to Barack Obama
Alexis Romero
(The Philippine Star) - September 4, 2018 - 12:00am
JERUSALEM – In an unexpected move, President Duterte yesterday apologized to former United States president Barack Obama for cursing him publicly out of anger at the US leader's criticism of his bloody crackdown on illegal drugs.
The tough-talking Duterte changed his tune during a meeting with the Filipino community here, adding that he had also "forgiven" Obama for criticizing the war on drugs.
After recalling how he had cursed Obama for supposedly humiliating him publicly, Duterte offered his apologies.
"I got angry. I said, 'son of a b****, Obama, you can go to hell. You son of a b****.' I said that because he was not a civilized person anyway. Being a president of a republic you ought to know the basic rules. You do not criticize, especially if it is a problem of the country that you are criticizing," Duterte said.
"Well then, it would be appropriate also to say at this time to Mr. Obama that you are now a civilian and I am sorry for uttering those words. No, it was just a plain talkatise also like yours. We have learned our lessons very well," the President said.
Duterte said he had already forgiven Obama for criticizing his war on drugs. He explained that he tends to use foul language whenever he loses his temper.
"I am forgiving you, just like my girlfriends when I was still a bachelor. I am forgiving you. I have forgiven all of them," the President said.
Duterte's controversial campaign against narcotics has left more than 4,000 people dead, sparking concerns among human rights advocates.
Aside from Obama, the European Union (EU) had also expressed concern over Duterte's war on illegal drugs, one of the campaign promises that catapulted him to victory in 2016.
Obama's criticism of the drug war prompted Duterte to declare the Philippines' "separation" from its traditional ally the US and to emphasize the need for an independent foreign policy.
While Duterte was combative towards Obama, he had kind words for US President Donald Trump, whom he described as "warm."
"Look at America now, look at Netflix, the dope and everything, they are suffering. Now, here is America, then comes Trump. Trump is a good friend of mine," the President said.
"He (Trump) is because he speaks my language and he is a bit warmer. Obama was a cold person... always at a distance even his talkatise," he added.
Duterte said Trump had told him that he was "doing it right" in his anti-drug crackdown. He said the US president had even expressed interest to follow his example.
"So forcing me to say, where do I go from here? Here is one guy president and another president. So what will I do? I cannot understand you. Two presidents – praising you and one is condemning you," he added.
Trump earlier invited Duterte to the White House but the Philippine leader has not yet accepted the invitation.
Duterte reiterated his warning to drug lords, saying he would not hesitate to kill those who seek to destroy the youth.
"They are asking if it is true, then I'm telling everybody, including the whole world, it is true. Because if you destroy my country, you are destroying me and my beloved Philippines," he said.
In a statement, meanwhile, Malacañang denied Israeli media reports there were 400 people in President Duterte's retinue.
The delegation included military and police officials who are expected to visit Israeli camps.
Presidential spokesman Harry Roque said less than 50 officials would join the trip but admitted that the business delegation was "substantial."
"The total number of official delegates and accompanying delegates consists of 46 people total. That's in the official list," Roque said in a statement.
"I do know there's a substantial business delegation of at least 150 who are all traveling on their own accounts. Not sure where figure of 400 came from," he added.
Duterte previously said "many" retiring police and military officials would join him in his Israel trip as a "reward" for their service.