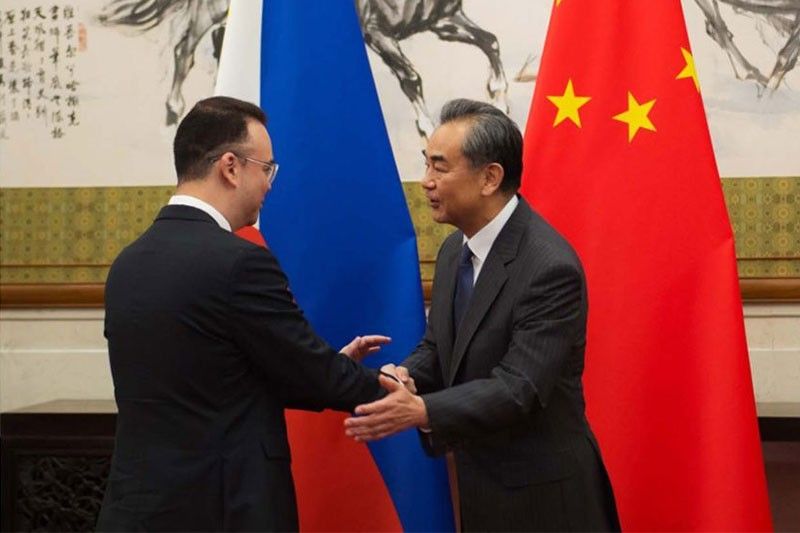 Chinese State Councilor and Foreign Minister Wang Yi (R) meets with Philippine Foreign Secretary Alan Peter Cayetano in Beijing, capital of China, Aug. 22, 2018.
Xinhua/Zhai Jianlan
Cayetano: No deadline on West Philippine Sea joint exploration
MANILA, Philippines — The Philippines and China have agreed not to set a deadline on possible joint exploration in the West Philippine Sea or South China Sea, Foreign Affairs Secretary Alan Peter Cayetano said Thursday.
Cayetano recently met with Chinese Foreign Minister Wang Yi in Beijing to discuss economic matters between the two countries.
"I was also there and had a bilateral meeting also with my counterpart State Councilor Wang Yi and we agreed not to put any deadline but to work on an 'as soon as possible' attitude in coming up with a legal framework," Cayetano said in a press conference prior to the House hearing on the DFA's proposed budget for 2019.
For Cayetano, the ideal framework on the proposed joint exploration should be amenable to both Manila and Beijing.
"It will pass with flying colors in the Supreme Court, meaning they will not strike it down and we can protect our territorial and economic rights," he said.
The supposed framework would most likely point to commercial entities that will negotiate for both sides to make the proposal a reality.
Cayetano noted that working on the framework would be "tricky" as it would have to be in accordance woth both Philippine and Chinese laws.
'We are not setting aside our claims'
The DFA chief clarified that the Philippines will not set aside its claims upon negotiating with China on the possible joint exploration.
"What I said was that there will be a framework (where) both sides will put in provisions that will, in effect, set aside the issue of our claims so that it will not damage," Cayetano said.
He added that the Philippines' initial proposition to China wasa 60-40 sharing in favor of Manila.
Cayetano added that Beijing was "open" to Manila's starting proposition on the proposed joint exploration.
"They haven's said 'yes' to it, but they're open to it because they know that part of being a good neighbor is understanding our economic situation," the secretary said.
The Malampaya field, which supplies 30 to 40 percent of power in Luzon, is forecasted to run out by 2024. The oil reserves in the West Philippine Sea is about 50 percent times than those of Malampaya, according to Cayetano.
Critics have warned that pursuing a joint exploration with China in the West Philippine Sea would be a disadvantage for the country.
Senior Associate Justice Antonio Carpio said the government should ensure that the country's sovereignty would not be compromised in the proposed 60-40 sharing with China.
"As long as the joint development complies with the Philippine Constitution and there is no waiver of our sovereign rights under the arbitral ruling, I have no objection," Carpio earlier said.