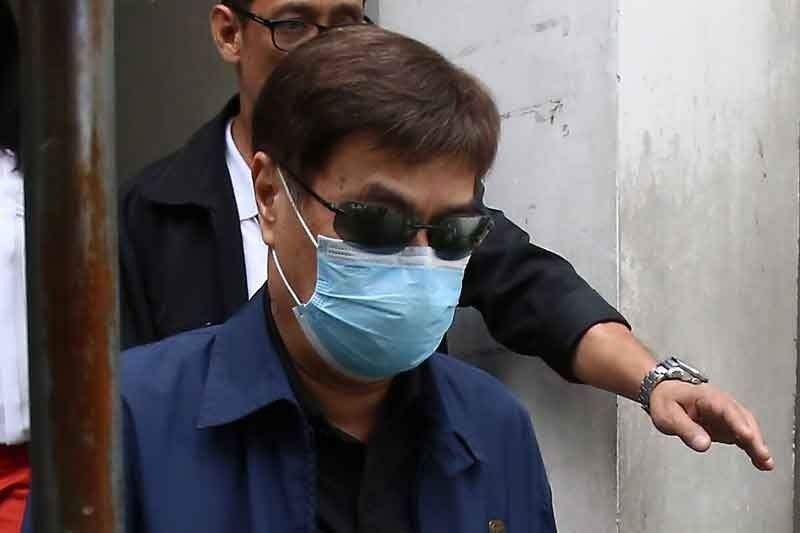 DOJ acting prosecutor general Richard Anthony Fadullon said they found probable cause to file conspiracy to commit illegal drug trading against Lim, Rolan "Kerwin" Espinosa, Marcelo Adorco, Ruel Malindangan and several others.
Miguel De Guzman
DOJ indicts Peter Lim for drug trade conspiracy
MANILA, Philippines — The Department of Justice (DOJ) filed yesterday morning two counts of conspiracy to commit illegal drug trading against Cebu businessman Peter Go Lim before the Makati City regional trial court (RTC).
DOJ acting prosecutor general Richard Anthony Fadullon said they found probable cause to file conspiracy to commit illegal drug trading against Lim, Rolan "Kerwin" Espinosa, Marcelo Adorco, Ruel Malindangan and several others.
They were accused of violating Section 26 (B) in relation to Article II Section 5 of Republic Act No. 9165, or the Comprehensive Dangerous Drugs Act of 2002.
During a meeting at the Cash & Carry store in Makati City, Lim allegedly agreed to supply Espinosa with illegal drugs.
Despite Lim's repeated denial that he was not the "Jaguar" being referred to as a top drug lord, the DOJ relied on the admission made by Espinosa during the legislative investigation of the Senate committees on justice and public order, along with Adorco's positive identification of Lim as one of Espinosa's suppliers, as sufficient ground to establish probable cause to charge them with conspiracy to commit illegal drug trading.
DOJ senior assistant state prosecutor Juan Pedro Navera said they utilized the "interlocking confession" made by Espinosa and Adorco against Lim.
"The positive identification of Adorco (of Lim), the admission of Kerwin Espinosa as to their dealings with Peter Go Lim, were the basis of our probable cause determination against all of them, not just Peter Go Lim," Navera added.
Aside from Navera, the other members of the DOJ panel are assistant state prosecutors Anna Noreen Devanadera and prosecution attorney Herbert Calvin Abugan.
Navera's panel is the second to conduct the preliminary investigation of the complaint filed by Philippine National Police-Criminal Investigation and Detection Group (PNP-CIDG) against the four as well as convicted drug lord Peter Co.
The first panel, composed of assistant state prosecutor Michael John Humarang and former assistant state prosecutor and now Judge Aristotle Reyes, issued a resolution dated Dec. 20, 2017 that dismissed the complaint due to weak evidence, since the PNP relied only on the inconsistent statements of Adorco.
Navera explained that the difference in the resolutions of the first and the second panels was due to the pieces of evidence that were made available.
"During the first panel there were pieces of evidence that were not submitted. And also the pieces of evidence that were submitted to the second panel were the crucial pieces of evidence. That's why we found probable cause," he said.
Meanwhile, the lawyers of Espinosa yesterday filed a motion against the court's commitment order that will transfer him to the Makati City Jail.
In a two-page ex-parte motion filed by Jesus Obejero Jr. at the sala of Manila RTC Branch 26 Judge Silvino Pampilo Jr., Espinosa argued that his possible transfer to the Makati City Jail from the National Bureau of Investigation (NBI) detention facility would put him in great danger.
The petition reiterated the earlier ruling of the Supreme Court recognizing the threat to the detainee's life and allowing his stay at the NBI.
The commitment order was in relation to another illegal drug case filed against Espinosa at the Makati RTC.
Pampilo ordered prosecutors to answer Espinosa's petition within five days.
Meanwhile, the prosecution presented two journalists as witnesses during the hearing yesterday.
The STAR's Roberto Dejon and GMA News stringer Ronnie Roa testified for the prosecution in relation to the proliferation of drugs in Leyte, the province of Espinosa.
Chief Insp. Daryl Chua, the police officer who applied for the search warrant and was present at the house of former Albuera mayor Rolando Espinosa, confirmed during cross-examination that he "did not find anything that would implicate the younger Espinosa to the recovered drugs."
The court rescheduled the hearing on Aug. 24.
De Lima's case
President Duterte's critic and detained Sen. Leila De Lima has refused to enter a plea during her arraignment yesterday morning on the illegal drugs charges filed against her before Branch 205 of the Muntinlupa RTC.
De Lima, who stood before Judge Amelia Fabros-Corpuz, said that she refused to enter a plea, as she believes that the charges filed against her are pure invention and fabrication.
"It's a sham case, so there is nothing to plead to. I therefore, your honor, refuse to enter any plea and besides, as I listened to the information being read, there is flagrant violation of my constitutional rights to be duly informed of the true nature of the accusations against me," De Lima said.
"How can I be charged under a single information with two distinct offenses? So, I refused your honor," she added shortly after Corpuz interrupted her, saying, "That's enough."
De Lima appeared before Branch 205 of the Muntinlupa RTC yesterday supposedly for her pending motions for reconsideration to quash the amended information filed by the prosecution against her.
Instead of hearing her motions, Corpuz has denied all of them and insisted to have her arraigned, as she emphasized that her arraignment has been postponed several times already.
After De Lima's manifestation, the court set the preliminary conference of her case at 2 p.m. on Sept. 3 while the pre-trial was set on Sept. 28 at 8:30 a.m. before the Muntinlupa RTC Branch 205.
De Lima is facing charges filed by losing senatorial candidate and anti-crime and corruption advocate Dante Jimenez over the supposed illegal drugs trading and conspiracy with Jose Adrian Vera.
Based on the case, De Lima allegedly asked Vera to demand money from drug lord Peter Co to fund her senatorial bid in the May 2016 elections, when she allegedly received P3 million and four unidentified types of vehicles.
Meanwhile, De Lima's former driver-bodyguard Ronnie Dayan was also present during the senator's arraignment without his lawyer Haide Santos who was absent for still unknown reasons.
Dayan told the judge that he doesn't know if Santos was informed of the hearing.
Corpuz gave Dayan 10 days to get in touch with his lawyer, otherwise she will be constrained to give him a lawyer from the Public Attorney's Office. – With Rey Galupo, Robertzon Ramirez