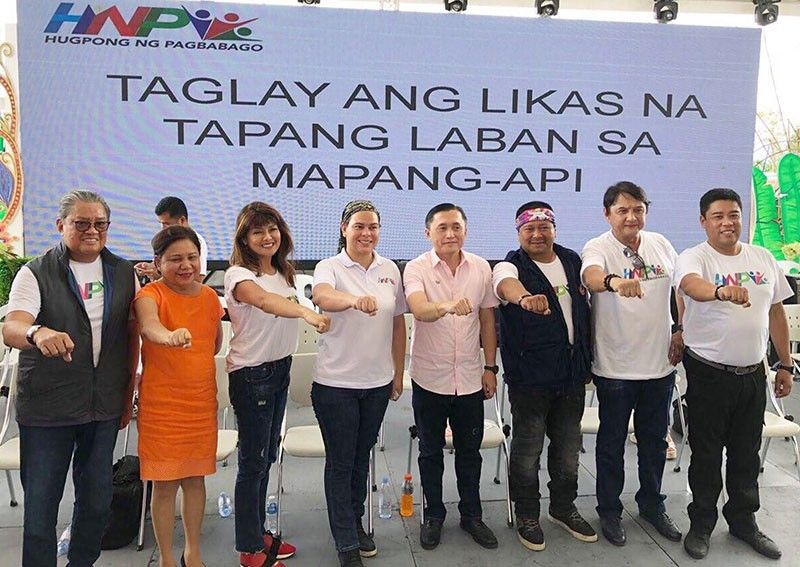 Davao City Mayor Sara Duterte-Carpio's (4th from left) regional party Hugpong ng Pagbabago welcomes to its fold Special Assistant to the President Bong Go (5th from left), Sen. Cynthia Villar (2nd from left), Sen. JV Ejercito (3rd from right), Davao del Norte Rep. Antonio Floirendo (2nd from right) and Ilocos Norte Gov. Imee Marcos (3rd from left) during an oath-taking ceremony at the Davao del Norte Sports and Tourism Complex Grounds in Tagum, Davao del Norte last Friday.
Sara's party may back up to 8 bets for senator
DAVAO CITY, Philippines — Mayor Sara Duterte-Carpio's Hugpong ng Pagbabago (HNP) may endorse six to eight senatorial candidates in the 2019 midterm elections.
Sara, who heads the HNP, is part of the core group that organized the regional political party along with governors Tyrone Uy of Compostela Valley, Claude Bautista of Davao Occidental, Nelson Dayanghirang of Davao Oriental and Anton del Rosario of Davao del Norte.
At least 5,000 new members were inducted into HNP on Friday in Tagum City, Davao del Norte.
Davao del Norte Rep. Antonio Floirendo was the first congressman to take the oath as HNP member.
The mass oath-taking was attended by Ilocos Norte Gov. Imee Marcos, presidential assistant Christopher "Bong" Go and Sens. JV Ejercito and Cynthia Villar.
The four guests were among those the HNP would possibly endorse, although Sara has repeatedly endorsed Go, Villar and Marcos in the past.
She earlier said the HNP aims to create a strong political party in the region.
"We just wanted to create a strong Region XI. We did not foresee this growing interest of other politicians from other regions," Sara said, adding it is too early yet to declare the HNP to be going national, although a majority of politicians from other parties have signified their interests to jump to HNP.?"It will be a difficult decision to go national and I am not ready to decide on it right now. Even the other officers are not keen on deciding on this. But we are set to create alliances with other groups to help each other," Sara said.
'Run Sara run'
Meanwhile, Sen. Manny Pacquiao urged Sara to run for the Senate next year, saying she would be an asset in the institution.
Pacquiao said there's a lot that Sara could do in the Senate because she has political will.
Sara performed well in surveys on the possible senatorial candidates in the May 2019 elections, but she has not committed to seeking higher office.
President Duterte has ruled out Sara running for a Senate seat next year.
Pacquiao is a member of PDP Laban headed by the President.
He said he would remain with the PDP-Laban inspite of an invitation from the Nationalist People's Coalition (NPC) for him to join them.
Pacquiao thanked the NPC and one of its stalwarts, Senate President Vicente Sotto III, for considering him but said that he would remain with PDP-Laban.
He said he does not want to be like other politicians who constantly jump ship, noting he has just joined the PDP-Laban.