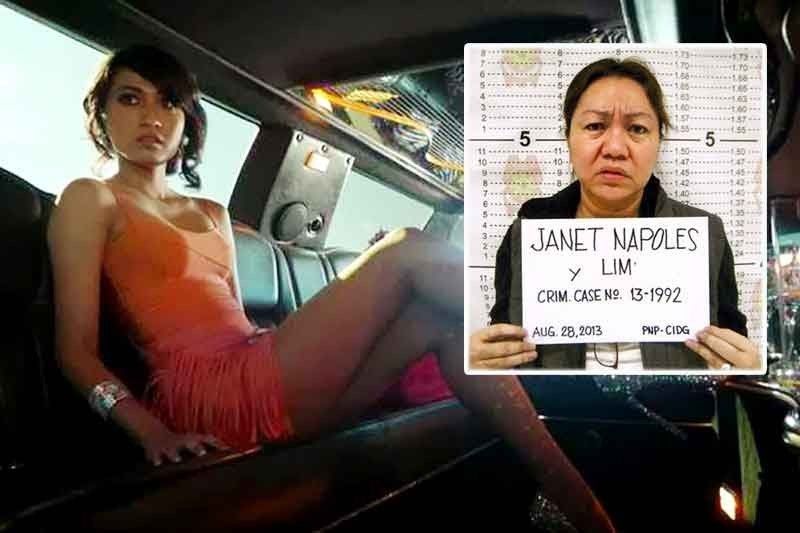 One of several social media images which surfaced in 2013 shows Jeane Catherine Napoles in a stretch limousine on her way to one of her evening sorties in Los Angeles. Inset shows the mugshot of her mother and alleged pork barrel scam mastermind Janet Lim Napoles following her surrender in 2013.
File photo
Napoles daughter has returned to Philippines — report
(Philstar.com) - August 3, 2018 - 1:46pm
MANILA, Philippines — The youngest daughter of Janet Lim-Napoles, the woman behind a massive corruption scandal, has returned to the country after the US government indicted her and family members for money laundering.
In a text message to reporters, lawyer Ian Encarnacion said Jeane Catherine Napoles arrived at Ninoy Aquino International Airport on August 3. Justice Secretary Menardo Guevarra separately confirmed that the younger Napoles is back in the country.
"We maintain our client's innocence and we look forward to having these cases dismissed," Encarnacion said, adding that Jeane Catherine "will face all the cases against her, both here and abroad."
Janet and five family members are accused of transferring $20 million stolen from the Philippines to bank accounts in California, according to US prosecutors.
Prosecutors said the money, which was from the Priority Development Assistance Fund intended to help poor Filipinos, was used to purchase assets in the US, including property, shares in businesses and luxurious vehicles, and to finance the lifestyle of Janet's US-based daughters.
Aside from the Napoles matriarch and Jeane Catherine, others named in the indictment were Jo Napoles, James Napoles, Reynald Lim and Ana Lim.
Guevarra said on Friday Jeane Catherine fled the country last week while "the rest are still in the Philippines." — Ian Nicolas Cigaral with AFP