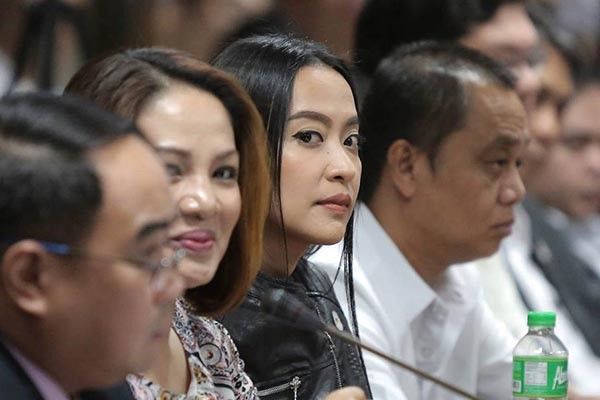 The consultative committee which drafted the proposed federal constitution has tapped PCOO Assistant Secretary Mocha Uson to promote the proposed shift to federalism.
Senate PRIB, file
Concom to orient Mocha Uson on federalism
MANILA, Philippines — The consultative committee (Concom) which drafted the proposed federal constitution is willing to give a comprehensive orientation on federalism to Presidential Communications Operations Officer (PCOO) Assistant Secretary Mocha Uson.
The Concom has tapped Uson for its information drive on the proposed shift to federalism.
Concom spokesperson Ding Generoso confirmed that he and other officials, including Uson, will meet on Friday to discuss the communication plan.
"If she is going to write about it or interview people about it, she has to know what federalism is and what the ConCom draft Constitution proposes," Generoso told state-run Philippine News Agency.
The Concom spokesman added that Uson will be given proper orientation along with everyone else who will be involved in the information drive. He added that he is willing to orient Uson for her to have a better understanding of the proposed government systen that will distribute powers and funds to regions.
Uson will be doing her regular duty as a PCOO official in disseminating information about federalism to the public, according to Generoso.
"Asec Mocha is part of the PCOO — the Communications arm of government — and whatever role she plays in the Federalism Info Drive is simply in the performance of her regular duties as a PCOO official," he said.
In a video posted on her blog, Uson confirmed that there will be a brainstorming between the Concom and the PCOO on Friday. Her role on the information drive is yet to be determined in the meeting.
In a separate interview, Uson said that she will simplify explaining federalism to the public through social media.
"Inuudyukan ko ang mga mamamayan na bakit itong pangulo na pinagkakatiwalaan natin na si Mayor Duterte ay naniniwala sa pederalismo kaya dapat maintindihan ito ng ordinaryong Pilipino," Uson told reporters on Thursday.
Meanwhile, Sen. Nancy Binay said that she would recommend to invite Uson as one of the resource persons in Senate hearings on charter change.
The senator said that the PCOO official should present her ideas on the information campaign using social media.
"Being the designated messenger, we also wanted to hear how she would articulate or interpret the salient points of the proposed federal charter and explain to the people how a shift in the form of government could move the country forward," Binay said.
Related video: