Gov't, media group condemn killing of Albay journalist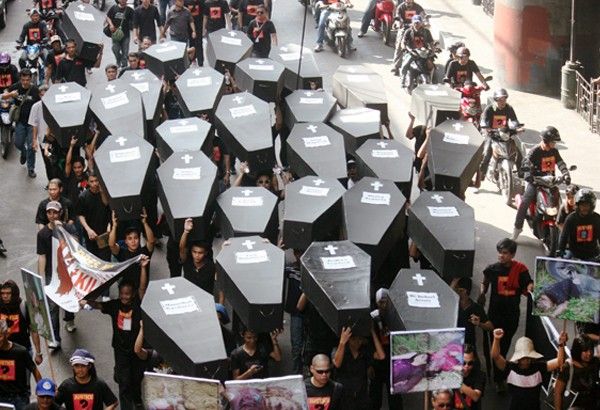 MANILA, Philippines — The killing of another media man on Friday received condemnation from Malacañang, lawmakers and media groups.
Radio broadcaster Joey Llana was ambushed by unidentified men as he was on his way to host his program, Metrobanat on the dwZR station in Legazpi City, the National Union of Journalists of the Philippines said in an advisory.
The NUJP said Llana, the 12th journalist killed under President Rodrigo Duterte's administration, left his home in Brgy. Penafrancia in Daraga at around 4 a.m. and was on his way to work when he was shot dead.
Reports said he was shot 14 times with .45 caliber and 9mm pistols. The police are yet to determine the motive for his killing.
Palace vows justice for slain broadcaster
Presidential spokesman Harry Roque, in a statement, condemned the killing as "yet another infringement on the rights to a life and a free press" and vowed justice for the slain broadcaster.
Sen. Grace Poe, who chairs the Senate Committee on Public Information and Mass Media, described the killing as "another deplorable act" and called on authorities to bring the perpetrators to justice.
"The increasing number of killings of journalists and the slow resolution of cases embolden those who carry out the attacks against members of the media. Let us not allow the culture of impunity to claim more lives," the senator said in a statement.
Sen. Juan Edgardo Angara, who was "outraged" at the killing of another media practitioner, said the violence committed against Llana "has no place in a civilized society like ours."
"This violence against a practicing journalist deserves no less than condemnation, as it has no place in a civilized society like ours. [W]e cannot allow fear and impunity to reign in a democratic society," he said.
Let's Organize for Democracy and Integrity (LODI), an alliance of arts and media practitioners, said Duterte must be held accountable for his "failure to protect them, and more accurately, for inciting or justifying violence against them."
"In between killings, Duterte orders harassment cases, closures, delays in franchise renewals, verbal attacks, and denial of access to journalists in Malacanang and Mindanao," the group said in a statement.
The Palace has defended Duterte's comments about, and to journalists, saying media "cannot expect the president to not answer when you are already turning him into a punching bag."
Just last month, community paper publisher Dennis Denora from Davao del Norte also died in a gun attack.
The Philippines ranked 133rd out of the 180 countries in the Reporters Without Borders' 2018 World Press Freedom index, falling six notches from 127th in 2017.
It is also the deadliest country in Asia for journalists. — Philstar.com intern Christian De Lano Deiparine