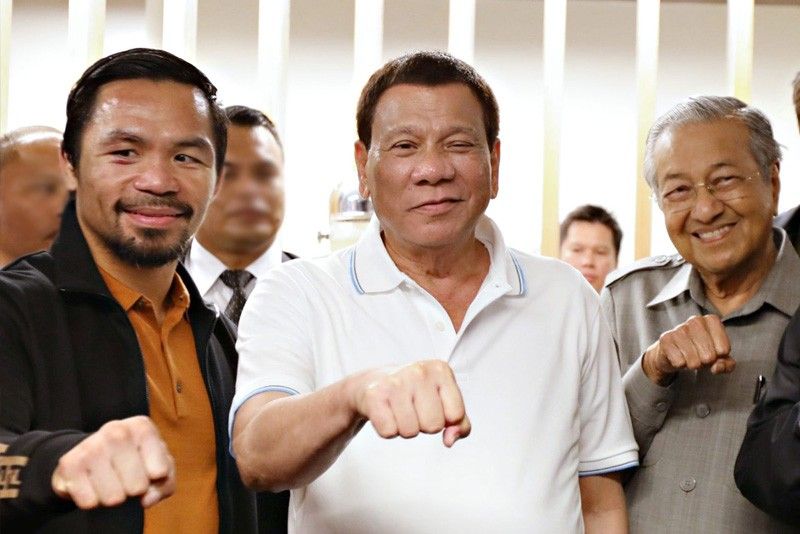 President Duterte flashes his signature pose with Malaysian Prime Minister Mahathir Mohamad and boxing icon Manny Pacquiao following the fight at the Axiata Arena in Kuala Lumpur on Sunday.
Duterte, Mahathir vow stronger Philippines-Malaysia ties
DAVAO CITY, Philippines — President Duterte and Malaysian Prime Minister Mahathir Mohamad vowed stronger bilateral cooperation during their meeting yesterday afternoon at the Prime Minister's Office in Putrajaya, Malaysia.
Duterte and Mahathir discussed matters of mutual interest when they met at around 3 p.m. before Duterte flew back here via Manila last night.
The meeting between Duterte and Mahathir took place the day after the two of them watched the fight between boxing icon Manny Pacquiao and Argentine champion Lucas Matthysse at the Axiata Arena in Kuala Lumpur.
Foreign Affairs Secretary Alan Peter Cayetano told The STAR in a phone interview that Duterte and Mahathir renewed and reaffirmed the long-standing brotherhood and friendship between the Philippines and Malaysia.
Aside from Cayetano, the President was also accompanied by National Security Adviser Hermogenes Esperon Jr. and Special Assistant to the President Christopher Go in the meeting with the primer minister.
Esperon, who was with Cayetano in the same car on the way to the Kuala Lumpur International Airport, told The STAR that the two leaders discussed geopolitics, terrorism and internal threats.
Duterte and Mahathir also discussed the trilateral cooperation among the Philippines, Malaysia and Indonesia as well as the Association of Southeast Asian Nations (ASEAN).
"It was really a perfect time for Malaysia and the Philippines to do much work together. It is very timely," Cayetano said.
He added that Duterte and Mahathir agree on the need for greater stability and security in the ASEAN region.
In his meeting with Mahathir, Duterte reportedly pointed out the need to address terrorism and violent extremism in the region as well as transnational crime, such as piracy and armed robbery at sea and the illegal drug trade.
Duterte also expressed his appreciation for Malaysia's sustained support for the quest for just and lasting peace and development in Mindanao.
Malaysia has led the International Monitoring Team that oversees the peace process between the government and the Moro Islamic Liberation Front (MILF).
Malaysia has also acted as facilitator in the peace negotiation with the MILF in the past several years.
Mahathir visited Davao City in 1994 during the formal launch of the Brunei, Indonesia, Malaysia and the Philippines - East ASEAN Growth Area geo-economic grouping.
There is also an existing Philippines-Malaysia joint border patrol agreement.
Malacañang did not say whether the two leaders talked about the Sabah dispute during their meeting. Presidential spokesman Harry Roque Jr. said last Sunday that the two leaders were not likely to discuss the matter. – With Alexis Romero