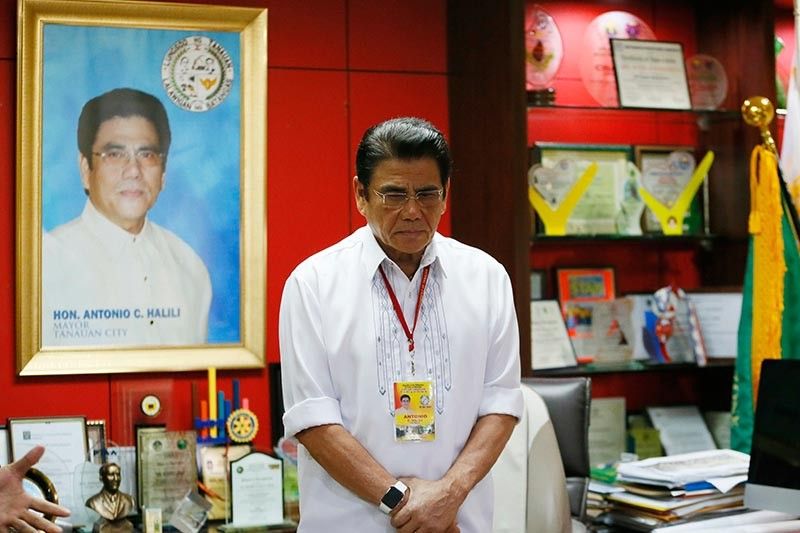 In this photo taken Monday, July 18, 2016, Tanauan City Mayor Antonio Halili, prays in his office prior to leading the flag-raising rites at the city's gymnasium at Tanauan city, Batangas province south of Manila, Philippines. On Monday, July 2, 2018, Philippine police say Halili, who became known for parading drug suspects in public but also alleged to have drug ties himself was shot to death during a flag-raising ceremony in front of horrified employees.
AP/Bullit Marquez
Duterte fed with false info on Halili, says slain mayor's daughter
(Philstar.com) - July 3, 2018 - 11:49am
MANILA, Philippines — President Rodrigo Duterte received wrong information about Tanauan City, Batangas Mayor Antonio Halili on his alleged involvement in the illegal drugs trade, the slain local executive's daughter said.
Duterte, hours after Halili died after being shot in the chest during the city's flag raising ceremony, said that his murder could be related to illegal drugs.
"Earlier, it's Halili [of] Batangas. His procession of drug suspects was just a front. It's him," Duterte said in Bisaya in a speech in Maasin, Southern Leyte Monday.
Before talking about Halili, Duterte mentioned Ozamiz City, Misamis Occidental Mayor Reynaldo Parojinog and Albuera, Leyte Mayor Rolando Espinosa, both of whom were allegedly linked to drugs and who died in shootouts with police.
But after claiming that Halili was involved in illegal drugs, the chief executive clarified that his comment was just a suspicion.
READ: Duterte suspects murder of Batangas mayor linked to drugs
Halili's daughter, Angeline, said Duterte was given a "false feed" about her father.
"I cannot blame our president for saying that if he was being given wrong information and information meant to hurt and malign people who are doing good," she said in an interview on ABS-CBN's "Umagang Kay Ganda."
An emotional Angeline said the drug allegations against her father were "hearsay."
"If our president would visit us, be with us every day, spend every day with us, he would know the truth," she said.
The mayor's daughter insisted that his father was protecting the constituents of Tanauan from the "people who are trying to destroy their lives with drugs."
Halili gained prominence for parading suspected drug user and dealers through the streets in what was notoriously known as the "walk of shame."
He, however, was stripped of supervisory powers over local police last year due to the proliferation of illegal drugs in Tanauan amid allegations by the national police that he may have been involved, which Halili had denied.
— Gaea Katreena Cabico
Related video: