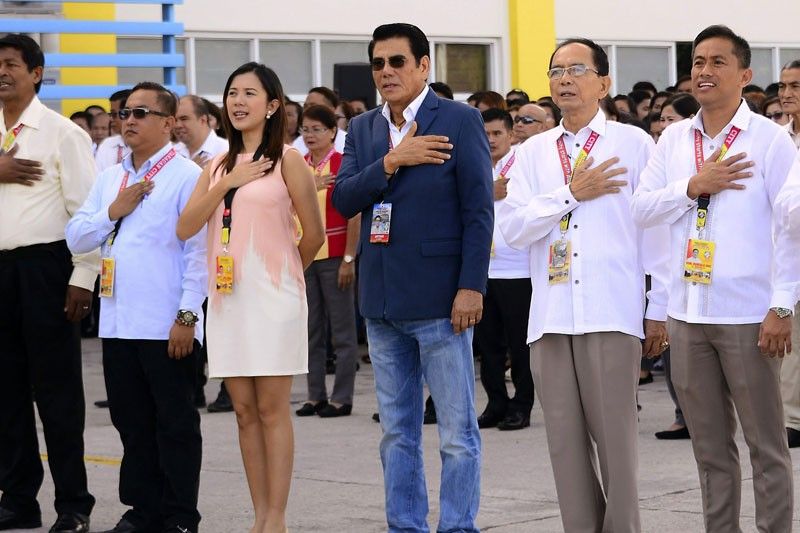 Photo shows the mayor with Vice Mayor Jhoanna Corona Villamor and other officials moments before the shooting.
AP
'Walk of shame' mayor shot dead
Narco mayor maybe deserved it – Rody
BATANGAS, Philippines — Tanauan City Mayor Antonio Halili, who paraded suspected drug dealers through the streets in what was notoriously known as the "walk of shame," was shot dead yesterday while attending a weekly flag-raising ceremony for government officials, police said.
Halili was declared dead on arrival in a hospital from a gunshot to the chest, fired by a sniper as he and civil servants sang the national anthem in Tanauan, Batangas.
President Duterte claimed Halili was involved in illegal drugs and probably got what he deserved.
Duterte compared Halili to other mayors who had alleged links to illegal drugs and were killed, such as Reynaldo Parojinog of Ozamiz City in Misamis Occidental and Rolando Espinosa of Albuera in Leyte.
"We are shocked, we are saddened," Vice Mayor Jhoanna Villamor, who was standing beside Halili, told radio station dzBB after the shooting.
What appeared to be a smartphone video of the shooting went viral on social media, showing a single shot ringing out as the anthem played, then screaming and pandemonium. The video could not be immediately verified.
Halili gained prominence for introducing a "walk of shame" parade of alleged drug dealers through Tanauan.
Halili was stripped of his supervisory powers over local police in October last year due to a proliferation of illegal drugs in Tanauan, amid allegations by the national police that he may have been involved. Halili denied the allegations.
"Kanina si Halili sa Batangas – kunwari ipa-procession ang mga addicts, siya pala, siya 'yun (Earlier, Halili in Batangas. He shamed drug addicts by parading them, but he was involved in illegal drugs himself)," Duterte said last night during the anniversary of Maasin City in Southern Leyte.
"I suspect he was into drugs. I just suspect," he added in Cebuano.
In an interview with Reuters in August 2016 – the second month of the crackdown on illegal drugs after President Duterte assumed office – Halili said he backed the Chief Executive's campaign but believed drug kingpins should be the main targets, otherwise thousands of people would be killed.
He expressed concern over the way police conducted the war on drugs and the reliability of their intelligence, and that he might be accused of colluding with narcotics gangs.
"No one is safe – mayors, governors, congressmen – just a false intelligence report by the police can end up with any of them being destroyed," he said in the interview.
"I have a feeling they (police) are going after the small fry to frighten the people," he said.
The mayor was rushed to CP Reyes Hospital yesterday but was declared dead at 8:45 a.m. while being treated by physician Alendrix Carandang, less than an hour after a suspected sniper's bullet hit him.
"Hindi naman siya agaran bumagsak. Nakita na lamang naming may tama at kumapit sa braso ni vice mayor. (He didn't fall right away. But we saw that he was hit as he grabbed the arm of the vice mayor)," Gary Laresma, Tanauan public information officer, told The STAR.
Laresma said the gunshot came from a grassy area beside the city hall where the flag-raising ceremony was held.
"Even the police officers attending the ceremony were caught by surprise," he said, adding that everyone sought cover.
Laresma said they are now reviewing video footage taken by cameramen who covered the event.
He added that the mayor had been receiving death threats, which could be linked to his intensified campaign against illegal drugs.
Philippine National Police (PNP) chief Director General Oscar Albayalde said they are looking into all possible motives of the shooting, noting Halili's "walk of shame" was very controversial.
"We have no report yet of what type of firearm was used in the shooting," he said, as he ordered a special investigation task group to be formed.
Acting on Albayalde's orders, PNP regional director Chief Supt. Edward Carranza has formed a group to investigate the killing.
Meanwhile, Supt. Chitadel Gaoiran, Calabarzon police spokesperson, said they are still waiting for the autopsy results on Halili.
Gaoiran said scene of the crime operatives (SOCO) did not recover any empty shell from where the gunman may have been and that the slug could still be in the mayor's body.
She said the sniper fired from an elevated mound on the right side of the city hall, around 160 meters away from where Halili was standing.
Police reports said the assassin may have used an M14 rifle.
Killing condemned
Malacañang yesterday condemned the killing of Halili and vowed to bring its perpetrators to justice.
"We condole with the family of (Halili). He was shot dead this morning and we condemn this kind of violence," presidential spokesman Harry Roque Jr. said at a press briefing in Maasin, Leyte.
"The Palace promises to give him justice and to conduct a speedy investigation and prosecution of people responsible for his death," he added.
Roque said Halili was recognized as a mayor in one of the most progressive areas in Batangas. The mayor, however, was also one of the local executives in the list of politicians with alleged ties to the narcotics trade.
Roque said it is too early to conclude that the killing of Halili had something to do with illegal drugs.
"We do not know why (Halili) was killed. (He) was known for his shame campaign against drug pushers but at the same time, he was stripped of his police powers by the (National Police Commission). I do not know the relationship between the drug list and the killing of (Halili) but you can argue it both ways," he said.
"Others view him as a pillar of the campaign against illegal drugs and that is the reason why human rights groups are complaining about his shame campaign. But at the same time, he has the record of being included in the narco list. I think there is no basis to make conclusions for now because the investigation is not yet complete," Roque added.
Department of the Interior and Local Government (DILG) officer-in-charge Secretary Eduardo Año also strongly condemned the killing of Halili.
"The DILG vehemently condemns the killing of (Halili) and we will not rest until the perpetrators of this heinous crime are brought to justice," Año said.
Senators, while also condemning the killing, yesterday pressed authorities to stop the spate of violence in the country.
"Criminality in the country has always been alarming, that's why we want government to come down hard on the criminals and not contradict efforts to do so," Senate President Vicente Sotto III said.
"(Criminals) have always been bold. (This assassin) is a coward. A sniper was used," he said.
Sen. Panfilo Lacson, chairman of the Senate committee on public order and dangerous drugs, said the "killing of priests, prosecutors and former and incumbent local officials in broad daylight and in full view of the public may be suggestive of the impunity and brazenness of those responsible for such acts."
"The (PNP) should feel challenged, if not taunted. And they must immediately consider stricter firearms control strategies before similar killings could reach ubiquitous levels," Lacson said.
Sen. Joseph Victor Ejercito also challenged the PNP to end the killings of priests and government officials.
"One requisite of a developed nation is to have a conducive atmosphere for business to grow. Violent assassinations are a black eye to this goal of achieving peace for economic development," Ejercito said.
Senate President Pro Tempore Ralph Recto lamented the killing of Halili, whom he considered a good friend.
"There's a sniper on the loose in Batangas. (Halili) was the latest politician in the province felled by a marksman's bullet," Recto, who hails from the province, said.
"The province is littered with bodies of victims of political assassinations and unsolved murders and each unsolved killing emboldens the next, creating a spiral of violence, which authorities cannot seem to stop," he said.
He said when the rule of law is flouted, "including by agents of the state who do it with impunity, it incentivizes people to take the law into their own hands and indicts the police for failing to stop it."
He said Halili had "a governance style that was unconventional in some aspects, but it effectively kept the city he loved safe and prosperous."? Meanwhile, Human Rights Watch (HRW) said the murder of Halili demands an immediate and thorough investigation by the authorities, just like the thousands of killings in the Duterte administration's drug war.
"While we did not agree with Halili's method of dealing with crime and illegal drugs in his city, his murder is condemnable," said Carlos Conde, HRW researcher.
"He may have deprived many Tanauan residents of due process but that doesn't mean he should be deprived of it too," he added.
"We reiterate our call for an end to the culture of impunity in the Philippines where thousands have been killed in extrajudicial killings of criminal suspects, activists, members of indigenous tribes, journalists, priests and politicians like (Halili). The only way this can happen is if perpetrators – including Halili's killers – are investigated, arrested, charged and tried in a court of law," said HRW. – With Alexis Romero, Cecille Suerte Felipe, Paolo Romero, Rhodina Villanueva, Reuters
Related video: