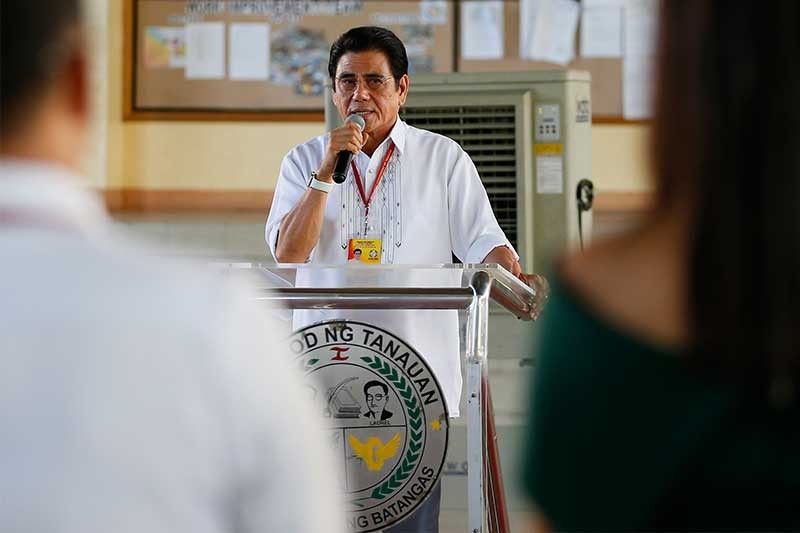 In this photo taken Monday, July 18, 2016, Tanauan City Mayor Antonio Halili, addresses city government officials and employees during flag-raising rites at the city's gymnasium at Tanauan City, Batangas province south of Manila, Philippines. On Monday, July 2, 2018, Philippine police say Halili, who became known for parading drug suspects in public but also alleged to have drug ties himself was shot to death during a flag-raising ceremony in front of horrified employees.
AP/Bullit Marquez
Duterte suspects murder of Batangas mayor linked to drugs
MANILA, Philippines — President Rodrigo Duterte said Monday that the murder of a Batangas mayor known for parading drugs suspects through city streets could be related to illegal drugs.
Early Monday, Tanauan City Mayor Antonio Halili was shot in the chest in front of shocked city hall employees and village officials just as they were singing the Philippine national anthem in a parking lot beside the building.
Duterte clarifies earlier comment on Halili, says he just suspects the mayor's death is related to illegal drugs | @alexisbromero

— Philstar.com (@PhilstarNews) July 2, 2018
The shot led the mayor's bodyguards to return fire at a grassy hill beside the parking area where they suspected the gunman to have perched himself.
"Earlier, it's Halili [of] Batangas. His procession of drug suspects was just a front. It's he," Duterte said in Bisaya in a speech in Maasin, Southern Leyte.
Before mentioning the slain mayor, Duterte had talked about mayors whom he said used their position to engage in the drug trade. The president mentioned Ozamiz City, Misamis Occidental Mayor Reynaldo Parojinog and Albuera, Leyte Mayor Rolando Espinosa, both of whom were allegedly linked to drugs and who died in shootouts with police. Espinosa was killed while in government custody.
"I don't know who killed him, but I told you don't [engage in illegal drugs]," he also said.
After claiming that Halili was involved in illegal drugs, the president dialed back his comments and said that this was just his suspicion.
Earlier on Monday, the Palace condemned the killing. "We will give justice to the family of Mayor Halili and the town of Tanauan in the province of Batangas," presidential spokesman Harry Roque said in Filipino in a radio interview.
Sen. Ralph Recto, who is from Batangas and who referred to Halili as a friend, said provincial authorities seem to have failed to address the peace and order situation there.
"The province is littered with bodies of victims of political assassinations and unsolved murders, and each unsolved killing emboldens the next, creating a spiral of violence, which authorities cannot seem to stop," he said.
Tanauan 'walk of shame'
Halili became controversial following his policy of parading drug suspects on Tanuan's streets wearing shirts or cardboards which read that they were drug dealers who should not be emulated.
However, police officials linked Halili to the trade of illegal drugs in the country, an allegation he denied. He vowed to parade himself in front of his constituents if the accusation against him was proven true.
The murdered mayor's unconventional campaign was criticized for depriving suspects of their right to due process.
Under Duterte, several mayors have been killed or have fled the country supposedly because of their links to illegal drugs.
Espinosa of Albuera, Leyte was killed in his detention cell in November 2016 after he supposedly offered violent resistance to cops serving him a warrant in a pre-dawn inspection.
In July last year, Mayor Parojinog of Ozamiz City and six others were killed during a series of raids by authorities who were serving search warrants.
The cops claimed that they were met by a "volley of fire" which prompted the Philippine National Police to engage.
Jed Patrick Mabilog of Iloilo City meanwhile went abroad and opted not to return following Duterte's repeated threats and rants against him.
Duterte has repeated in many of his speeches his warning of killing any government official using their power to engage in illegal drugs.