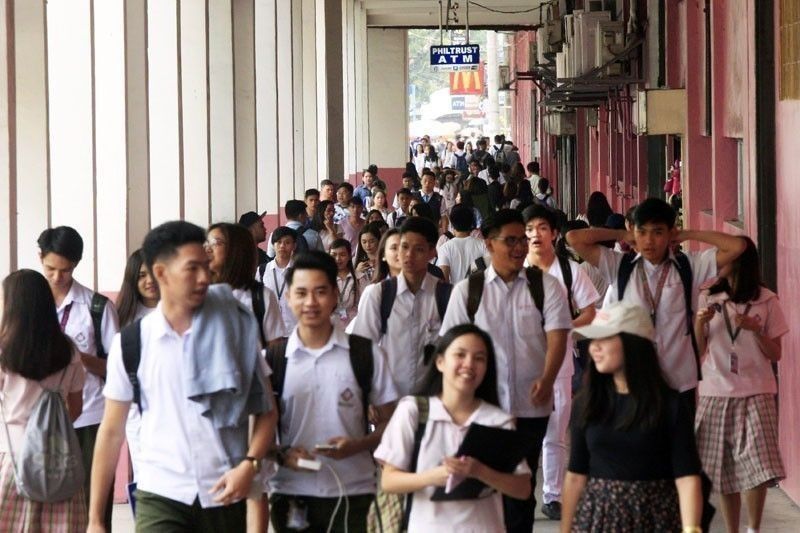 "The proposed drug-testing is so off-tangent from the most pressing issues in schools and is a big waste of people's money," ACT secretary-general Raymond Basilio said.
File
'Schools drug tests to cost P4 billion'
MANILA, Philippines — Implementing a mandatory drug testing program for teachers and school children in Grade 4 and above will cost the government as much as P4 billion.
Saying the money could be allocated to other programs such as salary hike for teachers, members of the Alliance of Concerned Teachers (ACT) on Friday called the proposal of the Philippine Drug Enforcement Agency (PDEA) a waste of public funds.
"The proposed drug-testing is so off-tangent from the most pressing issues in schools and is a big waste of people's money," ACT secretary-general Raymond Basilio said.
"Our urgent need is to be alleviated from the grueling crises in our economic situation and in our educational system," he added.
Based on its computation, ACT said the mandatory drug testing for about 20 million students and over 700,000 teachers would cost the government as much as P4 billion.
It said such amount could fund the proposed P10,000 monthly salary hike of entry-level public school teachers.
The Department of Education (DepEd) also cautioned PDEA over its proposal, noting that at P200 per student for the testing fee alone, the budget will already amount to P2.8 billion.
"There are considerable related costs for capacity-building and mobilization for the conduct of the drug testing," it added.
DepEd earlier said Congress will have to amend existing laws before PDEA can proceed with its plan to conduct mandatory drug testing for students in Grade 4 and above.
It noted that the Comprehensive Dangerous Drugs Act of 2002 only authorizes drug testing for secondary and tertiary level students.
Last year, DepEd initiated its drug testing program that covered all 1,300 officials and personnel at its central office, 3,800 in the regional offices and 26,000 in schools' division offices.
It also covered a sample population of 10,000 teachers and 21,000 high school students, to determine the prevalence of drug use among students and to assess the effectivity of school-based and community-based prevention programs.
"DepEd notes that drug testing is a component of a much broader preventive drug education program. The primary mandate of DepEd is still the integration of preventive drug education in curriculum and instruction," the agency explained.
Education Secretary Leonor Briones said she has already requested a meeting with PDEA director general Aaron Aquino to share the existing DepEd program on random drug testing for high school students.
The Teachers' Dignity Coalition (TDC) has also opposed the PDEA proposal, saying Grade 4 students are too young to undergo drug testing.
"These kids are too young and it is not proper for us adults to assume that they are into drug use. At that stage of life, they have just started their social lives with school activities and games. These are just mere babies," TDC chair Benjo Basas said.
"If there are cases that 10-year-old children were caught using or peddling drugs, would it merit us putting all 10-year-old children to drug test? How many 10-year-old kids are involved?" he added.
The TDC also cautioned DepEd in the conduct of drug testing on teachers.
"Teaching profession is considered noble and teachers should possess high level of probity, thus we believe that most, if not all, of our teachers are not involved in drug use," he said.
"But we do not oppose the random drug testing for teachers and government employees. In fact, we would also like to propose that those in higher positions in the government should be the first to undergo mandatory drug testing," Basas added.
Focus on education
More than conducting drug tests on elementary and high schools students, Sen. Sonny Angara said it is the education of the country's youth that will go a long way in preventing them from becoming addicts later in life.
"If students have enough awareness of the harmful effects of drugs, then we have a bigger chance of saving them from incarceration when they grow up," Angara said.
Angara previously filed Senate Bill 311 calling for a nationwide education and awareness program on illegal drugs that will either be included in the K-12 program or as a co-curricular activity in public elementary and high schools.
The bill also mandates the establishment of a national helpline for drug abuse, which will refer drug users to rehabilitation centers or, in emergency cases, provide immediate paramedic response.
"Aside from jailing the pusher, the anti-drug campaign should also have a save the user component. We should help addicts turn over a new leaf," Angara said.
"They need help. Without intervention, there's a strong chance they'll backslide to their old ways. If that happens, then we're back to square one," he added.
Angara also pushed for allocating part of the funding for drug prevention to the Technical Education and Skills Development Authority for training of vulnerable youth.
He said this will help the out-of-school youth who are in rehabilitation centers by providing them alternative learning programs.
"We must give drug addicts, especially the youth, an opportunity to reform their lives," Angara said.
Senate President Vicente Sotto III has advised the PDEA to rethink its strategy of conducting mandatory drug testing for students in Grade 4 and up.
Sotto said the PDEA could run into trouble with this program because Republic Act 9165 or the Comprehensive Dangerous Drugs Act of 2002 allows for random drug testing only for students in secondary and tertiary levels.
He said prevention and awareness will be more effective and acceptable for students in Grade 6 and above.
Sotto said he was shown data by officials of the PDEA about how children as young as eight and nine being used by syndicates to peddle illegal drugs because they will not be liable for criminal action under the law.