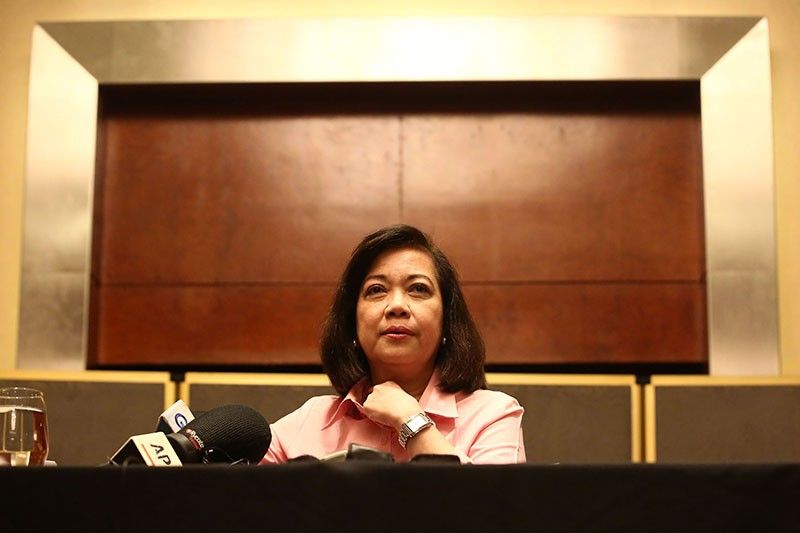 In a special en banc session on May 11, the SC voted 8-6 to find Sereno "guilty of unlawfully holding and exercising the Office of the Chief Justice."
Miguel de Guzman/File
It's final: SC says Sereno no longer chief justice
MANILA, Philippines (Updated 2:31 p.m.) — The Supreme Court on Tuesday upheld its ruling on Solicitor General Jose Calida's petition for quo warranto that voided Maria Lourdes Sereno's appointment as the top judge of the country.
In a full court session, the high tribunal voted 8-6 to throw out Sereno's motion for reconsideration to overturn its ruling on the legal challenge to her appointment as chief justice.
Entry of judgment will follow, making the ruling final.
SC spokesperson Theodore Te said that the 90-day period for filling the vacancy in the Office of the Chief Justice starts today, June 19.
This is pursuant to the Article VIII
Sereno was removed from her position through a vote of her colleagues, some of whom had appeared in House hearings on a separate impeachment complaint against her. She had asked the justices to inhibit themselves from the case but none agreed to do so.
In a special en banc session on May 11, the SC voted 8-6 to declare her appointment null. Sereno, according to the ruling penned by Associate Justice Noel Tijam, was "adjudged guilty of unlawfully holding and exercising the Office of the Chief Justice."
The Judicial and Bar Council earlier said it would open its nominations for the next chief justice after the SC ruling on the quo warranto becomes final.
Sereno camp: Decision will be questioned for a long time
While Sereno's lawyers were not surprised with the denial of the appeal, they stressed that this historic ruling long be remembered as contentious.
Lawyer Jojo Lacanilao, one of Sereno's spokespersons, said in a message: "We were not surprised by the final result of the SC decision but we remain convinced that the decision is unjust and will be questioned by the people for a long time to come."
In her appeal, Sereno stressed that uphlding the decision would have long-term repercussions.
As for the ousted chief justice's next plan, Lacanilao said: "Vacate her office and continue to be the voice of the people."
Members of the opposition, including Sen. Paolo Benigno "Bam" Aquino IV, did not make it a secret that they want Sereno to run for senator next year.
Sereno's camp has not said that running for senator is out of the question but also said the ousted chief justice was focused on her appeal.