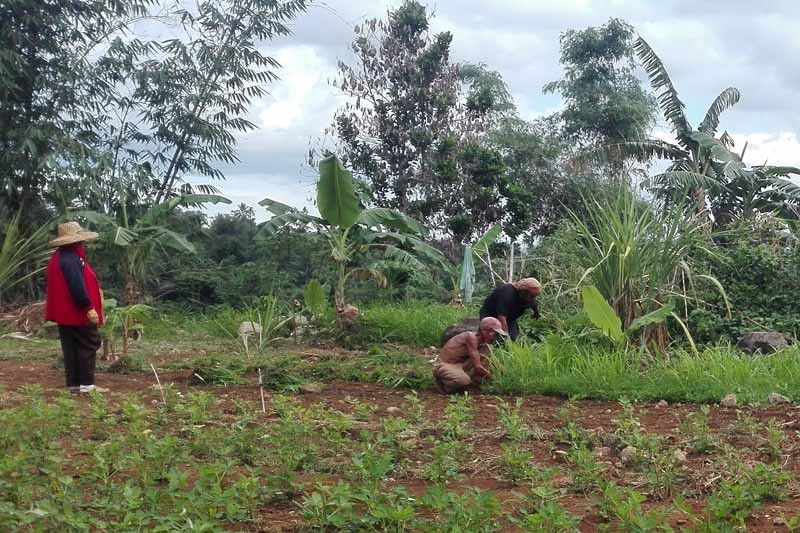 Agrarian reform beneficiaries work on a farm in Leyte
File photo
Kaisahan: Land reform about social justice, not big businesses
(philstar.com) - June 14, 2018 - 4:35pm
MANILA, Philippines — Agrarian reform is about social justice and not about selling off land to big businesses, a land rights group said Thursday in response to President Rodrigo Duterte's statement that Boracay "natives" can sell lots awarded to them under government land reform.
Kaisahan, which has been working with agrarian reform beneficiaries or ARBs since 1990, said the president's statement shows "lack of understanding of the agrarian reform law and the very essence of land reform – social justice through providing land to the tillers."
In a speech in Central Luzon on Tuesday, Duterte reiterated that he will convert the entire island — except for a portion that Congress might set aside for commerce and tourism — into a land reform area. The island has been closed to tourists for six months from April 26 for environmental rehabilitation.
"So I will give it to the natives. So when it is time for business and the big business would go in, the land title is with them and they can sell it," Duterte said in a mix of English and Filipino.
The president said land reform had failed in Mindanao because ARBs did not have capital and sold their land instead. He said he wants Boracay's "natives" to also have money.
"The president must be forgetting that agrarian reform is all about economic viability and ecological integrity; and that it is about developing the capacity of the once landless farmers become profitable, environmentally-sound agricultural producers," Kaisahan said in a statement.
"Instead of encouraging the natives (and all the other ARBs in the country) to sell their property to big firms, the government should be working on the sustainability of the said agricultural lands, through providing support services and strengthening the farmers and their organizations as landowners," the group also said.
The Department of Agrarian Reform has promised ARBs credit assistance and infrastructure like farm-to-market roads to help them earn from the land awarded to them. The department has also encouraged farmers to form Agrarian Reform Beneficiaries' Organizations so they can work together and boost productivity and profitability on their farms.
Kaisahan stressed that selling awarded land is prohibited by the Comprehensive Agrarian Reform Law. Under Section 27 of the law, the government can void the sale of land sold within 10 years of awarding.
"In case the agrarian reform beneficiaries decide to sell their land right after the 10-year period, we must note that the Land Bank of the Philippines is the first in line when it comes to buying and selling private agricultural land. It will be considered a double sale when a big business firm buys the land from an ARB," the group said.
"The farmers are this country's backbone that must continuously be strengthened. Farming is a lucrative activity and is a rich resource for the country. We, as a nation, should be more encouraging and start validating the farmers' work instead of pushing them to give in to large businesses," Kaisahan also said. — Jonathan de Santos
Related video: