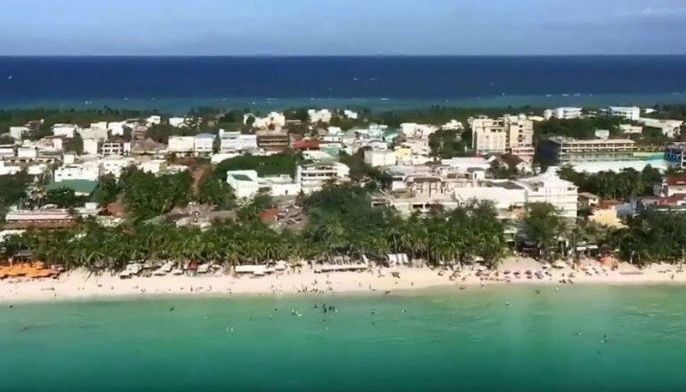 President Rodrigo Duterte closed the island of Boracay to tourists last April 26.
File photo
Duterte: Boracay 'natives' can make money by selling lots after land reform
MANILA, Philippines — President Rodrigo Duterte on Tuesday justified his decision to declare the entire island of Boracay a land reform area, saying beneficiaries can sell the land for profit, presumably when they can legally do so after 10 years.
In a speech, Duterte reiterated that he wants the Boracay "natives" and not business owners to benefit from the land.
"So ibigay ko doon sa mga natives. So by the time na mag-negosyo na and the big business would go in, hawak na nila ang titulo at puwede na nilang ipagbili (So I will give it to the natives. So when it is time for business and the big business would go in, the land title is with them and they can sell it,)" Duterte said in a speech during the oath-taking of barangay officials in Central Luzon on Tuesday.
"Ang consolation ko is makawahak sila ng pera na malaki. (My consolation is they can earn big money,)" he added.
The president earlier said he is only setting aside a part of the famous tourist destination as a commercial area but the rest will be given to the residents.
WATCH: Duterte reiterates Boracay will be 'land reform area'
He also previously said that those who wish to build a commercial area should talk to the Congress and address their concerns there.
Duterte admitted that the island remains a prime area because of the rich tourists who go there.
He said that land reform failed in Mindanao because the residents had no capital and ended up selling the land. Under the government's Comprehensive Agrarian Reform Program, Agrarian Reform Benificaries cannot sell the land for 10 years after awarding.
Duterte said that the ARBs then sold the land for up to P1 million and the laborers ended up having around P500,000 to P1 million earnings, which he said is what he wants for Boracay residents.
"Para sa akin, tabla na. At least nakatikim lahat. 'Yun ang gusto kong mangyari, (For me that's fair. At least everybody benefited. That's what I want to happen)," Duterte said.
"That is why i-land reform ko 'yan. (That is why I will declare it as land reform area) Not really to benefit anybody except the people there. Ibigay ko sa kanila 'yan. Inyo 'yan eh, 'yung mga Mangyans. Inyo 'yan. Balang araw, ipagbili ninyo. Maybe your daughter and sons will reap at least konting pera makatikim kayo I said, even for a moment,(I will give it to them. It is yours. The Mangyans, that is yours. Someday, sell it (land). Maybe your daughter and sons will reap at least a little money,)" he added.
The original inhabitants of Boracay are actually the Ati people. Mangyans, meanwhile, are the native people of the island of Mindoro.
It is unclear whether the "natives" of Boracay will be given ancestral domain, which are not individually titled, or Certificates of Land Ownership Award under the CARP.
ARBs barred from selling their land
In 2017, Agrarian Reform Secretary Rafael Mariano, since rejected by the congressional Commission on Appointments, cancelled the illegal sales and leasing out of CARP land in Hacienda Luisita in Tarlac. DAR had found that 2,841 ARBs had leased, mortgaged or rented out their lands, while more than 600 ARBs had sold their lots to third-party buyers.
It was found that ARBs had been forced by circumstances to lease their lands to wealthy business owners and politicians in a practice called "aryendo."
John Castriciones, who replaced Mariano at DAR, reminded ARBs in Kalinga province not to sell their Certificates of Land Ownership Award, which he said represents their "freedom from the bondage of poverty and social injustices."
He said the government will provide credit assistance and build farm-to-market roads to make it easier for farmers to earn from their land. He also stressed the importance of working together through Agrarian Reform Beneficiaries' Organizations to come up with development plans for their farms.
ARBOs in Leyte, for example, engage in block farming of sugarcane to consolidate their land holdings for better management and productivity while maintaining individual ownership.
Boracay island has been closed to tourists for six months from April 26 to pave way for its rehabilitation.