Duterte: Sereno a lost cause, full of gimmicks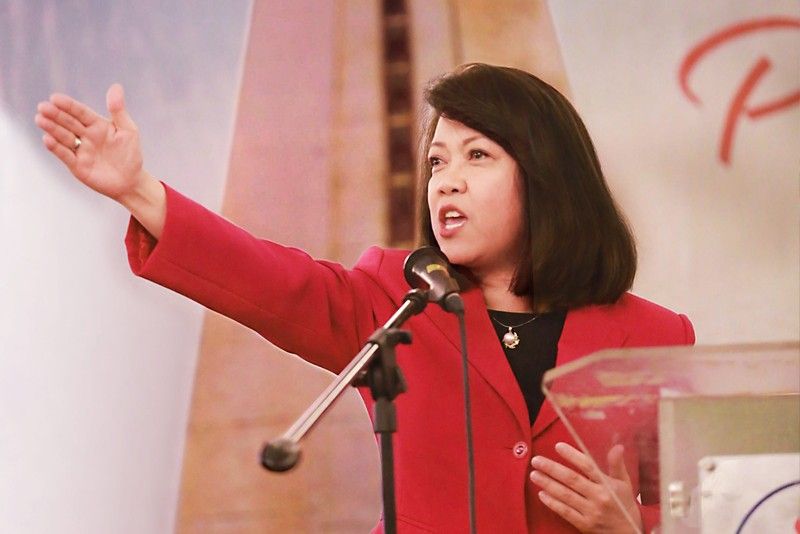 MANILA, Philippines — President Rodrigo Duterte on Thursday called ousted Chief Justice Maria Lourdes Sereno a "lost cause" after she accused him of "recycling" officials he had already dismissed.
Duterte said Sereno saw her ouster coming because she was full of "gimmicks" and acted as if she owned the Supreme Court.
"Sereno is a lost cause. She had it coming. She asked for it. Look at what happened to her. Now that she is out, she is full of adjectives and gimmickry," the president told reporters after the inauguration of the Mactan-Cebu International Airport.
"You oust people who are in the state of playing gimmicks in government...She monopolizes. She thinks the Supreme Court is privately-owned," the president, who refers to security forces as his police and military, said.
Duterte was reacting to Sereno's claim that his firing of some of his appointees is just a "gimmick" because he just "recycled" them to other positions.
The president claimed he places people in positions that are appropriate to their capacities. He said officials who were transferred to other offices are not necessarily guilty of wrongdoing.
READ: La Viña gets new—and third—post under Duterte administration
Earlier Thursday, the Palace announced that Jose Gabriel "Pompee" La Viña, recently appointed an undersecretary of the Tourism department, has been reassigned to the Department of Agriculture.
La Viña, Duterte's social media director during the campaign for the 2016 polls, was appointed SSS commissioner in 2016 but his term was not renewed when it expired
last year.
In a statement issued last February, presidential spokesman Harry Roque said Viña's services were terminated over costly project proposals and his alleged
vilification of fellow SSS officials.
Roque said when La Viña was appointed to the DOT despite the allegations that he did not not "really have to explain, justify an act which is inherently executively nature and subject absolutely to the president's discretion."
Duterte also chided Sereno for criticizing him.
"We keep on working while they keep on criticizing us. What is their significant contribubition in governance?" he said.
"What have they contributed to the betterment of the country except indulging in politics?"
Last month, the Supreme Court invalidated the appointment of Sereno as chief justice because of her failure to submit some of her Statements of Assets, Liabilities and Net Worth to the Judicial and Bar Council that screens applicants to the judiciary.
The decision stemmed from a petition by the Office of the Solicitor General, which claimed that Sereno is not fit to become the chief magistrate because of the incomplete submission. — Alexis Romero