Former Customs chief Nicanor Faeldon filed his resignation on August 22. Senate PRIB/Romy Bugante, File
Duterte reappoints Faeldon to Office of Civil Defense
(Philstar.com) - December 27, 2017 - 7:21am
MANILA, Philippines (Updated 4:29 p.m.) — President Rodrigo Duterte has reappointed former Customs chief Nicanor Faeldon to become the deputy administrator of the Office of Civil Defense.
Faeldon's appointment letter was dated December 22.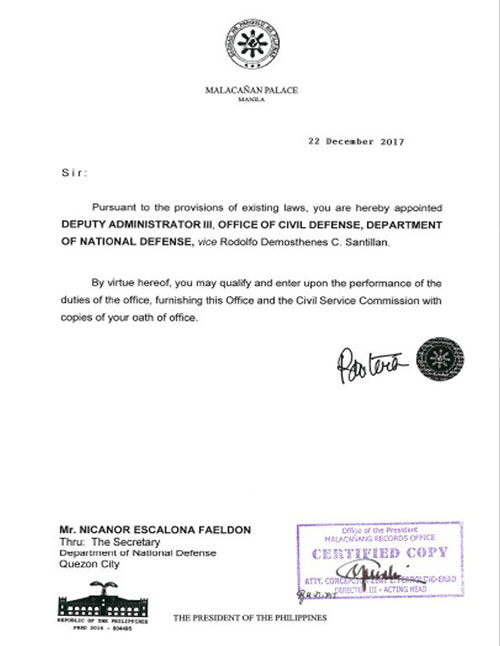 Appointment paper designating Nicanor Faeldon a deputy administrator of the Office of Civil Defense
Faeldon was tagged in the P6.4 billion shabu shipment that slipped past Customs. After the controversy, he had tendered his resignation three times before Duterte accepted it.
The president, upon accepting his resignation, said: "From the tone of his resignation, he's very disappointed but I really believe he is an honest man."
Duterte also hinted that the "government would need Faeldon."
Philippine Drug Enforcement Agency Director General Isidro Lapeña took over Faeldon's vacated seat at Customs.
Sen. Panfilo Lacson accused Faeldon of receiving P100 million in "pasalubong" or welcome gift from smugglers and unscrupulous businessmen. Lacson said his accusation was confirmed by Lapeña.
Duterte has repeatedly said he does not tolerate even a whiff of corruption from his men.
Drug raps
PDEA filed a violation of importation of illegal drugs complaint against Faeldon and several other Customs officials over the multi-billion peso shabu case. However, the National Prosecution Service dismissed the raps against Faeldon.
State prosecutors said the complainants failed "to state with clarity the acts or omission supposedly committed by the above-named BOC respondents that would constitute violation of the offense charged."
The prosecutors, led by Assistant State Prosecutor Aristotle Reyes, stressed that the case is currently pending review before the office of Justice Secretary Vitaliano Aguirre II.
He added that additional evidence might be submitted by the complainants.
Reshuffling
Other Customs officials who resigned following the shabu shipment controversy were also reappointed by Duterte.
Former Customs Import Assessment Service Director Milo Maestrecampo was appointed assistant director general II of the Civil Aviation Authority of the Philippines while Deputy Commissioner Gerardo Gambala was appointed to the Office of Transportation Security as Director IV.
Duterte likewise reappointed Ariel Nepomuceno and Teddy Raval as deputy commissioners of Customs, posts they previously held.
The four were also accused of receiving grease money.
Malacañang defended Duterte's decision to reappoint the resigned Customs officials.
Presidential spokesperson Harry Roque said: "It must be because there has been thorough investigation conducted by the House, the Senate, the DOJ and even from within the Palace."
"And it must be because these two officials (Nepomuceno and Raval) were found not to be in anyway involved in the P6.4 billion scandal," Roque added.
Duterte won over 16 million votes in the last national elections on a promise to eradicate illegal drugs and corruption.
The Office of the Ombudsman, for its part, said on November 7 that it has "created a panel to conduct a fact-finding investigation into alleged anomalies in the release of P6.4 billion worth of methamphetamine or 'shabu,' through the greenlane (sic) of Bureau of Customs."
The announcement came days after Duterte said he would leave to independent agencies the investigation of allegations that his son, Vice Mayor Paolo Duterte, and son-in-law, Manases "Mans" Carpio, were involved in the case.