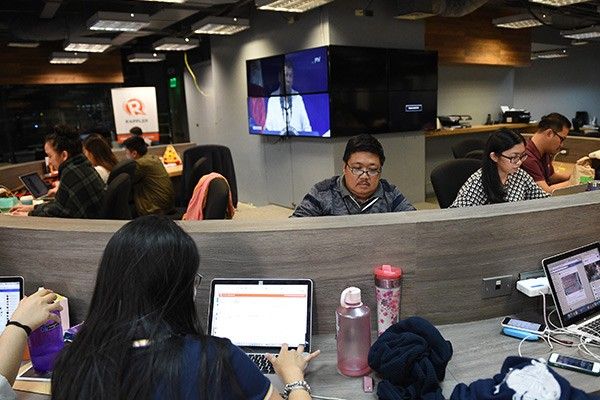 This file photo taken on Jan. 15, 2018 shows employees of online portal Rappler working at the company's editorial office in Manila. Philippine President Rodrigo Duterte's move to ban critical news website Rappler from covering the presidential palace is a threat to press freedom, rights and media groups said on Feb. 21, 2018.
Ted Aljibe/AFP, File
Publishers' group urges Duterte to stop attacks on Rappler
(Philstar.com) - June 7, 2018 - 4:12pm
MANILA, Philippines — A group of newspapers and publishers has urged the Duterte administration to stop its "attacks" against news website Rappler and to discourage its supporters from harassing its journalists.
The board of the World Association of Newspapers and News Publishers said the "attacks," which were made by officials of at least eight government agencies, were meant to undermine the legitimacy and integrity of Rappler.
"The Board expresses its concern that these attacks appear to be in direct retaliation for Rappler's on-going critical coverage of the policies and actions of the government of the Philippines, particularly its response to the country's widespread drugs problem, law and order issues, and human rights," the group said in a statement posted on its website.
"The Board denounces all attacks against journalists, in whatever form they come online and off, and calls on the government of the Philippines to do more to discourage the harassment of journalists – particularly in the online space."
Formed in 1948, the World Association of Newspapers and News Publishers claims to have a global network of 3,000 news publishing companies and technology entrepreneurs and 80 member publisher associations representing 18,000 publications in 120 countries.
The group issued the resolution five months after the Securities and Exchange Commission canceled the registration of Rappler because of the news outlet's supposed violations against the foreign ownership limits set by the Constitution.
Rappler, which has been accused by President Rodrigo Duterte and his supporters of spreading "fake news" is also facing a cyber libel complaint and a tax evasion case. The news outlets' reporters were also barred from covering the events of the president.
Rappler has accused the Duterte administration of harassment, saying the recent actions of the government pose a threat to press freedom.
Malacañang has claimed that the filing of charges against Rappler was about the rule of law and had nothing to do with press freedom.
The World Association of Newspapers and News Publishers also asked Duterte to lift the ban on Rappler journalists covering Malacañang events and to recognize the role of independent media in ensuring transparency and accountability. — Job Manahan