Employees file complaint vs sacked PhilHealth chief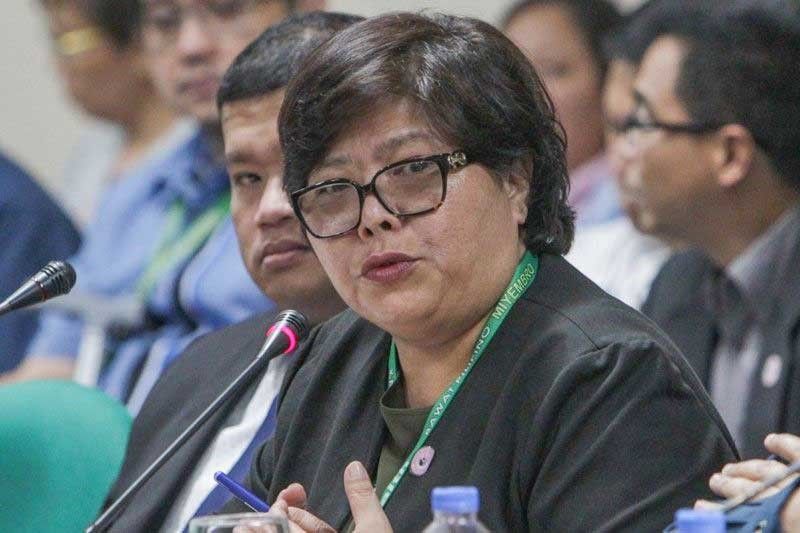 MANILA, Philippines — Her removal from office by no less than President Duterte did not stop officials of the Philippine Health Insurance Corp. (PhilHealth) to pursue a criminal complaint against their former acting president, Celestina Ma. Jude dela Serna.
In three separate complaint-affidavits filed before the Office of the Ombudsman in Cagayan de Oro City on June 5, seven officials of PhilHealth charged Dela Serna and former health secretary Paulyn Jean Ubial with three counts each of malversation of public funds, falsification of public documents and graft.
Named as complainants were PhilHealth officials Masiding Alonto Jr., Jelbert Galicto, Anshari Mangondato, Ziur Ruiz, Ian Alfredo Magno, Maria Rhodella Monsanto and Marlon Niño Arrabaca.
The complaint stemmed from Dela Serna's reimbursements of her air fare expenses for 2017 flying to and from Bohol as well as her hotel accommodation expenses for her stay in Manila.
The complaint covers Dela Serna's filing of three disbursement vouchers in order to receive reimbursements totaling P268,169 for her air fare and hotel accommodations from May to August 2017.
Dela Serna was appointed as acting officer-in-charge of PhilHealth on April 10, 2017.
The complainants pointed out Dela Serna's receipt of reimbursements for her stay in Manila was in violation of October 2017 memorandum of the Governance Commission on Government-Owned and Controlled Corporations (GCG) as well as Executive Order 248, which both state that the permanent official station of a government official or employee is considered as her regular place of work.
The complainants pointed out Dela Serna, as then interim president of PhilHealth, was stationed at the central office in Manila, thus it is also considered as her regular place of work and therefore she should not have received reimbursements for reporting therein.
The complainants said Dela Serna made an untruthful declaration in the vouchers and the supporting documents that that she was on "travel" status while in Manila.
As for Ubial, the complainants said she still approved Dela Serna's disbursement vouchers despite being aware of the illegality of the latter's reimbursement claims.
On Monday, Duterte relieved Dela Serna as acting president of PhilHealth following a Commission on Audit (COA) Audit observation memorandum questioning her receipt of allowances and several reimbursements.
Dela Serna, however, remains a board member of PhilHealth, with Roy Ferrer moving up to replace her.
Lawmakers lamented the spate of complaints against former PhilHealth and Department of Health (DOH) officials.
Detained Sen. Leila de Lima said the complaint filed by PhilHealth against former health secretary Janette Garin and former PhilHealth president Alexander Padilla was baseless and meant to cover up for the incompetence and inefficiency of the agency's current leadership.
De Lima said the alleged diversion of P10.6 billion meant for senior citizens appears to be non-existent based on the explanations made by Garin and the documents from the Department of Budget and Management (DBM).
She said the burden of proof is on the complainants to show the budgetary item was made specific for the expenditure of PhilHealth Senior Citizens Fund and instead, it was used for the construction of rural health units.
De Lima noted the very DBM certification used by the PhilHealth board and Health Secretary Francisco Duque III as basis for their complaint against Garin and Padilla showed the funds used for the construction of rural health units came from savings from the Miscellaneous Personnel Benefits Fund and not from any PhilHealth fund. – With Marvin Sy, Sheila Crisostomo