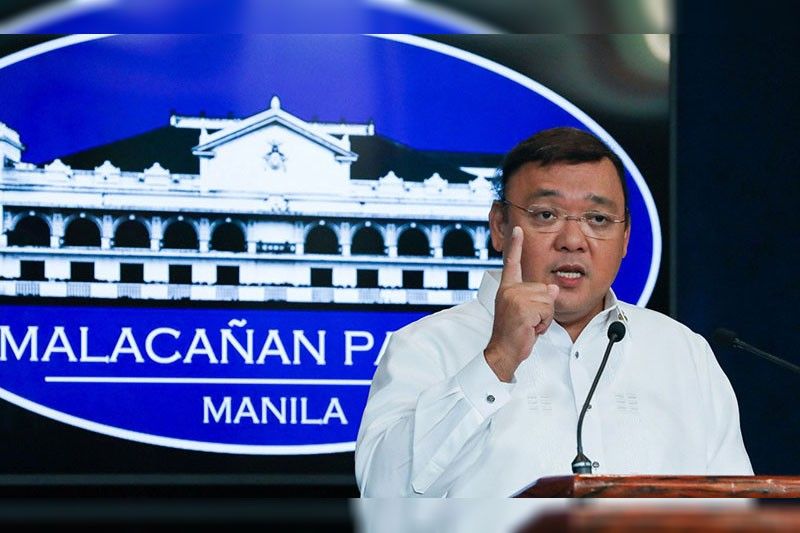 Presidential spokesman Harry Roque on Monday said that he sees no conflict of interest in Solicitor General Jose Calida's stock ownership of VISAI, a security agency that has contracts with government agencies.
Presidential Photo/Toto Lozano
Roque: No conflict in Calida security agency having government contracts
MANILA, Philippines — Palace spokesperson Harry Roque has downplayed questions on Solicitor General Jose Calida's ownership of a security agency that has contracts with government agencies as "attacks to his quo warranto petition victory."
In a press briefing on Monday, Roque said the criticisms on Calida are "obviously" due to his victory at the Supreme Court. "You already know why the attacks against Solgen Calida are coming out. It is because he won at his quo warranto petition. His enemies are getting back at him," the Palace spokesman said.
"It is obvious, please," Roque quipped.
READ: Calida faces graft raps for owning security agency with government contracts
Calida, on May 11, scored a victory at the SC when his petition resulted in the removal of Maria Lourdes Sereno as chief justice. The unprecedented ruling of the tribunal—as well as Calida's petition—reaped strong opposition from lawmakers, members of the legal profession, and rights groups who claim the ruling violated the constitution.
A day before the controversial SC decision, a private citizen filed graft raps against Calida over his alleged ownership of Vigilant Investigative and Security Agency, which has contracts with at least four government agencies.
The solicitor general has been accused of violated Republic Act 6713 or the Code of Conduct and Ethical Standards for Public Officials and Employees as he owns 60 percent of the firm, while the remaining shares belong to his wife and children.
Calida, over the weekend, argued that resigned as president and chairman of VISAI before he assumed office.
READ: Calida: No quo warranto against Justice De Castro
No VISAI contract with Office of the Solicitor General
Roque also said that he sees no conflict of interest in the case of Calida as "mere stock ownership is not prohibited" by the law.
He stressed that VISAI does not have a contract with the Office of the Solicitor General.
"The situation for Solgen, he acknowledged that he has stock ownership but [is] not exercising management powers," Roque stressed.
Calida has said that all contracts awarded to VISAI went through public bidding in compliance with the Government Procurement Act.
Complainant Acosta-Nisperos has also dared Calida to disclose his Statements of Assets, Liabilities and Net Worth for 2016-2018.
In a letter to the solicitor general, she said: "We hereby file a demand for your SALNs for the years 2016, 2017 and 2018 so the people may see that you have accurately declared your family's ownership of VISAI among other assets."
The complaint was filed by Jocelyn Acosta-Nisperos, who earlier urged Calida to initiate a quo warranto petition against Associate Justice Teresita De Castro. Calida said there was no basis to do so.