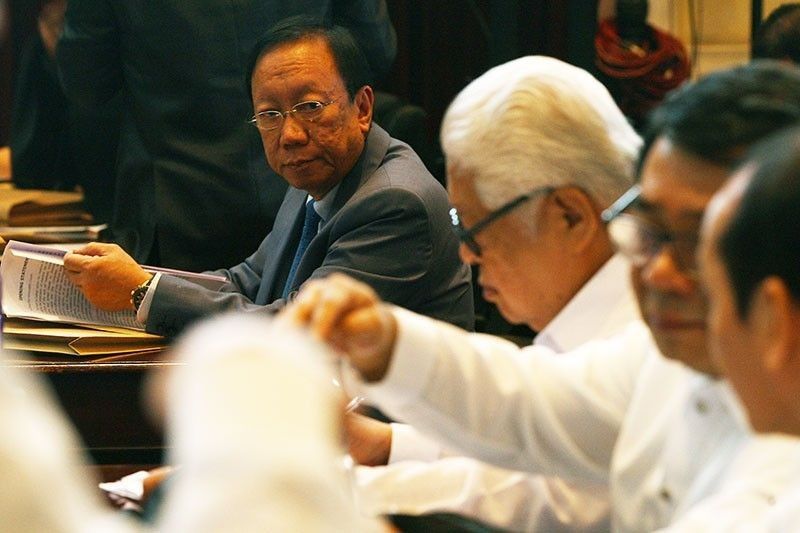 According to the document that complainant Jocelyn Acosta-Nisperos received from the Securities and Exchange Commission, Solicitor General Jose Calida owns 60 percent of Vigilant Investigative and Security Agency, while his wife and three children own 10 percent each.
STAR/Miguel de Guzman
Calida dared to disclose his SALNs
MANILA, Philippines — The private citizen who filed graft raps against Solicitor General Jose Calida has challenged the government's chief lawyer to make public his wealth declaration documents.
Jocelyn Acosta-Nisperos on Friday approached the Office of the Solicitor General to dare Calida to disclose his Statement of Assets, Liabilities and Net Worth for 2016-2018.
She filed a two-page letter, part of which reads: "Being the architect of the Quo Warranto petition, you now have the burden of showing to the people that you have more integrity than the Chief Justice."
Acosta-Nisperos on May 10 accused Calida of having a stake in Vigilant Investigative and Security Agency, that supposedly acts as security agency of National Economic Development Agency, National Anti-Poverty Commission, Philippine Amusement and Gaming Corp. and National Parks Development Corp.
READ: Calida faces graft raps for owning security agency with government contracts
Acosta-Nisperos claimed that the Solicitor General violated the Anti-Graft and Corrupt Practices Act, the Code of Conduct and Ethical Standards for Ethical Standards for Public Offices and Employees and the Revised Penal Code.
She said that Calida owns 60 percent of the security agency, while his wife and three children own 10 percent each.
In her letter to Calida, she added: "We hereby file a demand for your SALNs for the years 2016, 2017 and 2018 so the people may see that you have accurately declared your family's ownership of VISAI among other assets."
The government's chief legal counsel has yet to comment on Acosta-Nisperos' claims.
Calida is also in hot water over a proposed measure pending at the Senate to transfer the mandate of the Presidential Commission on Good Government—the agency tasked to recover ill-gotten wealth of the Marcos family—to his office. The House of Representatives approved the bill earlier this week.
RELATED: The proposed additional powers for the Office of the Solicitor General | Bill to abolish PCGG, OGCC reaps criticism, opposition
Calida is a known supporter of Marcos and has defended the burial of the late dictator, Ferdinand Marcos Sr. at the Heroes' Cemetery.
Acosta-Nisperos earlier urged Calida to initiate a quo warranto case against Associate Justice Teresita de Castro, which the solicitor general denied due to lack of merit.