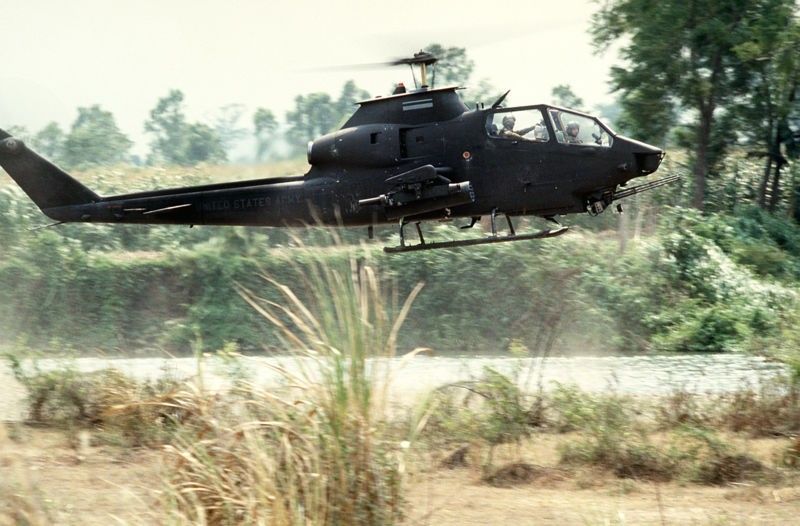 A U.S. Army AH-1 Cobra helicopter gunship participates in Exercise Solid Shield '87.
DoD photo by Tech. Sgt. Kit Thompson. Public domain
Philippines getting 2 Cobra attack helicopters from Jordan
(Philstar.com) - May 22, 2018 - 10:41pm
MANILA, Philippines — Jordan will provide the Philippines two Bell AH-1 Cobra attack helicopters despite President Rodrigo Duterte's previous tiff with the cousin of Jordanian king Abdullah.
The king's cousin, United Nations High Commissioner for Human Rights Zeid Ra'ad Al Hussein, said last March that Duterte needs to see a psychiatrist after the
Philippine president chided human rights experts who criticized his bloody war on illegal drugs.
Duterte responded by calling Zeid "empty-headed."
The president later on disclosed that National Security Adviser Hermogenes Esperon, Jr. had asked him to refrain from criticizing Zeid because the Jordanian king was
ready to donate helicopters to the Philippines.
During the 120th anniversary of the Philippine Navy on Tuesday, Duterte announced that Jordan has decided to provide the helicopters.
"Allow me to just insert something. I don't know if I'm supposed to make it public and I really do not have a way of knowing whether it would make Esperon happy or not. But in my table before I left, that's why I was late because I was reviewing it. Jordan is giving us two Cobra helicopters. Those things that we cannot really afford," the president said.
"He (Esperon) is now there in Jordan and I got his electronic copy for his authority to accept it and to Jordan, which faces the same problem like the Philippines, it's terrorism," he added.
Duterte said Esperon had advised him to "swallow the insults" instead of hurling tirades at Zeid.
"Esperon said, 'no, do not do it. Maybe, mayor, you can swallow insults. Anyway you are doing it almost everyday. You are throwing curses, epithets and all and the people that you… they cannot answer back, this time I am asking you to shut up'" the president said.
Duterte said he was ready to rebut the claims of Zeid but Esperon urged him not to do so.
"I prepared a little you know, as a maybe a rebuttal...He (Esperon) said, 'please do not do it or else we will… I will lose the (helicopters)," the president said.
Duterte's war on illegal drugs has left at least 4,000 drug suspects dead, worrying human rights advocates who accuse him of endorsing extrajudicial killings.
Officials denied this and claimed the slain suspects had resisted arrest and had fought violently with law enforcers. — Alexis Romero