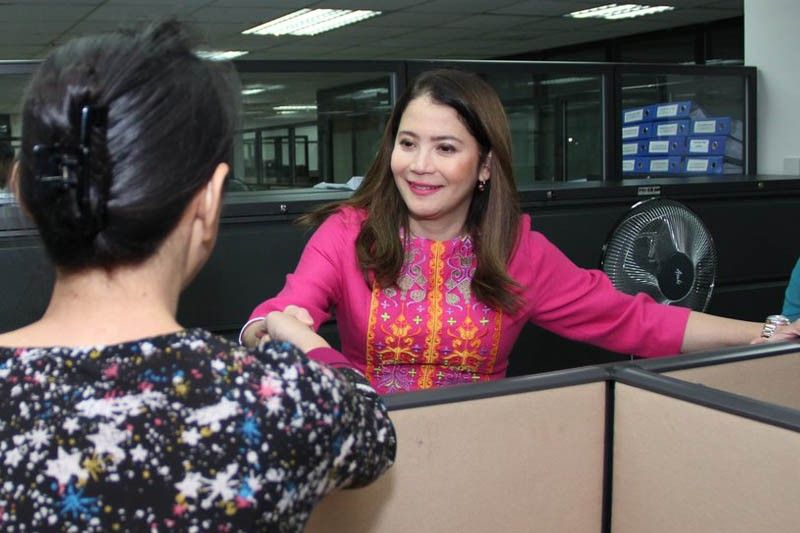 Secretary Bernadette Romulo-Puyat was warmly welcomed by DOT employees when she personally made the rounds at the DOT office in Makati City on Tuesday.
DOT/Released
Aquino admin Tourism exec offered DOT post, new chief says
MANILA, Philippines— Tourism Secretary Bernadette Romulo-Puyat on Tuesday said she would bring back a former Department of Tourism official from the Aquino administration.
Puyat said she offered former Assistant Secretary Arturo "Art" Boncato Jr. an undersecretary position. She said that Boncato was an assistant secretary of former DOT chief Ramon Jimenez.
Boncato was also DOT regional director for the Davao Region during President Benigno Aquino III's administration.
"I only met him last Friday and I was very impressed with his credentials. This man already knows the Department of Tourism inside out, so I offered him the undersecretary post," Puyat said in an interview with CNN.
The new DOT chief made the statement after she ordered the department's undersecretaries and assistant secretaries to submit their courtesy resignations to President Rodrigo Duterte. She gave them until May 21 to comply with the memorandum.
READ: DOT execs ordered to submit courtesy resignations
Puyat earlier clarified that the submission of courtesy resignations does not mean the officials would be removed in the agency. She said she believes courtesy resignations is the "right thing to do" because the secretaries should have the people they trust around them."
She cited that she has received a few courtesy resignations from officials concerned.
DOT Assistant Secretary Frederick Alegre, department spokesperson, heeded Puyat's order and submitted his courtesy resignation on Tuesday.
Puyat said she is confident that all officials would give their courtesy resignations.
She also ensured that she would not remove nor shuffle the officials immediately citing the DOT is "in a middle of a budget season." She said she has met with the officials and described them as "very good and very professional."
"I told them that I will judge their performance first," Puyat said.
"I will see first what fits my vision or what I want to do or maybe who knows some of them might not want to work with me," she said.
Puyat also announced that she would retain Bong Bengzon Jr, an undersecretary for the tourism development planning sector.
"He is a career official. He's been there for about 32 or 33 years, so definitely he will stay," Puyat said of Bengzon.
Bengzon was also an undersecretary for tourism development under Jimenez's tenure.