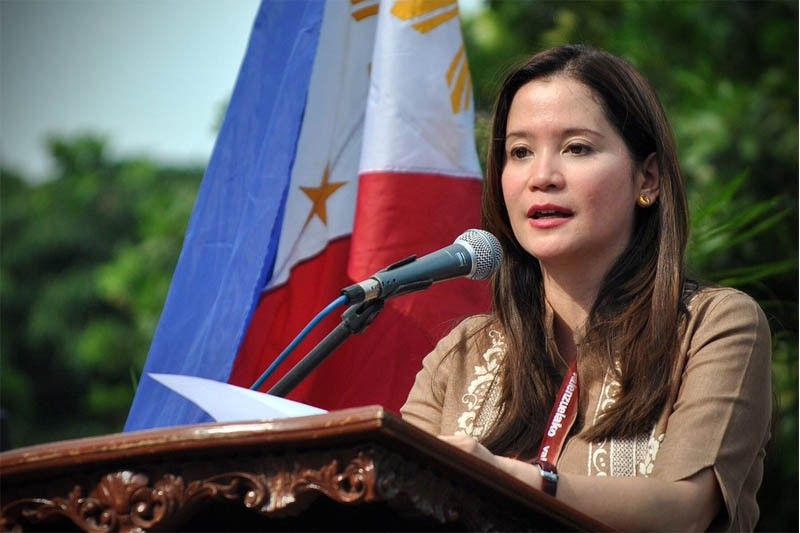 Tourism Chief Bernadette Romulo-Puyat ordered the department's undersecretaries and assistant secretaries to submit their respective courtesy resignations.
Sherwin Gatchalian/Twitter
DOT execs ordered to submit courtesy resignations
MANILA, Philippines — As Secretary Bernadette Romulo-Puyat assumed her post as the head of the Department of Tourism on Tuesday, she ordered the undersecretaries and assistant secretaries of former Secretary Wanda Tulfo-Teo to submit their respective courtesy resignations.
Puyat said she issued a memorandum, which is for immediate compliance, to all the concerned officials on Tuesday afternoon.
"In the exigency of service and in order to give the undersigned a free hand to perform the mandate given to her by the president, all incumbent undersecretaries and assistant secretaries of this department are hereby directed to tender their unqualified courtesy resignations to the president starting may 15 to may 21, except career officials as defined by pertinent civil service laws, rules, and regulations," the memorandum penned by the new DOT chief read.
The memorandum stated that the concerned officials shall continue to report for work and perform their usual duties and responsibilities until any action has been done.
She said the decision is subject to modification that she or the undersigned offices of the executive secretary and special assistant to the president "may deem proper to adopt."
Puyat, however, clarified that the submission of courtesy resignations does not mean the officials would be removed in the agency.
In a television interview early Tuesday, Puyat said submission of courtesy resignations is the "right thing to do."
"Because that's what I've been doing because, of course, the secretaries should have the people they trust around them," Puyat said in ANC's "Headstart.
The new DOT chief cited that when she was an undersecretary of the Department of Agriculture, she submitted a courtesy resignation in every new administration.
Justice Secretary Menardo Guevarra issued a similar memorandum when he replaced Vitaliano Aguirre II in April.
Puyat said some of the sitting DOT officials already submitted their resignations.
She said President Rodrigo Duterte gave her a free hand to choose her officials.
She added that she would be defining the duties and responsibilities of the current officials to make it more organized.
In her message, the new Tourism head assured the rank and file employees that there is no need to worry because she would just follow the law.
"Since I am new in the department, I will be relying especially on career officials," she said in the television interview.
Under Republic Act. 9593, or the Tourism Act of 2009, and its Implementing Rules and Regulations, "the secretary shall be assisted by at least three undersecretaries." These are: Undersecretary for Tourism Development, Undersecretary for Tourism Regulation, Coordination and Resource Generation, and Undersecretary for Special Concerns and Administration.
Teo, however, also had an Undersecretary for Office of Public Affairs, Communications and Special Projects and Undersecretary for Farm, Faith-based Tourism, Ecotourism and Convergence Program.