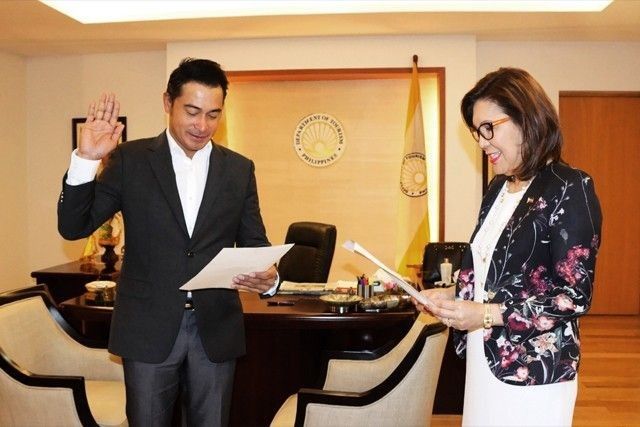 In this Dec. 20, 2016 photo, Tourism Secretary Wanda Teo swears in Cesar Montano as Tourism Promotions Board COO.
Department of Tourism/Released
Cesar Montano asked to explain 'rushed' US speech, 'Buhay Carinderia'
MANILA, Philippines —Tourism Secretary Bernadette Romulo-Puyat on Tuesday said she wants to speak with Tourism Promotions Board COO Cesar Montano and hear his side on some issues he is facing.
Puyat said she wants Montano to explain a report that he rushed through a speech at a speaking engagement in New York City so he could watch Broadway musical "Hamilton."
"I'm planning to call him talk to him and ask for his side," Puyat said.
The new DOT chief also said she wants to talk with the Tourism attaché and Department of Foreign Affairs officials at the event to verify the allegation.
Montano was reportedly supposed to showcase Philippine tourism and fashion at the Philippine Tourism Presentation and Dinner Reception in New York last May 9.
Aside from the controversial speaking engagement, Puyat said she would also look into "Buhay Carinderia", which TPB will implement.
A report from The STAR claimed Montano issued three checks amounting to P80 million in favor of the organizer and proponent of the event.
"The contract dated March 15 and notarized March 20 calls for a financial sponsorship of P80 million, plus VAT, to be released in four tranches: P12 million; P28 million; P32 million and P8 million upon completion of certain milestones. But full payment of over P80 million was made between March 19 to April 17," the report read.
The report also said three Landbank checks charged to the account of the TPB were issued as follows: March 19 for P13,440,172.80; March 20 for P31,360,000; April 17 for P35.840,000.
"Just for comparison, Madrid Fusion Manila has been successfully held for P43 million in government sponsorship. There were private sector sponsors too like SM and Ayala," it also noted.
Buhay Carinderia has been staged since 2011 as "Karinderya Fiesta" by Linda Legaspi of Marylindbert International. However, it was packaged as Buhay Carinderia this year to supposedly replace Madrid Fusion Manila 2018.
READ: Madrid ConFusion Manila
Last April, Montano clarified that the the board management initially considered the deferment of the international food event until 2019 due to the "non-availability of participating international chefs and exhibitors."
READ: Madrid Fusion Manila might still push through, TPB says
Puyat also said that Montano reached out to her two weeks ago when she was still an undersecretary of the Department of Agriculture to inform her that Madrid Fusion is pushing through in September.
Despite this, Puyat said she would ask Montano regarding the budget for Buhay Carinderia and its objectives.
The DOT chief said she previously asked Montano if the organizer went through a biding process.