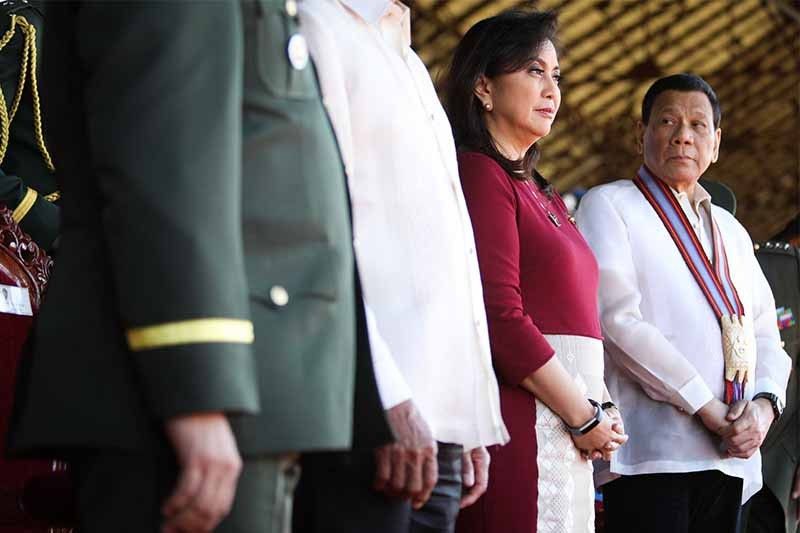 Vice President Leni Robredo and President Rodrigo Duterte attended the graduation rites of PMA Alab-Tala Class of 2018, held at Fort del Pilar, Baguio City on March 18, 2017.
Office of the Vice President, File
Slamming SC ouster of Sereno, Robredo vows fight not yet over
MANILA, Philippines — Vowing that the fight is not yet over, Vice President Leni Robredo on Friday slammed the decision of the Supreme Court to oust Chief Justice Maria Lourdes Sereno—a move which she said tarnished the country's Constitution.
In a televised address, Robredo said she is concerned with the landmark ruling of the high court and stressed that the only means to remove an impeachable officer such as Sereno was through impeachment.
"As vice president, I am assuring you: the fight is not yet over especially because the voting was close in a far-reaching decision such as this," Robredo said in Filipino.
The Supreme Court, voting 8-6 in a special full court session Friday, ousted Sereno supposedly because of her failure to meet the "integrity test" of her position, despite widespread warnings that the move would trigger a constitutional crisis.
Eight of the justices sided with Solicitor General Jose Calida who filed the quo warranto petition questioning the legality of former President Benigno Aquino III's appointment of Sereno as chief justice in 2012.
The ruling is immediately executory.
Those who voted to oust Sereno were Justices Noel Tijam, who wrote the decision, Teresita De Castro, Lucas Bersamin, Francis Jardeleza, Samuel Martires, Andres Reyes Jr. and Alexander Gesmundo.
Before the ruling, Sereno asked six of these justices to inhibit from her case because of their bias against her. Those asked to inhibit denied the plea of the chief justice.
Justices Antonio Carpio, Estela Bernabe, Alfredo Benjamin Caguioa, Presbitero Velasco Jr., Mariano Del Castillo and Marvic Leonen dissented from the ruling.
Robredo said that the decision "compromised" the foundation of the country's judiciary and asked where Filipinos could turn to if they needed justice and a fair fight.
"Where will we go to if the integrity of the institution we are leaning on has been tarnished?" Robredo said.
She urged the Filipino people to take all the appropriate means to correct what she called a mistake to restore the public's confidence in the court.
Robredo's critical statement is expected as she has expressed her support to the chief justice in the past, putting her at odds with the position of President Rodrigo Duterte who has called on his allies to remove Sereno.
According to Dennis Coronacion of the University of Santo Tomas Department of Political Science, Robredo's support for Sereno can become "politically beneficial" for her as the public will see her stand on many issues.
Coronacion said that Robredo should not be afraid of losing a government position or the threats of impeachment by Duterte's allies when criticizing government policies.
Related video:
As It Happens
LATEST UPDATE: October 23, 2018 - 10:25am
An insider source of The STAR says the decision on Chief Justice Maria Lourdes Sereno's quo warranto was already signed by seven justices ahead of this morning's special en banc session.
Court observers said that based on the April 10 oral arguments on the quo warranto petition against Sereno, it seemed that majority of the justices were inclined to vote for the removal of the head magistrate.

READ: How the quo warranto petition vs Sereno could affect the judiciary
— with Edu Punay
October 23, 2018 - 10:25am
Former Supreme Court spokesperson Theodore Te says there could have been other methods in resolving the matter when asked if the high court made a mistake in removing the chief justice through a quo warranto petition.
"I think most of the matters that went on... there were some personal animus that was going on between them. Where I'm coming from is that perhaps that personal animus could have been resolved, and that doesn't mean only on one side it meant on all sides, because many of these are family matters in a sense. Internal matters that could have been resolved and it was very difficult for me because I could see that," Te says in an interview over ANC's "Early Edition."
"The decisions of the court become the law of the land that's what we always say. That's a judgment that's there. I don't know if I would call it a mistake but I would definitely say that in creating that precedent, that loophole, even though it is a once in a lifetime loophole, I think the court could have restrained itself," he adds.
June 5, 2018 - 2:11pm
The Supreme Court directs Solicitor General Jose Calida to comment on the appeal filed by ousted Chief Justice Maria Lourdes Sereno on the quo warranto ruling.
The high tribunal gives Calida a non-extendible period of five days to file his comment on Sereno's motion for reconsideration.
May 30, 2018 - 4:32pm
Ousted Chief Justice Maria Lourdes Sereno files an appeal on the Supreme Court ruling on May 11 that granted Solicitor General Jose Calida's quo warranto petition against her.
In a vote of 8-6, her colleagues at the SC voided her appointment as chief justice in 2012.
"Respondent [Sereno] is found disqualified from and is hereby adjudged guilty of unlawfully holding and exercising the Office of the Chief Justice. Accordingly, Sereno is ousted and excluded therefrom," the historic decision reads.
Those who voted in favor of the ouster were Associate Justices Noel Tijam, Teresita De Castro, Lucas Bersamin, Francis Jardeleza, Samuel Martires, Andres Reyes Jr. and Alexander Gesmundo. -
May 15, 2018 - 9:41am
The Coalition for Justice urges the Senate to take a collective stand against the Supreme Court decision ousting Chief Justice Maria Lourdes Sereno by asserting its exclusive right to remove impeachable officials.
"We respectfully ask you to remind the Supreme Court that the Senate's sole power over impeachable officers must not be impugned by a co-equal branch of government," the CFJ says in an open letter to senators.
"If the Decision remains unchallenged and the Senate's duty is unperformed, the dire fallout on our system and people will lie at the Senate's door," it warns.