Kuwait deployment ban now permanent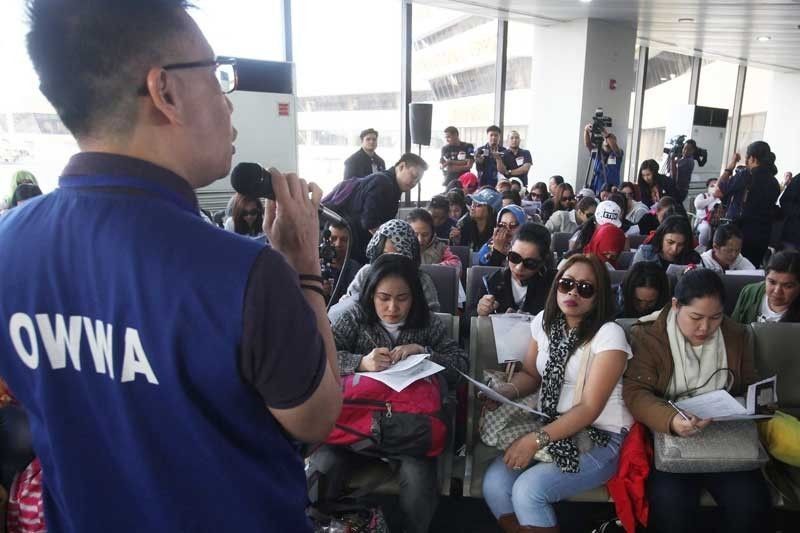 Cayetano, Bello at odds
MANILA, Philippines — After urging 250,000 overseas Filipino workers to leave Kuwait, President Duterte has made the ban on OFW deployment to the Gulf state permanent, intensifying a diplomatic standoff.
Duterte said he would ask other countries, including China, to accommodate OFWs to be affected by the policy and vowed to provide for the needs of those who would come home from Kuwait.
"The ban stays permanently. There will be no more recruitment especially for domestic helpers," Duterte told reporters in Davao City upon his return from Singapore yesterday.
Duterte said he was prepared to tap emergency funds to assist returning OFWs.
"To me, it's a calamity... If my countrymen are suffering, I would use it. If you want, I would steal money from the central bank. But they have to come home," he said, referring to the workers.
It was not clear whether the Philippine government would still push for a bilateral agreement seeking to improve the working conditions of OFWs in Kuwait. Officials were eyeing to sign the agreement before the Muslim holy month of Ramadan, which starts on May 15.
"We can always appeal to the other nations for a concession. And you know what, however you look at China, I consider China a friend," the President said, citing Beijing's promise to hire about 100,000 Filipino teachers.
"Many countries today are suffering from a shortage of human beings. They do not want to give birth. Just like the Japanese, they do not want to give birth. It seems that the Filipinos are the only ones who are fond of children," Duterte remarked.
Last February, Duterte announced a ban on the deployment of Filipino workers to Kuwait following reports that some workers in the Gulf state were maltreated by their employers.
The President announced the ban days after the discovery of the body of 29-year-old Filipina worker Joanna Demafelis inside a freezer in Al Shaab district.
A Kuwaiti court has sentenced Demafelis' employers to death but Philippine officials had insisted that the ban would only be lifted once a deal protecting the rights of Filipino workers is signed.
Last week, videos showing Philippine embassy staff rescuing Filipino workers from their employers went viral, prompting the Kuwaiti government to expel Philippine Ambassador Pedro Villa.
The Kuwaiti government views the rescue operation as an affront to its sovereignty but the Philippines insists that it was a "rightful exercise" of its duty to protect its citizens abroad.
Cayetano, Bello disagree
The rescue in Kuwait also highlighted the rift between Foreign Affairs Secretary Alan Peter Cayetano and Labor Secretary Silvestre Bello III.
The trouble between Cayetano and Bello reportedly emanated from the course of action each respectively took or recommended to the President to resolve the crisis affecting Filipino workers in Kuwait.
Sources said the Kuwait problem has reached "boiling point" with Cayetano and Bello arguing in front of the President as each was trying to explain before Kuwait Ambassador Musaed Saleh Ahmad Althwaikh their positions.
Cayetano initiated the rescue of the distressed Filipino workers while Bello suggested another approach to the problem.
Cayetano even apologized to the Kuwaiti government for the trouble its country went through as a result of the rescue.
Bello, however, said he was under the impression that the rescue issue would be set aside and discussed after the President comes home from Singapore.
The plan was not followed with Cayetano already coming up with statements apologizing as a result of his subsequent meetings with the Kuwaiti ambassador.
Eventually, Villa was ordered to leave Kuwait while Saleh was recalled to leave Manila immediately.
Duterte described the situation in Kuwait as a "calamity."
He said he would bring home Filipina maids who suffered abuse as he appealed to workers who wanted to stay in the oil-rich state.
"I would like to address their patriotism: come home. No matter how poor we are, we will survive. The economy is doing good and we are short of workers," he said.
About 10 million Filipinos work abroad to seek high-paying jobs they were unable to find at home, and their remittances are a major pillar of the Philippine economy.
There are about 262,000 Filipinos working in Kuwait, nearly 60 percent of them domestic helpers, according to the Department of Foreign Affairs.
'I take full responsibility'
Duterte took responsibility for the diplomatic squabble and insisted that he has no bitterness toward Kuwait.
"If anything goes wrong there, I should be the one to blame. Just like what happened in Kuwait. I'm the head of government. And they're finding faults supposedly committed by (Foreign Affairs Secretary Alan) Cayetano. No. It's me," the President said.
"So once again, I would like to restate to everybody, especially to the Kuwaiti government. There's no bitterness in our hearts for after all, at one time we were also there to help you. There are a lot of, maybe thousands of Filipinos, whose lives were lifted from poverty because of the work that you have. We realize that," he said.
Duterte added that he was not after "vengeance" against Kuwait and did not "nurture hate."
"If my countrymen are a burden to you or if you do not like the way they are acting now, maybe it's the culture and your response also. We adjust to one another but I will withdraw all the Filipinos there. We will not ask any help from you. We will spend for their return," he said.
Duterte assured Villa would be given another position.
Solomonic solution
Lawmakers supported Duterte's decision to make permanent the ban to deploy Filipino workers in Kuwait.
Other lawmakers, however, expressed concern over the welfare of the returning Filipino workers.
Sen. Risa Hontiveros said it was not right for the President to gamble with the lives and employment of hundreds of thousands of Filipinos working in Kuwait with his "reckless" pronouncement.
"What is so 'Solomonic' about a solution that actually cuts the baby in half? It is extremely reckless, shortsighted and uncaring. President Duterte should stop gambling with the lives and employment of thousands of OFWs, and the welfare of their families, in a desperate attempt to break the diplomatic impasse with Kuwait. This is not a game. We are talking about the lives and future of our OFWs and their loved ones," Hontiveros said.
Sen. Nancy Binay said while she wanted to see all overseas Filipinos back working in their homeland instead of overseas, she does not think the government would be able to provide them with alternative livelihood now if all of the over 200,000 Filipino workers in Kuwait return home at the same time.
"At this time even the Build, Build, Build (program) would not be able to absorb the over 200,000 OFWs in Kuwait," Binay said.
A group of overseas Filipino workers themselves said they cannot heed the call of Duterte because there are no jobs available if they return home.
"Can the President provide for all the needs of the 260,000 OFW families in Kuwait once they return here in the country," Migrante chairman Arman Hernando remarked.
Hernando said most Filipinos have decided to work abroad due to poverty and lack of jobs in the country.
"It was a foolish idea. We cannot expect our OFWs to come home if the root cause of their migration –poverty due to landlessness and lack of decent jobs – still exists and is actually worsening," he said.
Associated Labor Unions (ALU) spokesman Alan Tanjusay said there are no available jobs for the millions of jobless Filipinos and the situation will only worsen with the influx of returning workers from Kuwait.
The Federation of Free Workers (FFW) supported the call of the President for the Filipino workers in Kuwait to return home
FFW president Sonny Matula said the President should also sign the executive order regulating contractualization to ensure that local workers and those OFWs returning from Kuwait will have decent jobs.
Administration allies in the House of Representatives said it's about time to have the Filipino workers in Kuwait go home.
"We support his decision to permanently ban the deployment of Filipino workers in Kuwait. The welfare of our countrymen should always come first. Abuse, maltreatment and violence have no place in the workplaces of our OFWs," House Deputy Speaker Raneo Abu said.
Reps. Winston Castelo of Quezon City, Robert Ace Barbers of Surigao del Norte, Rodito Albano III of Isabela and Aniceto John Bertiz of party-list ACTS-OFW echoed the same sentiments.
The lawmakers supported Duterte's decision not to pursue the memorandum of understanding between the Philippines and Kuwait and abort his trip to the Gulf state.
"It is useless to send OFWs abroad in the absence of firm assurance for their protection," Castelo said.
Albano agreed that "adequate protection and assistance while working abroad should be guaranteed first before allowing them to work."
For his part, Bertiz, said "OFWs' deployment ban to countries that failed to assure their labor rights and good working conditions, including Kuwait is in order."
The lawmakers cited the cases of Irma Avila Edloy, an abused Filipino worker who died in a hospital in Saudi Arabia in August 2016, and Demafelis, whose body was discovered in a freezer in Kuwait last February.
The killing of Demafelis prompted Duterte to stop the deployment of first-time Filipino workers to Kuwait. – Edith Regalado, Marvin Sy, Delon Porcalla, Mayen Jaymalin, AFP