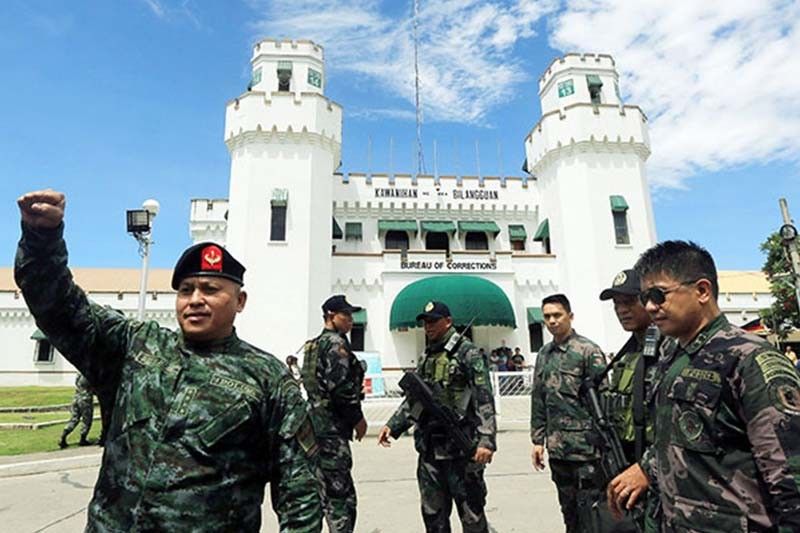 In this photo taken in July 2016, Ronald "Bato" Dela Rosa, then PNP chief, gestures during a turnover ceremony of the PNP SAF at the NBP compound in Muntinlupa City.
Edd Gumban
Lacson challenges Dela Rosa to stop illegal drug trade from Bilibid
MANILA, Philippines — Sen. Panfilo Lacson has given incoming Bureau of Corrections Director Ronald "Bato" Dela Rosa a tall order to eradicate the illegal drug trade in the New Bilibid Prison.
Lacson, who chairs the Senate Committee on Public Order and Dangerous Drugs, said that Dela Rosa should address "corruption, connivance and conspiracy between jail guards, BuCor personnel, inmates and drug lords."
Sen. Leila De Lima, who has been in detention on for drug-related cases since last year, has been accused of allowing the drug trade in Bilibid when she was Justice secretary to President Benigno Aquino III and of accepting drug money to fund her senatorial campaign. She has denied the allegations and has yet to be arraigned.
"Once [Dela Rosa] solves the drug problem emanating from the inside of [Bilibid] —not the users inside the prison, but those who direct the drug trade—if he can solve that, that will have a great impact on our anti-drug operations," Lacson, a former Philippine National Police chief like Dela Rosa, said in a radio interview over the weekend.
Dela Rosa retired last week, and is set to head the BuCor, which oversees the operations of the national penitentiary.
The BuCor is an attached agency of the Department of Justice, which is now headed by Justice Secretary Menardo Guevarra.
Guevarra had scheduled meetings with other heads of the DOJ's attached agencies but has not yet done so with Dela Rosa, who has yet to formally assume the post.
Dela Rosa, as PNP director general, deployed troopers of the elite PNP Special Action Force to guard Bilibid in place of Bureau of Corrections officers.
'Trade always traces back to Bilibid'
Lacson said that the Philippine Drug Enforcement Agency and the Philippine National Police, whether using human, technical or signal intelligence, always trace the illegal drug trade to within the walls of the NBP.
Lacson also noted that Dela Rosa has been passionate in the campaign against illegal drugs. "On that note alone, he has a huge advantage because he can focus there."
"He should be very strict on the supervising the jail guards because incarcerated drug lords cannot operate [the trade] if there is no connivance with jail guards," Lacson added.
The senator also said that due to the drug trade, NBP personnel and their families have been the subject of threats.
He recalled speaking to former BuCor Director Francis Bucayu, who said he opted to resign because of threats on his life and on his family.
Lacson said that if the drug lords can operate inside the NBP "Mafia-style," they can threaten the families of authorities. "[Director General] Dela Rosa should address that."
Law enforcement agencies have repeatedly conducted raids within the walls of the national penitentiary.
The operations, which were carried out even when De Lima was Justice secretary, yielded weapons and mobile devices believed to be used by drug lords in their operations.