US carrier in Manila after show of force in South China Sea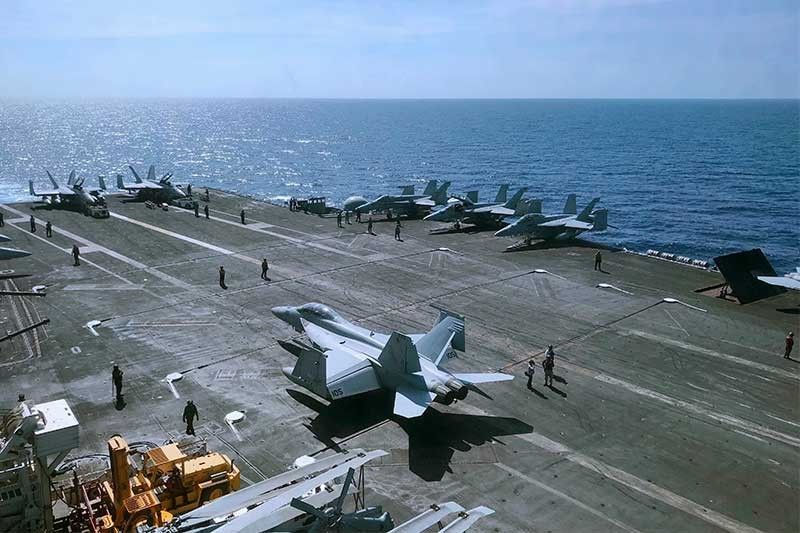 MANILA, Philippines — A nuclear-powered US aircraft carrier on Thursday arrived in Manila for after sailing through the disputed South China Sea.
USS Theodore Roosevelt and its 65 supersonic F18 jets, spy planes and helicopters, along with Carrier Air Wing 17 and guided-missile cruiser USS Bunker Hill, are in the country for a scheduled port visit.
This would be the second US carrier that arrived in the country this year after patrolling the disputed South China Sea and challenging China's dominance in the region.
RELATED: US carrier sails in disputed sea as China shows own force
While in the country's capital, sailors and marines of Theodore Roosevelt will participate in cultural exchanges and community relations events to further enhance cultural understanding of the Philippines, according to the US Embassy in Manila.
"The Philippines has long been a part of US Navy history, and we look forward to continuing that valued relationship and partnership," Rear Adm. Steve Koehler, commander of Carrier Strike Group 9, said.
US Navy Capt. Carlos Sardiello, Theodore Roosevelt's commanding officer, said that many sailors and marines of the strike group are from the Philippines or have family in the country.
"We are excited for them to be able to share their culture with fellow shipmates and spend time with loved ones there," Sardiello said.
After its port visit in Manila, the Theodore Roosevelt carrier strike group will carry on with its deployment in the Western Pacific.
The strike group's activities include a variety of operations such as addressing maritime security concerns, building relationships with partner navies and enhancing interoperability and communication with partners and allies in the region.
While en route to Manila the US Navy flew a small group of Philippine military officials and journalists aboard Theodore Roosevelt.
Philippine Army Lt. Gen. Rolando Bautista said that the US strike group's presence in the region is a "showcase of the capability of the US armed forces not only by sea but also by air."
"The Americans are our friends. In one way or another, they can help us to deter any threat," Bautista said aboard the USS Theodore Roosevelt.
The Theodore Roosevelt strike group recently completed a four-month mission in the Arabian Gulf in support of the US 5th Fleet's area of operations. It has now returned to its area of operations under the 7th Fleet.
Last February, USS Carl Vinson strike group arrived in Manila for a five-day port visit. A Philippine delegation also toured the hangar bay and observed flight operations aboard the aircraft carrier.
China had protested Washington's presence in the region, accusing the US of meddling in an Asian conflict. — with reports from Associated Press