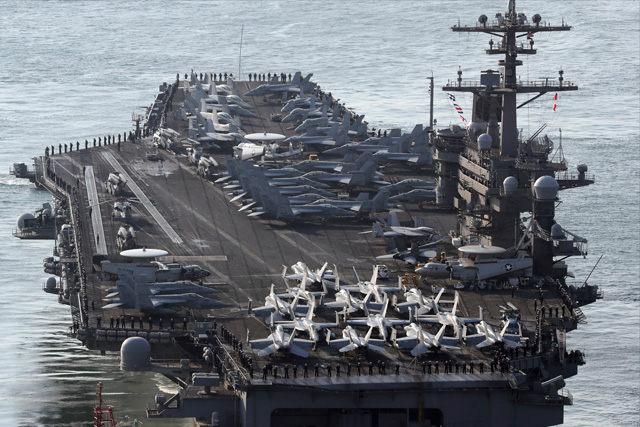 In this March 15, 2017, file photo, U.S. Navy aircraft carrier, the USS Carl Vinson, approaches Busan port in Busan, South Korea, to participate in an annual joint military exercise called Foal Eagle between South Korea and the United States. The American aircraft carrier heading toward the Korean peninsula is conducting a joint exercise with Japanese naval ships in the Philippine Sea. A U.S. Navy news release says that two Japanese destroyers joined the USS Carl Vinson carrier and two other U.S warships on Sunday, April 23, 2017, as they continued their journey north in the western Pacific Ocean. Jo Jung-ho/Yonhap via AP, File
US carrier strike group docks in Manila for port call
MANILA, Philippines — One of the US Navy's longest-serving active carriers arrived in Manila on Friday for a routine port visit during its Western Pacific deployment.
More than 5,500 sailors from aircraft carrier USS Carl Vinson and guided-missile destroyer USS Michael Murphy will participate in community service projects while in Manila.
"We are just very thankful for the support we have from the Philippine government and the Philippine people," Rear Admiral John Fuller said, adding that they want to continue the longstanding alliance between the Philippines and the US.
Prior the US striker group's arrival in Manila, Executive Secretary Salvador Medialdea, PCOO Secretary Martin Andanar and other government and military officials flew aboard Carl Vinson with US Ambassador Sung Kim.
The Philippine delegation were toured in the hangar bay and they observed flight operations after eating lunch with the US crew.
Commander Kevin Louis, commanding officer of Michael Murphy, said that his crew is looking forward to their first ever port visit in the Philippines.
"We have a great schedule of tours and events for our Sailors to explore the culture and history of Manila," Louis said.
This is the second visit of the Carl Vinson strike group in the Philippines, which is operating under the US 3rd Fleet's command and control. The 3rd Fleet operates beyond the international dateline to India, enabling them to together with the 7th Fleet on various maritime missions.
Carl Vinson was deployed in the South China Sea amid Beijing's installation of military facilities and capabilities in its artificial islands in the region.
"US presence matters. I think it's very clear that we are in the South China Sea. We are operating," Fuller told reporters aboard Carl Vinson.
Admiral Harry Harris Jr., commander of the US Pacific Command, had warned that China has seven new military bases in its outposts in the disputed South China Sea.
"The US should assume Beijing plans to use these facilities for their clearly intended purposes at some point in the future," Harris said in a congressional hearing.