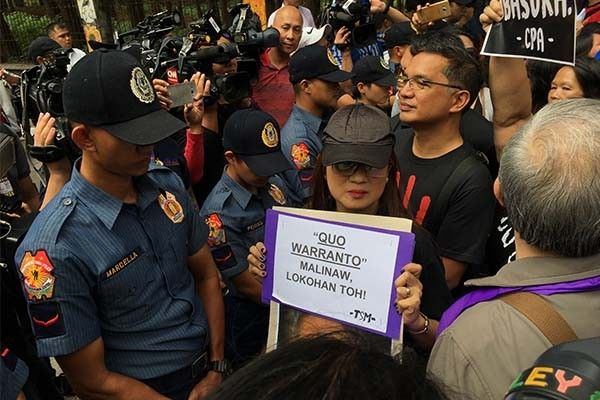 The Supreme Court in Baguio on Tuesday held nearly six hours of oral debates on the ouster petition against Chief Justice Maria Lourdes Sereno.
Philstar.com/Kristine Joy Patag
After hours-long grilling session, Sereno says fight continues
MANILA, Philippines — An unfazed Chief Justice Maria Lourdes Sereno faced her supporters on Monday night to reiterate that she is not backing down despite ouster petitions and resignation calls.
After enduring hours of grilling at the high court, Sereno faced her supporters who picketed at the Supreme Court Baguio compound while the oral arguments were ongoing.
"There will be no retreat! The fight continues!" Sereno said.
"You've all seen how we defended our rights to protect our freedom against oppressors who are destroying our democracy," she said.
"We should not let those in power to oppress us. You know what I mean. We have to fight on all fronts to ensure that democracy in the Philippines will remain," the embattled chief justice also said.
President Rodrigo Duterte on Monday openly called for the fast-tracking of the impeachment case against Sereno. He issued a warning to Sereno that he is now her "enemy."
Duterte's irate comment came following Sereno's claim that the chief executive has a hand in the ouster moves against her. She is facing a separate impeachment complaint at the House and a petition for quo warranto at the SC.
Sereno, however, stressed that she will not give up her fight to remain in office.
Her supporters from different sectors flocked to SC Baguio compound on Tuesday noon. They held posters of the five justices whom Sereno accused of holding biases against her and echoed the chief justice's call for inhibition.
Before the oral arguments, Acting Chief Justice Antonio Carpio said that Associate Justices Teresita De Castro, Diosdado Peralta, Lucas Bersamin, Francis Jardeleza and Noel Tijam refused to recuse themselves from the case.
During the hours-long interpellation, Sereno has locked horns with some of the justices, including De Castro, who was first to ask Sereno on the petition.
The appearance of the chief justice, who has been on leave from her office since March 1, was a historic first as she was quizzed by her colleagues on her qualifications to hold her post.
Solicitor General Jose Calida said that the high tribunal should nullify Sereno's appointment for allegedly failing the "integrity test" when she only submitted three of her Statements of Assets, Liabilities and Net Worth to the Judicial and Bar Council.
Associate Justice Marvic Leonen, on Tuesday's oral debates, said that a person's integrity cannot be measured by a piece of paper.
READ: Sereno maintains compliance with SALN submission requirements
After almost six hours of oral arguments, Carpio adjourned the session. The parties were ordered to file their respective memorandum on April 20, after which the case would be deemed submitted for resolution.