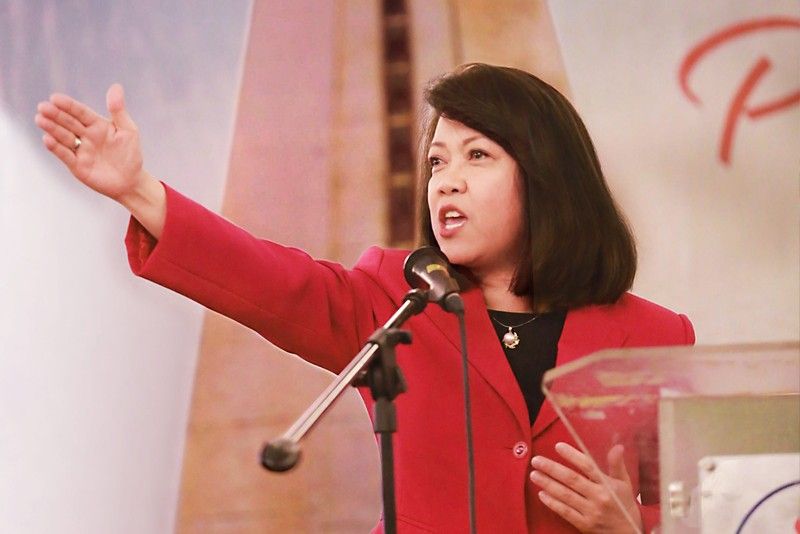 Chief Justice Maria Lourdes Sereno speaks during an Araw ng Kagitingan event organized by the Movement Against Tyranny in Quezon City yesterday.
Michael Varcas
Sereno must be out of Supreme Court – Duterte
Duterte to CJ: I am now your enemy
DAVAO CITY, Philippines — Accused of being the "unseen hand" in efforts to oust the Chief Justice, President Duterte declared yesterday that he will now do everything in his power to kick out Maria Lourdes Sereno.
"I am now your enemy. You have to be out of the Supreme Court," Duterte said during a press briefing at the Davao International Airport before leaving for the Boao Forum in Hainan, China yesterday afternoon.
He vowed to mobilize all his resources and flex his muscles so the House of Representatives and the Senate would fast-track the impeachment process against the Chief Justice.
The impeachment, he said, could proceed at the same time that the high court is hearing the quo warranto petition filed against Sereno.
"The two entities can hear it simultaneously. They can proceed with the quo warranto," Duterte said.
Stressing that he had previously been patient with Sereno because he did not want to meddle in the issues hurled against her, the visibly irked Duterte said he wanted her out of the Supreme Court either by impeachment or through the quo warranto petition.
"I am asking Speaker (Pantaleon) Alvarez now (to) kindly fast track the impeachment process. She is bad for the Philippines. I have said that I don't want to meddle. I was patient. But this time I am asking the congressmen and the Speaker to do it now," Duterte declared.
He pointed out that he is not in the habit of going after enemies and meddling in cases filed against them. As a case in point, he cited his silence after former House speaker Prospero Nograles filed several cases against him in the past.
"But you (Sereno) are insisting (that I am meddling), then count me in. Go ahead and I will egg (Solicitor General Jose) Calida to do his best," Duterte said, adding that he wants to make sure the Chief Justice is hit hard.
He also said: "I told you that I am not meddling in this. But since you are yakking about it, I will help any investigator. So, I'm putting you on notice that I'm your enemy and you have to be out of the Supreme Court," Duterte said.
In seeking Sereno's ouster, Duterte lamented why a lowly public school teacher was once dismissed from office for not filing her statement of assets, liabilities and net worth (SALN) but not the Chief Justice who committed the same offense.
"That teacher who failed to file her SALN, that teacher who is really poor, f**k, she was dismissed. And here is this woman, she earned money, attorney's fees collected from the government (and yet did not declare) a single centavo," Duterte said.
As a high-ranking officer of the Supreme Court, Duterte pointed out that Sereno should be a better example in following the law.
If he would be placed in the same situation, the President said he would not seek special treatment – and he will accept being detained between Sereno and his arch-critic, Sen. Leila de Lima.
"Why the special treatment? Me? I'll go to jail with her… let the world know – I am now meddling," he added.
Stop the drama
Duterte asked congressmen to fasttrack the filing of an impeachment case before the Senate.
"Now, this time, I'm asking the congressmen and the Speaker do it now. Wag ninyong dramahin (Stop the drama). Or else I will do it for you," the President said.
He asked Congress why it seems to be dragging its feet in transmitting the complaint to the Senate, which will be convened into an impeachment court.
"I am asking Congress, what's taking you too long? Do not create any crisis in this country. I will not hesitate to do what is to the best interest of my country. If it calls for your forced removal I will do it," Duterte warned.
Oriental Mindoro Rep. Rey Umali, chairman of the House committee on justice, said the impeachment case would be taken up by the plenary as soon as they resume session on May 15, a day after the barangay and Sangguniang Kabataan elections.
"For me, it's OK to fasttrack the impeachment complaint. We're hoping that the House committee on rules will bring to the plenary the impeachment complaint as well as the articles of impeachment for their approval," he said.
Observers have said that Duterte had nothing to do with Sereno's impeachment, borne out of the fact that he never lost a case in the Supreme Court, from the burial of the late president Ferdinand Marcos at the Libingan ng mga Bayani up to martial law in Mindanao.
They said Duterte was finally irritated and piqued after Sereno kept blaming him for her debacles even though most of her 14 colleagues were against her, insisting that the Duterte administration has been undermining "judicial independence."
"What judicial independence is she talking about? The judiciary has always been independent. Justices were able to decide on cases freely, without any interference from the executive department. Sereno's problem is her own self," a source said.
"Besides, Sereno is just one vote in the SC. And she belongs to the minority," he stressed.
This is the second time a sitting president has endorsed the impeachment of a chief justice, the first being former president Benigno Aquino III who booted out the late Renato Corona in 2011.
Umali's justice committee voted 33-1 last March 19 approving its report finding probable cause for the impeachment of Sereno, where the articles of impeachment were also incorporated.
"We have made history here in defining the impeachment process in the House," panel chairman Umali told his colleagues after they released the 45-page committee report, along with the 56-page articles of impeachment.
He said they have prepared six articles that will be made the basis or "foundation in prosecuting this impeachment case before the Senate as an impeachment court."
"We have a very strong case. We are ready, willing and we have a very strong case against the Chief Justice," Umali explained, citing Sereno's infractions that amounted to culpable violation of the Constitution, corruption, betrayal of public trust and other high crimes.
In all instances, he revealed that they have "all the documentary and testimonial evidence."
Sereno will serve as chief justice for 18 years, or until mid-2030 when she turns 70. – Christina Mendez, Delon Porcalla